Fabio Panetta Awaits Role as ECB's Next Italian After Draghi
Fabio Panetta, Italy's candidate for a board seat at the European Central Bank, got his first big career break one early morning in 1985.
Carlo Azeglio Ciampi, the then-Bank of Italy chief and a future president of the republic, was already at his desk at dawn when he rang the switchboard at his research department for help with some obscure financial-market data. A 26-year-old recent economics graduate, Panetta, was also in the office early and answered the phone. He impressed the boss so much with his quick and confident replies that he soon became the governor's aide.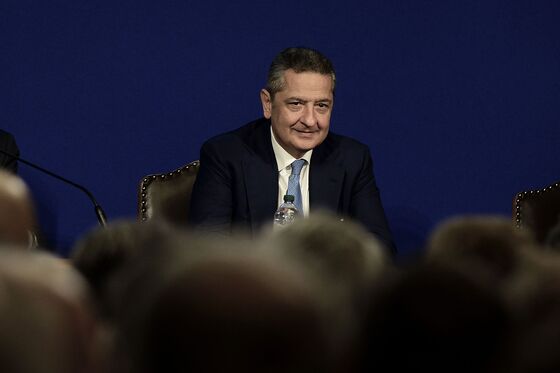 Thirty-four years later, Panetta -- now the Bank of Italy's no. 2 official -- looks set to replace Benoit Coeure as one of six ECB Executive Board members. Euro-zone finance ministers meeting on Wednesday endorsed his candidacy, paving the way for him to become the fourth Italian in the central bank's leadership echelon since its creation, following in the footsteps of outgoing President Mario Draghi.
The 60-year-old Panetta has already stalked the corridors of the ECB periodically for much of this century, either attending Governing Council meetings with Bank of Italy governors, or standing in for them, or more recently serving as a member of the supervisory board of the institution's bank watchdog.
"He has long experience in central banking," said Frederik Ducrozet, an economist at Pictet & Cie in Geneva. "He also had to deal with severe economic, financial and banking crises over the past decade, which makes him a good candidate to succeed Coeure in a number of areas."
Panetta is still an early riser with a driven work ethic, according to euro-zone central bank officials who know him. They describe him as an accomplished technocrat with a sharp intellect who speaks his mind and doesn't suffer fools gladly, sometimes straining the bounds of diplomacy. No-one was surprised at his nomination.
Officials who spoke for this story declined to be identified, citing the confidentiality of meetings where he participated. He declined to comment via a spokeswoman.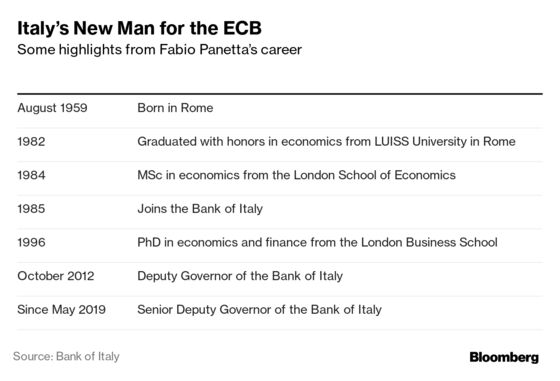 Panetta has attracted most attention internationally in his role on the supervisory board, from 2014 until July this year, representing the Bank of Italy in Frankfurt as it battled to shore up a banking system with the region's biggest pile of bad debts.
A specialist on financial stability and supervision, Panetta "knows how banks work and all the mechanisms behind them," according to Carlo Alberto Carnevale Maffe, a professor of business strategy at Milan's Bocconi University.
He played a pivotal role in propping up sickly lenders including Banca Monte dei Paschi di Siena SpA, and oversaw about 30 billion euros ($33 billion) in capital-raising, while banks also almost halved soured debts to about 190 billion euros from their peak.
Panetta has been outspoken in his criticism of European authorities' handling of Italian lenders, arguing that rules imposed on them aren't suited to the country's banking system. He has also been a strong opponent of the region's so-called bail-in rules that ensure shareholders and creditors shoulder some of the cost of rescues.
"Panetta is smart, charming and at the same time a fighter for the things he believes in," said Andreas Dombret, a former Bundesbank official who was a member of the ECB bank watchdog's supervisory board.
Coeure is due to retire at the end of December, and Panetta will take up his place under Draghi's successor, Christine Lagarde. She may take note of previous clashes he had with the ECB's chief supervisor, Daniele Nouy. In one episode in 2015, Panetta wrote to her decrying "unwarranted" and "arbitrary" decisions over higher capital requirements for banks that threatened a fragile economic recovery, according to a letter seen by Bloomberg at the time.
The robust advocacy he sometimes deployed defending Italian banks leads some officials to wonder how he will adapt from a senior role at a national institution to one serving the people of the euro zone as a whole.
A cheerful-looking Panetta, arriving at an insurance conference in Rome on Wednesday, brushed aside questions about his nomination and his ECB priorities. "When it happens, we'll talk about it," he said with a smile.
Born and raised in Rome with a strong Catholic background, Panetta studied at the LUISS university in Italy's capital before obtaining a masters degree in economics at the London School of Economics, and a doctorate at the London Business School.
Rising through the ranks of the Bank of Italy, colleagues describe a man who tended to avoid the social circuit in Rome, preferring to spend his free time with his family. His dedication to work limited that however: One friend says Panetta could occasionally leave the office at 4 a.m., only to be back in at work three hours later.
Those long days have probably paid off for him now with a job at the heart of European monetary-policy making -- and according to one former counterpart, Panetta will be sure to make an impression.
"He will certainly leave his mark on ECB policy, just as he did on banking supervision," Dombret said. "He was never shy to stand up for the issues he believed in."