'Every Bushel Matters' as Drought Keeps Crop Markets on Edge
(Bloomberg) -- In the world of crops, angst over the weather has reached a fever pitch.
Global inventories are shrinking and demand is on a tear as drought plagues farms from the U.S. and Brazil to Russia. As a result, every rain shower and dry spell is coming under extreme scrutiny. Grain futures touched near-decade highs last month before paring gains amid a strong planting season.
Now, too little or too much rainfall in key producers will go a long way in determining if prices rally again or further retreat.
In the U.S., traders and investors usually focus on giant corn and soybean growers like Iowa and Illinois. Now, they're obsessing over drought in second-tier producers like North Dakota. Severe dryness has already hurt Brazil's corn crop at a time when China is scouring the globe for all the grains it can find to replenish stocks and feed its hog herd, the biggest in the world.
"Every bushel matters," Kevin McNew, chief economist at agriculture-tech firm Farmers Business Network, said in an interview. "Even though we may be talking about drought in lesser growing corn and soybean areas like the Dakotas."
This year's weather pattern is especially tricky because while some areas are suffering from parched farmland, too much rain in other regions is also a problem for some farmers, adding to market volatility.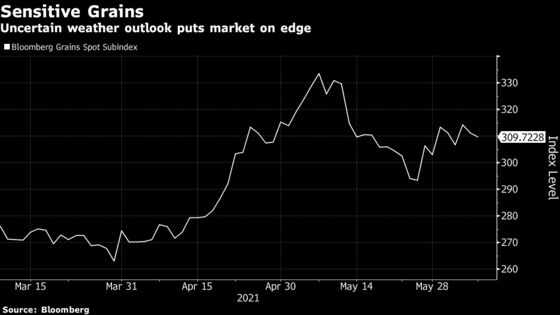 The most-active corn, soybeans and wheat futures contracts in Chicago have eased in the past four weeks as favorable weather aided crops. The Bloomberg Grains Spot Subindex, up more than 70% in the last 12 months, is down about 8% since May 7.
Corn is headed for its longest rally in a month while soybeans resumed gains as heat advisories blanketed stretches of the central U.S.
The U.S Department of Agriculture is set to release its monthly world supply and demand report, known as WASDE, at noon Washington time. For corn, the agency is expected to trim forecasts for U.S. and global stockpiles as well as Brazilian output, according to a Bloomberg survey.
USDA isn't expected to make sweeping changes but rather take a "wait-and-see approach," according to Ken Morrison, a St. Louis-based independent commodity trader.
The agency is set to release a highly anticipated update on planted corn and soybean acres on June 30.
In Brazil, the world's second-largest corn exporter after the U.S., state-run agency Conab on Thursday morning cut corn crop estimates by 9.4% as drought slashed yields.
U.S. farmers are still haunted by the sudden drought of 2012, which shattered crop yields and hit most of the country. This year though, "typical summertime rainfall" is possible in the central and eastern Midwest, said Dan Hicks, meteorologist at Freese-Notis Weather in Des Moines, Iowa. Danger zones for intense dryness in the Farm Belt include the Northern Plains and northwestern Midwest, including parts of Iowa, the top U.S. corn grower, he said.
Any hint of production problems in the U.S. grain belt could be "explosive," McNew said in a drought outlook report.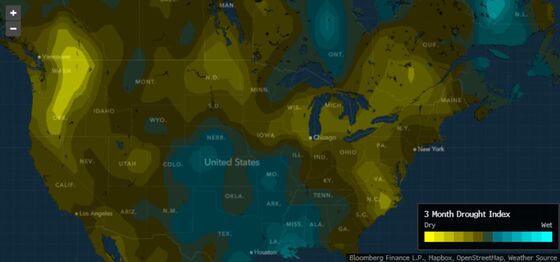 Late season downpours last month in the Central Plains saved hard winter wheat in Kansas and nearby states from extreme dryness. But that's led to new problems, including crop quality concerns and delayed harvests.
In North Dakota, which grows much of America's hard spring wheat used in pizza dough, croissants and bagels, searing temperatures and lack of rain is harming crop progress.
Across the Atlantic a similar dynamic is playing out. Farmers in the European Union and Black Sea region expect to reap lush winter-wheat crops after May rains, while stretches of the spring-wheat region in top shipper Russia are suffering from a dry spell.
"The weather had to be perfect and it hasn't been," said Jacqueline Holland, an analyst at Farm Futures. "The question now is how the rest of the U.S. growing season shapes up."