'Defiance' Is Word of the Week as Fed and Xi Stand Their Ground
(Bloomberg) -- A deteriorating global economic outlook wasn't enough for the Federal Reserve or Chinese government to come to the rescue.
Here's our final weekly wrap of 2018 on what's going on in the world economy as a new year nears.
Fed officials looked past market fury and White House taunts to hike the benchmark interest rate in their final decision of 2018, matching the consensus forecast even as expectations dwindled on account of weaker data. It's going to be even more of a wild ride from here as a gloomy outlook and lingering uncertainty around the neutral rate threaten the two-hikes-in-2019 plan.
Keeping the cautious tone, the Bank of Japan held its policy stance in a decision that surprised no one, and now they have slowing inflation to worry about. The Bank of England and Bank Indonesia also paused. Thailand and Sweden announced dovish hikes, with the Riksbank ending more than seven years of no tightening. Mexico hiked.
The Reserve Bank of Australia has fresh worries about housing, China's central bank is using a new tool to shore up the economy, and India Prime Minister Narendra Modi might've just found a savior for his cash woes.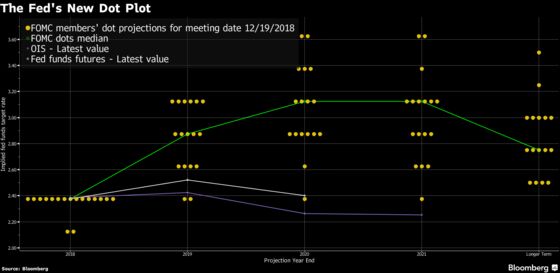 CHINA INSIGHT: New Front on Easing: Pace Shadow Deleveraging
Chinese President Xi Jinping came out with guns slinging, pledging that the world's No. 2 economy will take instructions from no one as he commemorated 40 years of China's opening.
Those who lived the first four decades are mixed in their reviews, and Xi's new plan might look a bit different from the old one. We'll get further clarity from China on its growth strategy, due Friday.
CHINA PREVIEW: The Marching Orders for 2019 – Stabilize Growth
As the 2019 previews pour in, many loaded with risks, here's a sober take on how bulls see things versus bears. Meanwhile, soft data is still looking soggy, with U.S. sentiment among consumers and homebuilders slipping. German businesses are sharing the pessimism as are global firms with exposure to Europe. The Italian government struck a deal on its budget with the EU, avoiding costly penalties, while Japan reached an ominous marker as its budget tops 100 trillion yen.
If you're a glutton for punishing news, there's always Brexit: The U.K. economy looks bleak for next year while Prime Minister Theresa May keeps up a fight for a deal. There's a post-Brexit migrant-worker plan floating. And this bellwether town senses a shift for the Remainers.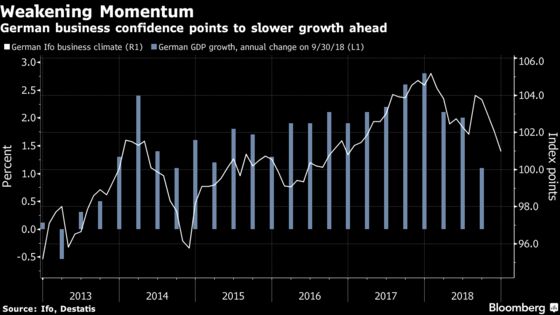 Time to Move to Cash as Debt Woes Mount, This Asset Manager Says
Sinking Inflation Will Test Power of BOJ's Doves in Risky 2019
U.S. REACT: Fed Retains Flexibility as Dot Plot Downshifts