Why `Caterpillar Moment' Doesn't Translate in Japan
(Bloomberg Opinion) -- That Caterpillar moment happened again.
Investors were already on edge, and the American industrial bellwether pushed them over: As Caterpillar Inc. reported its best third quarter ever, the stock dropped almost 10 percent Tuesday on a downbeat outlook. Japanese rivals including Komatsu Ltd. and Hitachi Construction Machinery Co. followed suit Wednesday, and trading volumes jumped.
As my Bloomberg Opinion colleague Brooke Sutherland explained, late-cycle cost pressures in the U.S. are being exacerbated by President Donald Trump's trade war with China to weigh on the likes of Caterpillar and 3M Co. In the third quarter, Cat's manufacturing costs rose $200 million from the previous year, double the pace of increase seen in the first half.
The last time Caterpillar spooked markets, in April, we noted that this "high-watermark" moment was more specific to the U.S. than to the global economy. Japanese machinery makers don't face the same cost pressures: Komatsu gets only 10 percent of its steel from the U.S., for example.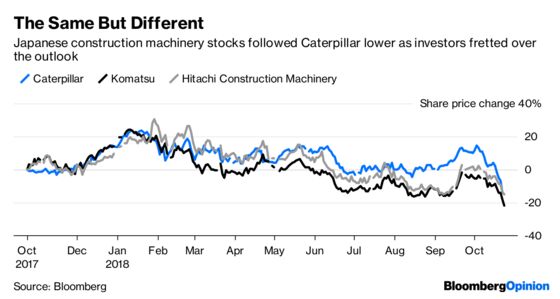 The difference in the lucrative and fast-growing China market is beginning to look pronounced, too. Total sales of smaller excavators increased more than 20 percent year-on-year in September, while heavier equipment was up 16 percent. For Komatsu and Hitachi, September sales in China of large excavators rose 11 percent and 34 percent, respectively, while Caterpillar's fell 1 percent. The American giant's market share for heavy equipment there dropped to 15 percent in September, from about 18 percent in January.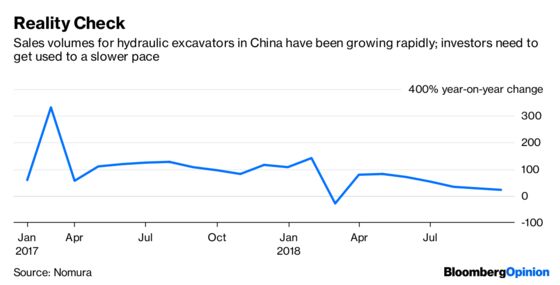 Still, Caterpillar's management expects sales of its 20-ton-plus excavators in China to rise about 40 percent for the full year. The nation accounts for 5 percent to 10 percent of its total sales.
The Japanese equipment makers, in contrast, have paced their China growth to about 5 percent to 6 percent. Their cautious approach in a market known for wild growth – and the ability to drive global sentiment on infrastructure demand (for good or ill) – may help them traverse an increasingly treacherous landscape there.
Casting a pall on all machinery makers is the question of whether or not China will further stimulate infrastructure spending to keep the economy bubbling. So far, the only evidence is tax cuts. Still, analysts at Nomura Holdings Inc. reckon the benefits of China's accommodative fiscal stance could start to show up in infrastructure spending in the last three months of the year. While machine operating hours tracked by Komatsu in China fell 4.6 percent in September, machines on the ground increased. The hours-worked metric could start to rise in the coming months.
The market shouldn't overlook the reality that industries have different cycles, as we've written before, and varying external influences. China's anti-dumping investigation has unnerved investors in high-tech Japanese machinery companies, for example, while Beijing's fiscal stance is more likely to determine construction activity.
Nor is the outlook all about China. Japanese machine-tool orders rose 3 percent in September, driven by Asian and North American demand. Look at Nidec Corp., a maker of components for all manner of industries that has become a leading indicator of sorts for machinery manufacturers: The company just reported a 20 percent increase in operating profit for the six months ended Sept. 30, and capital expenditure rose on the year.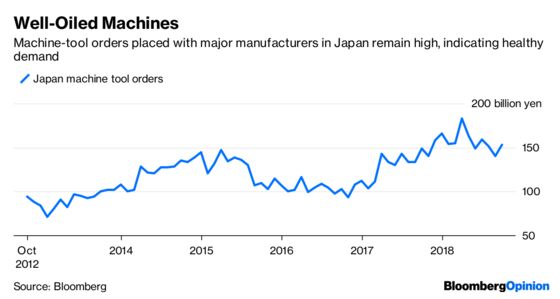 Investors may have shot from the hip. Caterpillar is an industry bellwether, but not necessarily for Japanese machinery makers.
This column does not necessarily reflect the opinion of the editorial board or Bloomberg LP and its owners.
Anjani Trivedi is a Bloomberg Opinion columnist covering industrial companies in Asia. She previously worked for the Wall Street Journal.