$2.8 Million to Switch Sides? Bribe Allegation Rattles Sri Lanka
(Bloomberg) -- A Sri Lankan parliamentarian has alleged he was offered a $2.8 million bribe to switch his allegiance and support the country's new government as the island nation's political crisis deepens.
Lawmaker Ranga Bandara has told Sri Lanka's house speaker that he was offered money to help prop up the new government led by President Maithripala Sirisena and the newly-appointed Prime Minister Mahinda Rajapaksa, according to a tweet from former junior economic affairs minister and MP Harsha de Silva.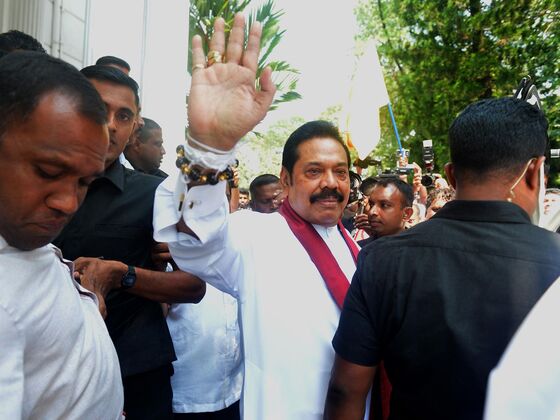 In a phone call, de Silva -- who along with Bandara belongs to ousted leader Ranil Wickremesinghe's party -- confirmed he had sent the tweet and said it was accurate.
De Silva said he was in the room when Bandara told the speaker at a meeting of 118 Sri Lankan parliamentarians this morning. The speaker's press secretary Chaminda Gamage, who was also present, said he heard Bandara make the allegations. Bandara made the claims after the speaker asked the assembled MPs if they had anything they wanted to say, both Gamage and de Silva said.
Bandara was not immediately available for comment on Friday.
A representative of the new government denied the allegations.
"Nobody is being offered anything," said Milinda Rajapaksa, a member of the Colombo municipal council from a political party that is backed by the Rajapaksa family.
The capital Colombo has seen frantic political horse-trading ever since Oct. 26, when Sirisena sacked Wickremesinghe and appointed Rajapaksa as his replacement.
Wickremesinghe has said his removal was "illegal." However, the president suspended parliament, preventing a vote on the ousting amid claims from both sides that they command a majority in the 225-member house.
"This is first time bribing MPs to cross has been publicly divulged," de Silva tweeted. He added that Bandara, who is a member of Wickremesinghe's United National Party, will take his complaint to the country's Bribery and Corruption Commission, which was set up to investigate graft claims.
The anti-corruption watchdog Transparency International had warned on Oct. 29 that the suspension of parliament amid contested constitutional claims "created a climate that is ripe for political horse-trading" that could lead to corruption.
"In the context of the prevailing political culture and past experiences, closing the doors of parliament to enable deal-making has already led to allegations of monetary inducements for loyalty," said Transparency International Sri Lanka's executive director Asoka Obeyesekere.