Zoom Is Becoming Boring, But That's Good
(Bloomberg Opinion) -- Zoom Video Communications Inc. is becoming less exciting. That will serve the videoconferencing leader just fine.
Late Tuesday, the company posted its second consecutive quarter of modest outperformance. It generated April-quarter revenue of $956 million, above the $910 million Bloomberg consensus and up a healthy 191% from the prior year. Zoom also projected a sales range of $985 million to $990 million for the current quarter, which is higher than the $942 million average analyst estimate. Following the report, its share price rallied about 2% in after-hours trading; it gave back those gains in early trading Wednesday.
The relative ho-hum reaction to the latest numbers may be exactly what the company needs, especially compared with the environment last year. At the beginning of the pandemic, Zoom came under intense scrutiny for "zoombombing" incidents where uninvited trolls harassed other meeting attendees. The pervasive media coverage over its security and privacy issues led school systems to temporarily ban Zoom's use inside classrooms. It also forced Chief Executive Officer Eric Yuan to spend a large portion of his time reassuring customers during weekly webinars that the company's product was secure and defending the company's business practices in a multitude of press interviews. To add to the frenzy, Zoom's stock was incredibly volatile as it became an avatar of sorts for the Covid-19 trade.
Those distractions are receding. Security problems are barely mentioned during Zoom's presentations these days. And its stock price is almost exactly flat so far this year after almost quintupling in 2020. That's good news in some ways because it means management can focus all of its attention on building out new products and features.
Zoom has been prolific on that front. In just the last couple of months, it has announced a flurry of initiatives. In April, it unveiled its $100 million Apps fund to stimulate the creation of more third-party apps for its platform. In May, Zoom said it would launch its Events platform, which will enable businesses to host virtual multisession conferences with ticketing and registration services. And finally, it has introduced Zoom Phone appliance devices that can fully replace legacy corporate phone systems. All of these developments will help drive revenue growth.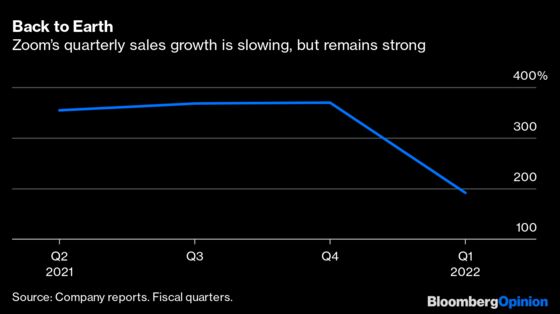 As for Zoom's core videoconference business, while its sales growth is slowing, the numbers are still impressive. Anecdotally, I'm finding family and friends are still choosing Zoom as their default choice for virtual meetings. For the corporate segment, Yuan said the company's clients are planning to adopt a hybrid model where workers will keep using videoconferencing even after they return to the office. That makes sense to me. Zoom meetings have become an ingrained behavior for daily life in the workplace. And businesses are likely to appreciate the company's best-in-class service and reliability to fulfill their needs. 
As Zoom's results and prospects have improved, it has grown into its valuation. Zoom shares are now trading at 25 times the company's estimated sales in the next 12 months, down from 37 times at the beginning of the year. Of course, the stock is not exactly cheap yet. But if the company continues to stay on top of its main market and launches attractive incremental products, it bodes well for investors. While Zoom shares probably won't skyrocket as they did last year, the company is setting up shareholders for solid returns without heartburn.
This column does not necessarily reflect the opinion of the editorial board or Bloomberg LP and its owners.
Tae Kim is a Bloomberg Opinion columnist covering technology. He previously covered technology for Barron's, following an earlier career as an equity analyst.