Zoom's $100 BIllion Deal Muscle Sets Up Cloud Showdown with Salesforce
(Bloomberg Opinion) -- Salesforce.com Inc. helped Zoom Video Communications Inc. get off to a good start when it invested in the startup's IPO roughly two years ago. But with the videoconferencing company now looming as a serious threat in cloud software, Salesforce may regret its initial support.
Zoom announced an agreement late Sunday to acquire cloud call-center software maker Five9 Inc. for $14.7 billion in an all-stock transaction. The rationale for the merger makes sense. Customer-support software is a complementary market to many of Zoom's communication products — especially Zoom Phone. So there are clear opportunities to cross-sell into Five9's more than 2,000 corporate customers.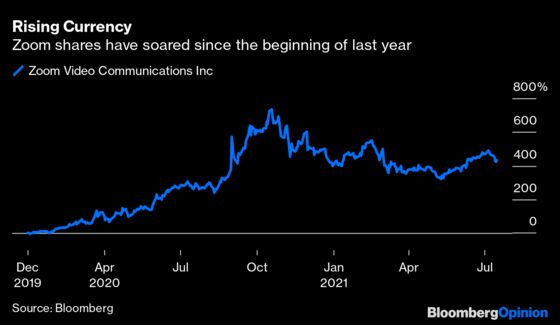 Beyond the deal's specific attributes, the transaction marks the start of an important new era for Zoom. It's the first time the company has used its elevated share price as an acquisition currency to buy a larger cloud-software company. And it likely won't be the last. The reason? Corporations prefer a one-stop relationship when buying enterprise software. By absorbing more features and capabilities through acquisitions, it is much easier to generate incremental revenue using the same relationship to sell more software.
It's a strategy Salesforce pioneered and used to perfection. Over the last two decades, the sales and marketing software maker assembled a comprehensive suite of cloud software tools primarily through acquisitions. Salesforce bought more than 60 companies in that time, including email-marketing service ExactTarget and data-analytics provider Tableau Software. Its dealmaking culminated with the blockbuster $28 billion purchase Slack Technologies Inc. last year.
Salesforce has dominated as the go-to aggregator for mid-to-large sized cloud deals. Now, that's no longer the case. Just two years after its successful IPO, Zoom is worth more than $100 billion in market value, compared to Salesforce's $220 billion.
The Five9 deal sends a message to the enterprise software world: Zoom has bigger ambitions beyond the videoconferencing tools that fueled its rise during the pandemic, and it has the muscle and desire to make them a reality. Saleforce should consider itself on notice.
This column does not necessarily reflect the opinion of the editorial board or Bloomberg LP and its owners.
Tae Kim is a Bloomberg Opinion columnist covering technology. He previously covered technology for Barron's, following an earlier career as an equity analyst.