How to Afford Yale if Inflation Creeps Above 3%
Three percent core inflation is not necessarily bad news for the middle-class wallet. Annual salary raises may be higher and — other than cash and gold — asset value often rises with the cost of living. But a person has to choose her investments more carefully, especially if she wants to do ambitious things, like send her children to elite private universities. 
In a zero-inflation world, investing was almost a no-brainer. You simply put your money in the S&P 500 Index. But the calculus changes if consumer prices tick up. When core inflation ranges between 3% and 6%, stocks — even value-oriented ones — lose their allure. If history is a guide, real assets — oil, base metals and agricultural products — will become the stars. But the middle class may have a hard time investing in natural resources. After all, you can't stockpile corn or natural gas in your backyard.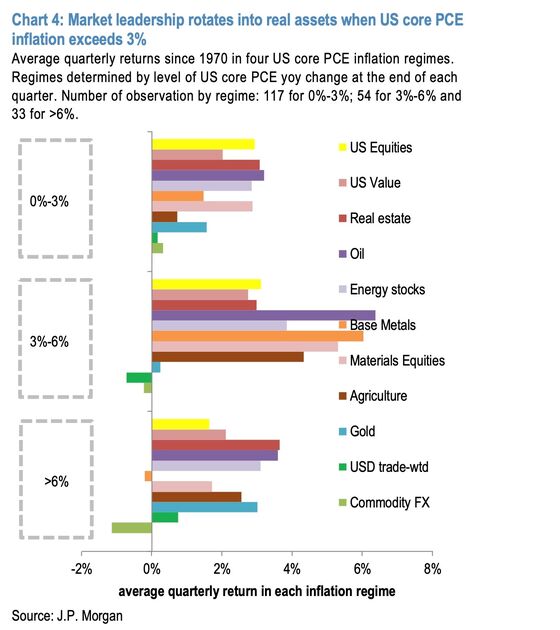 Compounding the headache is soaring college tuition. In the last decade, the U.S. hardly experienced any inflation, yet by the 2019-20 academic year, average tuition, including room and board, at non-profit four-year private universities cost $48,965 a year, a 130% jump from 20 years earlier. So imagine what the future cost of higher education will be when inflation comes into play. How should one invest in this new environment?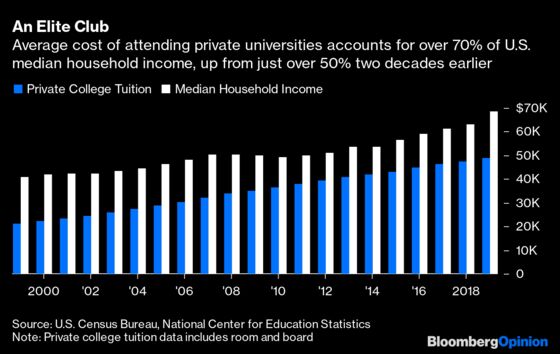 First, be inspired by the Yale Model, not the 60/40 portfolio strategy, which is meant to prepare for retirement. It was pioneered by David Swensen, who ran Yale University's $31 billion endowment fund over the last three decades. In that period, the Yale Investments Office notched an average 12.4% annual return, and contributes to more than a third of the school's budget. (Swensen passed away last week.)
Swensen had to worry about the soaring cost of education — a lot. Running a world-class university is expensive. The general cost of operating a business aside, Yale had to constantly upgrade research facilities and lure top academics with good pay. The university's "vulnerability to inflation," according to its latest annual report, dictated that "Yale is not particularly attracted to fixed income assets." Rather, more than 90% of the endowment is targeted for investments that produce "equity-like returns."
Second, forget passive index investing. The Yale Model puts heavy focus on alternative assets such as private equity and real estate. The fund targets 17.5% and 23.5% of its money at leverage buyouts and venture capital, well above its peers' average 8.4% and 7.7% allocation. The endowment fund likes real estate, calling it a "natural hedge" against unanticipated inflation. The fund aims 9.5% of its money into that sector, versus the street's average 3.6% allocation.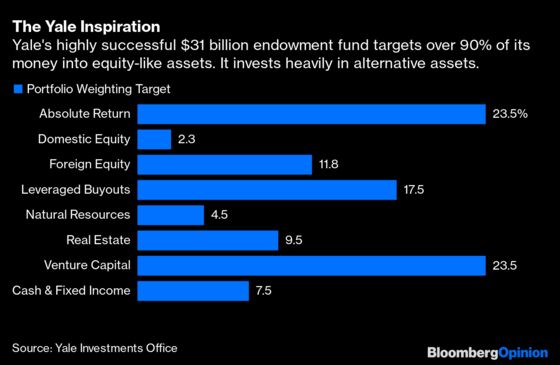 Are private equity and real estate good inflation hedges? The conventional wisdom is that private markets will outperform publicly listed stocks because of a so-called liquidity premium. So if stocks don't do well enough to counter the rising cost of living, the extra returns from the liquidity premium will give investors protection. Indeed, private equity has beaten U.S. small-cap stocks by about 3% per year since the mid-1990s and outperformed in about two-thirds of the years, data compiled by JPMorgan Chase & Co show. 
Private equity is a rich man's club. The middle class, however, can still try to tap onto real estate, or invest in small businesses run by family and friends — which is akin to venture capital investing,  offering a liquidity premium and growth options,  the  poor man's private equity! In an inflationary world, passive index investing is not enough to pay college bills. What you do with your wallet may be the difference between Yale and a state college.
This column does not necessarily reflect the opinion of the editorial board or Bloomberg LP and its owners.
Shuli Ren is a Bloomberg Opinion columnist covering Asian markets. She previously wrote on markets for Barron's, following a career as an investment banker, and is a CFA charterholder.