With Avis, Tesla's Cars Now Buy Themselves
(Bloomberg Opinion) -- For automakers, fleet sales used to be like the free newspapers lying around hotel lobbies. You shifted product, yes, but not in a way any half-sentient investor would value.
As with so much else, Elon Musk has apparently changed all that.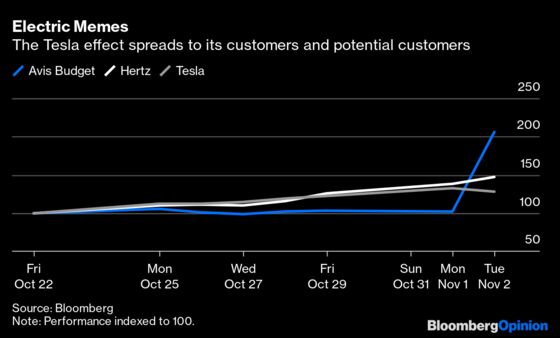 Shares of car rental giants Hertz Global Holdings Inc. and, especially, Avis Budget Group Inc. have soared this past week or so on news that they are buying a lot of electric vehicles or planning to. That's it. Tesla Inc. also raced above a $1 trillion valuation after Hertz said it would buy 100,000 Muskmobiles. And even after Musk tweeted some cold water by pointing out no contract had been signed with Hertz, causing Tesla's stock to retreat, its market cap was still higher than when the original news broke by about $260 billion — or, as I like to think of it, roughly an Exxon.
Far from being an embarrassment, therefore, fleet sales are now a fantastic, self-funding business model all their own. Rent-a-Car Corp. simply announces it will/might buy thousands of EVs. Previously deemed a "cost," this is now actually a ticket to meme-hood. Once that's fed through to the stock price, all that remains is for Rent-a-Car to take investors at their word and give them more of what they want: new stock. Thus, with funding secured, Rent-a-Car can actually afford to buy all those shiny new EVs. Or not, but they'll probably buy some.
The perpetual-motionish aspect is all a bit laughable, sure. But all these stocks are actually a lot higher than they were before these announcements and half-intentions got out there, so there's that reality to contend with.
Tesla led the way, of course; when its stock soared in 2020, it promptly raised more money from equity sales than all its prior issuance up to that point. The result is Musk's company has more than enough cash to fund itself for a while to come. Yes, the valuation was bonkers before the whole fleet thing, and now it's bonkers-plus.
Oil companies, which now spend their time promising to pay out money rather than dare raise any, should take particular note. There's a long history of bubbles remaking industries, from railroads to tech to … shale. The new and frightening twist for energy incumbents is that not only can Tesla mint its own currency. It can now apparently franchise that talent to its customers.
This column does not necessarily reflect the opinion of the editorial board or Bloomberg LP and its owners.
Liam Denning is a Bloomberg Opinion columnist covering energy, mining and commodities. He previously was editor of the Wall Street Journal's Heard on the Street column and wrote for the Financial Times' Lex column. He was also an investment banker.