Who Wants to Be the Next Danone CEO? It's a Tough Sell
(Bloomberg Opinion) -- Emmanuel Faber, chairman and chief executive officer of Danone, is to relinquish his CEO role after pressure from investors such as Artisan Partners and activist hedge fund Bluebell Capital Partners. But this is only a partial victory for those who have been pushing for an overhaul of the world's largest yogurt maker.
While Faber will step down as CEO "in the near future," he will remain on as non-executive chairman.
Danone has a strong suite of assets, including in plant-based beverages like soy and almond milks, but it has underperformed over the past five years. There is scope for a new CEO to manage these assets better, paving the way toward a recovery. And Faber has started the process of pruning the portfolio, clearing a path forward for his successor.
The danger is Faber's continued presence as non-executive chairman, which could make it hard to recruit a quality CEO from outside the company.
Potential candidates may feel they won't have enough strategic freedom, especially since former Chief Financial Offer Cecile Cabanis will be sitting alongside Faber as vice chairman. The board is also backing Faber's plan to run the company along geographic divisions, rather than product lines, further limiting any new CEO's leeway.
A better route would have been for Danone to first appoint a truly independent chairman, who could then lead a search for an outsider CEO. Given the board has rejected this option, it will need to make sure that Faber's presence doesn't get in the way of the recruitment process or constrain the new leader.
Danone said late Monday that it was also appointing Gilles Schnepp, the former chairman and CEO of electrical equipment maker Legrand SA, who joined the board in December, as vice chairman alongside Cabanis. Schnepp's role as lead independent director will be transferred to longstanding board member Jean-Michel Severino. These two will have to smooth the way for appointing an outside CEO and ensure that he or she will be able to put their own stamp on the company.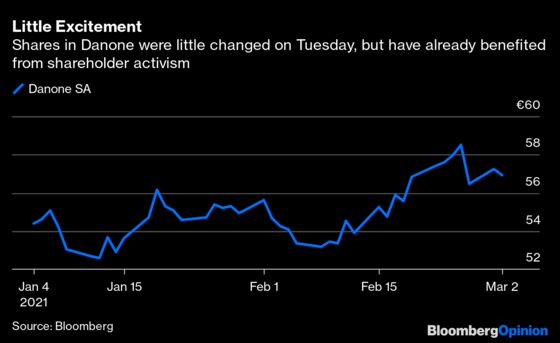 Even with a new leader, Danone will face some familiar problems, such as increasing competition in important categories, such as dairy, plant-based beverages and infant nutrition in China. The company will also need to consider disposing of underperforming assets like liquid milk and parts of its bottled water division.
Danone said this week it was preparing to sell its stake in China Mengniu Dairy Co., which could be worth more than $2 billion, and use most of the proceeds to buy back shares. A potential flashpoint could arise if the new CEO wants to invest these funds into revitalizing brands such as Activia yogurt, which should be getting a boost from more consumers focusing on health and wellness.
There are some grounds for Danone optimism. When Mark Schneider became CEO of food rival Nestle in 2017, his predecessor Paul Bulcke moved to chairman — but that didn't stop Schneider from improving Nestle's operations and making significant disposals and inspired acquisitions.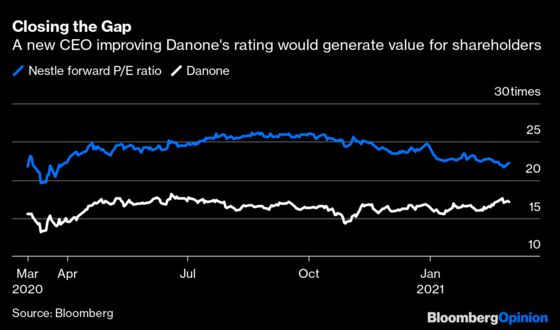 If Danone can do the same, then it could lift its forward price earnings ratio from 17 times to closer to Nestle's 22 times, generating significant value for shareholders.
If not, expect Danone's investors to carry on agitating for change, this time with a focus on Faber's role as chairman.
This column does not necessarily reflect the opinion of the editorial board or Bloomberg LP and its owners.
Andrea Felsted is a Bloomberg Opinion columnist covering the consumer and retail industries. She previously worked at the Financial Times.