Are You White? It May Depend on How You're Asked
(Bloomberg Opinion) -- There were two main headlines from last week's initial release of detailed data from the 2020 U.S. Census:
These aren't wrong, but could probably use asterisks. Changes to the Census questionnaire explain a lot of the shift in the racial numbers — and the number of White Americans didn't shrink if you include those who said they were White plus one or more other races — while the stated aim of the Census to measure people's place of permanent residence as of April 1, 2020 means that the local population numbers don't tell us much about what's happened lately.
On race, the Census Bureau didn't so much change the questions it asked for the 2020 Census as change how people were instructed to answer. Here's the relevant section from the 2020 Census questionnaire: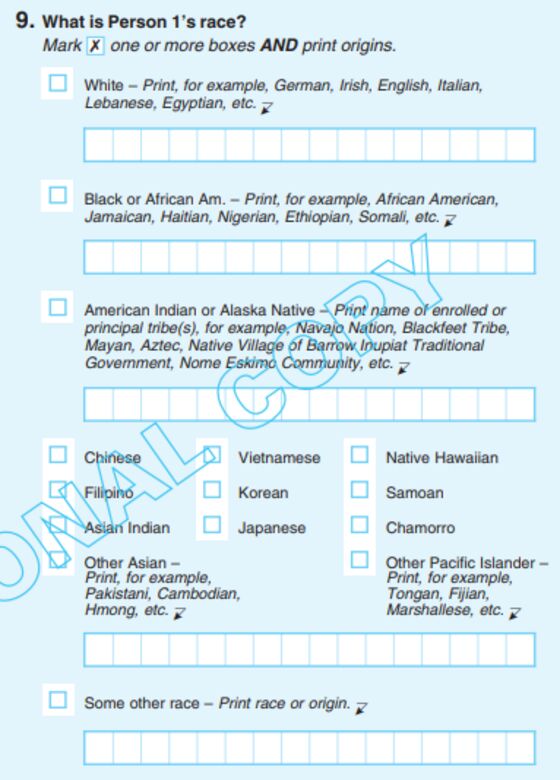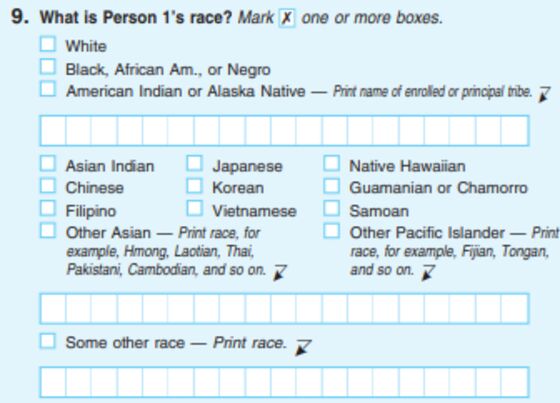 There were also tweaks to the question about Hispanic or Latino origin, but the new "AND print origins" instruction on the race question, along with the added space for printing, seem to have been most significant. While one could check multiple racial boxes in 2010, Census respondents were outright encouraged in 2020 to think back on their heritage and make sure every ancestor was accounted for. Partly as a result, the number of Americans identifying as multi-racial went up 276%, from 9 million in 2010 to 33.8 million in 2020.
That gain of 24.8 million people is in the same ballpark as the 19.3 million decline in the number of Americans identifying as White alone. That's not to say the shift was only about people changing their racial categories — lots of interracial babies were born over the past decade, lots of immigrants of varying backgrounds arrived and lots of older White people died. The number of people identifying as White either alone or in combination with other races did rise, but at a much slower pace than the population as a whole (1.9% versus 7.4%).
It's easy enough to find shifts in the data that can't reasonably be explained by actual demographic change, though. The percentage of Hispanic Americans identifying as White alone plummeted from 53% in 2010 to 20.3% in 2020, while the share identifying as multi-racial rose from 6% to 32.7%. The percentage of Americans identifying as being of "some other race" either alone or in combination rose from 2.9% to 10.2%.
As the Census Bureau itself put it in releasing the numbers last week:
We are confident that differences in the overall racial distributions are largely due to improvements in the design of the two separate questions for race data collection and processing as well as some demographic changes over the past 10 years.
The growth divergence between cities and rural areas can't be attributed to such design issues. It's possible that the aggressive efforts of some big cities to make sure the Census Bureau didn't miss anybody, and to assure undocumented immigrants that it was safe to be counted, boosted their numbers relative to rural areas that didn't make such efforts. But that seems unlikely to have had enough of an impact to cancel out the headline message that metropolitan areas grew faster than expected from 2010 to 2020 and rural areas slower.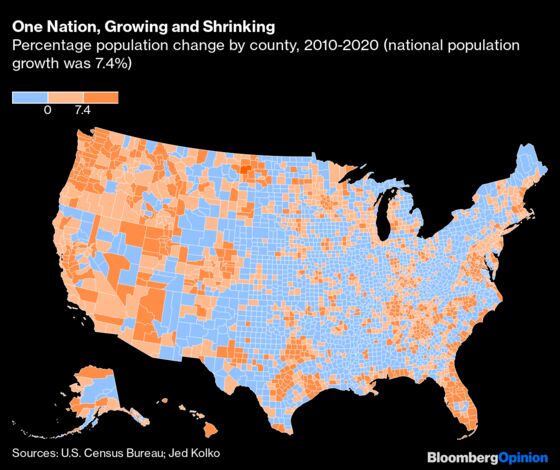 This news was greeted in some circles as a welcome refutation of recent concerns about urban decline, but it isn't, really. For one thing, the decennial Census aims to measure the population as of April 1 of the Census year. It's also supposed to count people where they usually live, not where they happened to be on that day. This was a lot harder to do in 2020 than in previous Census years — I spent a long time on the phone with a Census-taker last summer going over the fact that while my son was home in New York on April 1 he was supposed to have been away at college, and I'm still not clear where he ended up being counted. But on the whole, we should not expect the 2020 Census numbers to tell us much about how pandemic-induced migration affected cities.
Decennial Census numbers also don't tell us when in the last decade population changes occurred. Here's a comparison of New York City's population as counted in the 2010 and 2020 censuses and as estimated by the Census Bureau's annual population estimates program.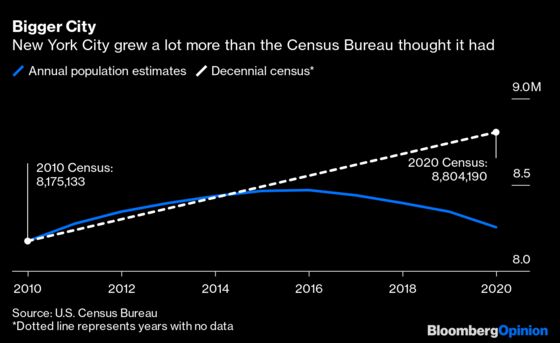 The higher-than expected population number for 2020 could mean a lot of different things. Maybe the population estimates — which are extrapolated from the previous decennial Census using a variety of vital-statistics, tax and survey data — were wrong and the city hasn't been shrinking since 2016. That's (understandably) how Bill de Blasio, who has been New York City's mayor since 2014, interpreted the news:
It's also possible, however, that the population estimates were right about New York City's post-2016 decline but underestimated the pace of growth in the first half of the decade. It's even possible that the 2010 Census number was an undercount — the city Planning Department says it recently added 265,000 new housing units to the list used by the Census Bureau, many of which were new but some of which were hard-to-find locations that may have been missed a decade ago.
So yes, the nation has gotten more diverse over the past decade and cities have grown. But as always, one should be at least a little wary of attempts to enlist these data points in service of tidy narratives.
Economist Jed Kolko is credited as a source for the map because he compiled a spreadsheet of county populations in 2010 and 2020, which the Census Bureau itself hasn't gotten around to yet.
This column does not necessarily reflect the opinion of the editorial board or Bloomberg LP and its owners.
Justin Fox is a Bloomberg Opinion columnist covering business. He was the editorial director of Harvard Business Review and wrote for Time, Fortune and American Banker. He is the author of "The Myth of the Rational Market."