The Banks at the Wrong End of the Tiger Cub's Paws
(Bloomberg Opinion) -- Hedge funds are having a tough 2021. In January, retail investors successfully short squeezed top-tier ones such as Melvin Capital Management. Just last Friday, we got an "unprecedented" margin call on New York-based Archegos Capital Management, a family office run by Bill Hwang, a protege of Julian Robertson's legendary Tiger Management and one of the so-called Tiger cubs. Now, the big question is who will absorb billions of dollars in trading losses. 
Hwang, who was also margin called in 2008 after the collapse of Lehman Brothers Holdings Inc., unleashed chaos again on Wall Street. Heavily leveraged, his assets are anywhere from $5 billion to $10 billion, but his total positions may have topped $50 billion, Bloomberg News reported. Last Friday, two U.S. banks, Morgan Stanley and Goldman Sachs Group Inc., liquidated over $20 billion of his holdings. 
More block sales are in store. On Monday, Morgan Stanley was shopping around a $2.2 billion block trade of ViacomCBS, Inc. stock. Meanwhile, both Nomura Holdings Inc. and Credit Suisse Group AG warned they may have incurred "significant" losses from transactions with a U.S. client. Nomura estimated the amount of its claim to be about $2 billion, while the Swiss bank did not attach any numerical figure to its announcement. Hwang is a client at both banks' prime brokerage units. 
As of the end of 2020, Nomura held substantial positions in the stocks Hwang liked, such as ViacomCBS, Tencent Music Entertainment Group, GSX Techedu Inc., Vipshop Holdings Inc. and Discovery Inc., according to the bank's filings with the U.S. Securities and Exchange Commission. Similarly, Credit Suisse, may also face whale-sized impairments, if you go by SEC filings.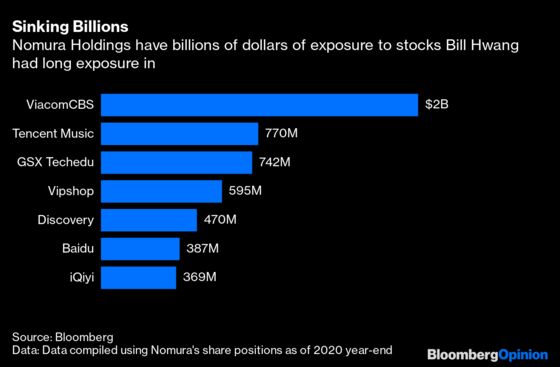 A question worth asking is: How did we get here in the first place? How could such havoc be raised by a couple of media companies and half a dozen Chinese Internet firms few had heard of before Friday?

The easy explanation is the greed. With the U.S. economy recovering and bond yields rising, hedge fund managers like Hwang continued to chase fast profits. U.S.-based long-short hedge funds began to sell their largest and most liquid positions — mega cap tech stocks — late last year and bought laggards in the same sectors instead hoping to see them spurt ahead with the American upturn. Among those new favorites were media companies like ViacomCBS and Discovery. Many of Hwang's positions had the promise of playing catch-up this year — and banks like Morgan Stanley and Goldman were willing to finance his bets.
More on the Meltdown at Archegos:
It was easier for a fund of his size to sway the market prices of smaller companies just by purchasing their shares. On the flip side, idiosyncratic events — such as Viacom's unexpected offering of new shares — can have a disruptive effect. These stocks, not nearly as liquid as the big tech, would be sold off faster — and that would prompt margin calls from banks wanting their money back. 
So banks also share the blame for the upheaval, perhaps for more of it. They facilitated Hwang's huge leverage appetite. It's no secret some of the Chinese internet names that Hwang bought are volatile, illiquid and with little backing from long-only institutional investors. One example is after-school education provider GSX Techedu, which was probed by the SEC following allegations from short sellers that it was faking sales. There was so much prime brokerage activity in GSX that big banks showed up in the filings as the company's largest outside shareholders. Hwang, who used swaps with his brokers for the long exposure, managed to stay anonymous. He did not really own the stock.  
This reads to me as a serious case of mismanagement by the banks. The profit-seeking front offices of prime brokerages took precedence over the more prudent credit and compliance committees. Banks could make hundreds of millions of dollars in interest charges alone by offering margin loans to a Tiger cub. But with $50 billion in positions, Hwang would be five times leveraged. If something went wrong and he couldn't repay their loans, the banks would have to hold a fire sale. Which is what happened.
Chances are, heads will roll at the big banks over this. But more importantly for their shareholders, what's the recovery rate for Hwang's holdings? Goldman told its clients any losses from Hwang would be immaterial — I believe that, especially if the bank is accounting for profits made from the margin loans. As Goldman and Morgan Stanley rush out block trades, will there be buyers left on the market for, say, the little-known Chinese internet companies, which were not cheap in the first place? Nomura and Credit Suisse, which were slow to liquidate the Tiger cub's positions, may end up with the bulk of the losses.   
There's an old saying, if you're playing poker and can't tell who the sucker is by looking around the table, it's you. 
This column does not necessarily reflect the opinion of the editorial board or Bloomberg LP and its owners.
Shuli Ren is a Bloomberg Opinion columnist covering Asian markets. She previously wrote on markets for Barron's, following a career as an investment banker, and is a CFA charterholder.