Viewers Face Olympic Trials for Streaming the Games
(Bloomberg Opinion) -- For a world in search of something to cheer for again, the Olympics are finally almost here. But this summer's games, which start next week in Tokyo, just won't have that same sense of spirit and togetherness, in part because it won't be as easy for many to watch them. 
Online video services are changing how viewers experience large televised events and who gets to tune in. Traditionally in the U.S., one network pays for the rights to carry the Olympics exclusively on its airwaves. Comcast Corp.'s NBC has broadcast the Summer Olympics since 1988 and the Winter Olympics since 2002. (The European rights belong to Eurosport parent Discovery Inc., which also licenses them out.) But this year, in addition to airing the Olympics on its NBCUniversal properties, Comcast is using the games to promote its new Peacock app to U.S. consumers who have canceled cable or are thinking about doing so. Peacock viewers, however, will be getting a slimmed-down version unless they decide to pay for a premium upgrade.
Putting the games behind a much more palpable paywall would seem to violate the symbolism of the Olympics as a worldwide communal festival. It's one thing when bingeing reruns of "The Office" or "Friends" means having to supplement a Netflix subscription. It's quite another when watching their favorite Olympic events requires consumers to have either Peacock or some version of cable, whether it be Comcast, another cable provider or a virtual imitator such as the $65-a-month YouTube TV.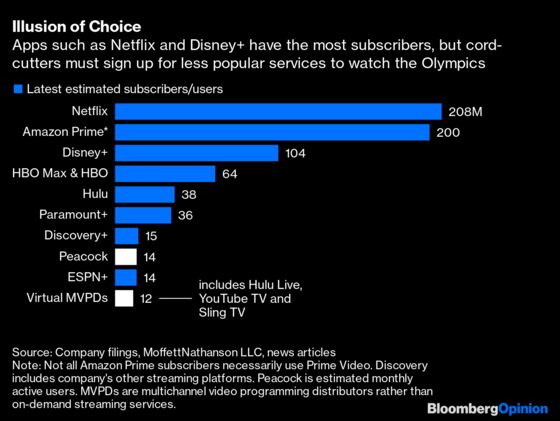 In the era of cable TV, it didn't matter much which network had the rights to broadcast the Olympics because the average viewer had just about every vital channel anyway. The average person doesn't have every streaming app and certainly not Peacock; only about 14 million people actively use it each month, according to Bloomberg News. To put that in perspective, 74 million people in the U.S. and Canada pay for Netflix, making it by far the most popular streaming service, and even that doesn't cover all 128 million U.S. households. EMarketer also predicts that fewer than half of households will subscribe to a traditional pay-TV service by 2024.
Many fans may choose to just catch clips of Simone Biles's Yurchenko double pike on Facebook Inc.'s Instagram and Alphabet Inc.'s YouTube after the fact rather than tuning in live. And yet, this could be NBCUniversal's most profitable Olympics broadcast ever, according to CEO Jeff Shell. Shrinking cable-TV audiences haven't stopped advertisers from clamoring for air time.  
The games themselves, which are set to begin July 23, are not without their question marks. After being pushed back a year by the pandemic, the event is still marred by the spread of Covid-19 variants, which led Olympic organizers to ban spectators. There's also a feeling of a "lack of star power," said Michael Nathanson, an analyst for MoffettNathanson LLC. One of the most exciting athletes — track and field sprinter Sha'Carri Richardson — was disqualified for testing positive for marijuana. "Add in the Japan time zone issues," Nathanson said, "and this will be a very interesting test case for the 'global showcase' that was the Olympics."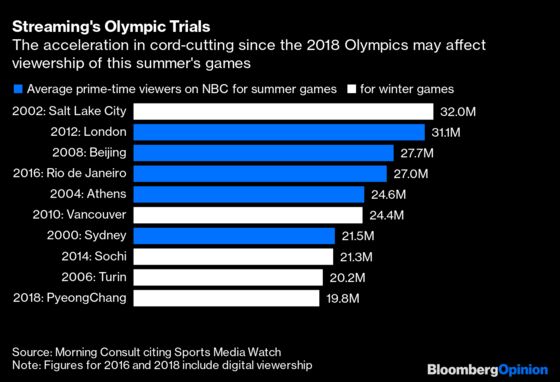 Cord-cutters who do want to (legally) watch Olympic events live and in their entirety face less-than-ideal options: They can get an antenna (not a great look for sleek mounted TV sets) or download Locast to stream their local NBC affiliate for free, if Locast is available in their market and if the local station is showing the games. NBC is available on YouTube TV and similar cable-like packages, but they don't offer much in the way of savings compared with cable, making these apps less attractive to viewers looking for Disney+ and Netflix-style prices and on-demand fare. That leaves Peacock. Even then it's a confusing offering, demonstrating the challenge of one company "owning" the Olympics in the streaming era.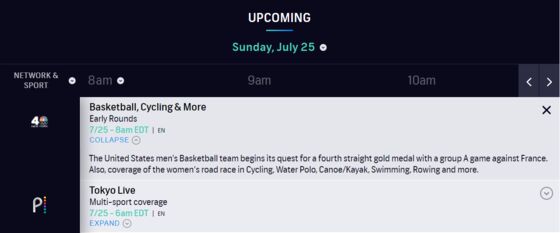 It's not obvious by looking at NBC's online Olympics schedule or Peacock's website exactly what a viewer gets access to on the app. Bloomberg's Gerry Smith reported that the free version of Peacock will stream certain events, including track and field and women's gymnastics, as well as highlights and documentaries. But streaming the USA men's basketball team requires Peacock Premium, which costs $4.99 a month, unless a viewer is already a Comcast Xfinity customer. Expect more of that in the future because Comcast is eager to convert more Peacock users into paying subscribers. "One thing we do well as a company is upsell people," Matt Strauss, who oversees the cable giant's streaming business, said last month — and don't cord-cutters know it. 
As the TV industry splinters from buffet-style cable packages into distinctive competing menus with rising fees, it risks carving a global extravaganza into just another niche event and poses the question of whether future Olympics rights should go to just one streamer, and not a particularly popular one at that.
This column does not necessarily reflect the opinion of the editorial board or Bloomberg LP and its owners.
Tara Lachapelle is a Bloomberg Opinion columnist covering the business of entertainment and telecommunications, as well as broader deals. She previously wrote an M&A column for Bloomberg News.