Did Tesla Sell Bitcoin? Its China Sales Are a Clue
(Bloomberg Opinion) -- I'm really starting to think Tesla Inc. may have sold some Bitcoin already this quarter. I know Elon Musk tweeted something indicating otherwise, but that isn't always a rock-solid reference. Plus, Tesla's May sales figures for China just came in.
These are actually good, with deliveries up 88% from April. April's figures were really bad, dropping like a stone from a strong March showing and the lowest since last fall. So Tesla needed May to be good. But is it good enough?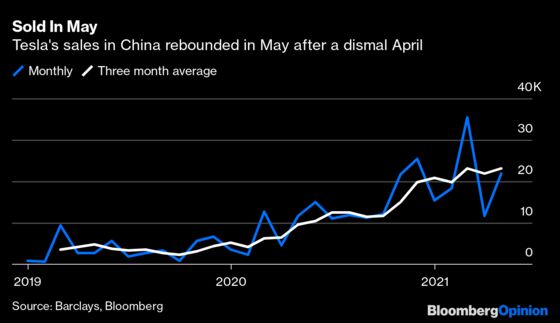 In a sense, it's always good enough. Tesla's stock is up 2% on Tuesday morning, adding $12 billion or so to its already bloated market cap. Allow reality to intrude a smidge, though, and that same valuation — 194x forward earnings — ought to place some reasonably stringent demands on Tesla's results. This is an uber-growth stock that, for the past two quarters at least, relies on China for that growth.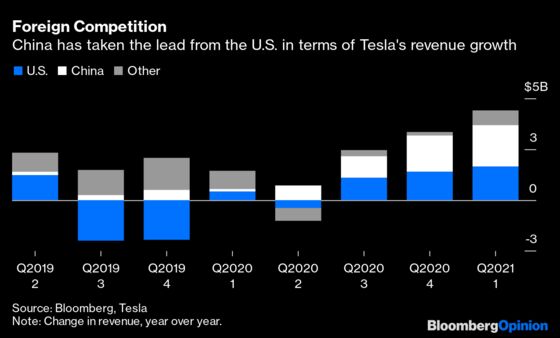 Looked at this way, Tesla still has a lot of ground to make up this month. Including May's recovery, sales are still running slightly behind where they were in the first two months of the prior quarter. The third month of each quarter is typically Tesla's strongest in China. Still, in order just to match the first quarter's sales there, Tesla would need to deliver almost 36,000 vehicles in June, slightly higher than even the spike in March.
And to justify that stock multiple — in objective terms, anyway —  Tesla needs to do way better than just match sales. Consider that Tesla only began manufacturing the Model Y in Shanghai in December, yet sales in China have lagged that month in four of the past five months. The outlook for this month's sales are clouded by the recent consumer and regulatory backlash Tesla has experienced in China, which may have depressed orders. 
Altogether, this quarter is shaping up to be a tricky one for the bottom line. Despite record deliveries, the first quarter's net income relied heavily on sales of regulatory credits and even Bitcoin. That was partly due to a sharp drop in production of higher-margin Models S and X vehicles.
On that score, the delayed launch of the new Model S "Plaid" version is likely to weigh on earnings again. Moreover, while a launch event is now scheduled for Thursday, Elon Musk's sudden announcement (via Twitter of course) that the souped-up "Plaid+" has been canceled represents another headwind. Musk claims the regular Plaid version is so good that Plaid+ isn't needed. Not to cast aspersions on the veracity of the CEO's tweets, but ditching the opportunity to tweak a model and thereby add thousands of high-margin dollars to the price is just an unusual tactic in the car game.
So Tesla may face pressure at both the top and bottom line when it next reports results. That's one reason a Bitcoin sale looks mighty tempting, regardless of what Musk tweeted. Another is that the cryptocurrency now trades firmly below the average level at which Tesla first, er, invested $1.5 billion earlier this year . Assuming that holds, and Tesla's holding has fallen in value, accounting rules would dictate booking a loss, absent an actual sale. If China doesn't deliver this month, then it may fall to Tesla's Master of Coin to keep spirits up.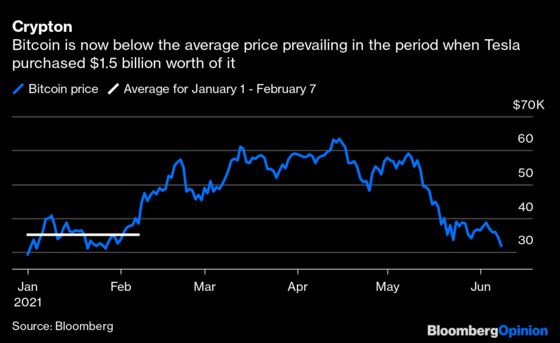 Tesla reported its Bitcoin purchase on Februay 8, 2021. The average Bitcoin value from January 1 to February 7 was $35,150 (source: Bloomberg).
This column does not necessarily reflect the opinion of the editorial board or Bloomberg LP and its owners.
Liam Denning is a Bloomberg Opinion columnist covering energy, mining and commodities. He previously was editor of the Wall Street Journal's Heard on the Street column and wrote for the Financial Times' Lex column. He was also an investment banker.