Sump Pumps and Wet Vacs Are Climate Change Must-Haves
(Bloomberg Opinion) -- It was the sound of glass shattering. I raced around the house searching for broken windows because it was the only thing I could think of in that frazzled moment to explain the clamor. Then it hit me: The crashing sound wasn't glass, it was a waterfall. In my home. 
On June 8, a bizarrely intense rainstorm hit my region of New Jersey — a "once-in-a-lifetime" type of event, as one municipal building official and a parade of contractors and drainage experts would later put it. This wasn't even a flood-prone area, so we, like many homeowners, hadn't anticipated a problem. The prevailing theory is there was so much water that it had nowhere else to go but up — up through the window wells on the external perimeter of our finished basement. Eventually, the window seals gave way and Niagara Falls came pouring in from two sides, creating that distinct sound as the water smacked the tile floor before forming a pool between our newly built gym on one side and the place on the other side where a future baby's playroom is meant to be. Our pandemic hoards of toilet paper went swimming.
Fast-forward a few weeks. Another bout of torrential rain descended upon us with Tropical Storm Elsa, and we held our breath to see whether our emergency fixes worked. And again in late August, when the slow-moving Tropical Storm Henri drenched the Northeast. Then Wednesday evening, the remnants of Hurricane Ida — which had already devastated Louisiana — ravaged New Jersey and New York, delivering record-breaking rain to Central Park, where Henri had set the record just days earlier. The National Weather Service had to issue a flash-flood emergency to New York City for the first time; it's different from a warning and is reserved for "exceedingly rare situations" in which there's a "severe threat to human life and catastrophic damage." It sure seems like a lot of "once-in-a-lifetimes" for one summer.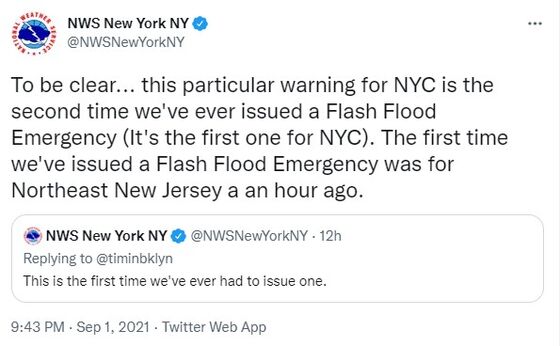 This is the increasingly everyday reality of climate change. Wet storms are becoming wetter, and floods have become larger and more frequent in many parts of the country, according to the U.S. Environmental Protection Agency. U.S. electrical failures also jumped 73% in 2020 amid natural disasters and extreme weather, according to PowerOutage.US. As a result, the booming U.S. housing market has brought with it some unpleasant lessons for homeowners on the various facets of weatherproofing and waterproofing, such as regrading lawns to direct flow away from a foundation and how much gas pressure is needed to keep the house running when the power cuts out. 
On the other side of this newly acquired vocabulary is an industry selling everything from generators to sump pumps and mold-remediation services. Servpro water cleanup technicians have said they couldn't keep up with the calls this summer, while consumers keep racing to local home-improvement stores for construction parts that weren't previously high on their shopping lists. Home Depot in Passaic, New Jersey — about 12 miles outside Manhattan — said Thursday morning that it quickly sold out of pumps, hoses, air blowers and wet vacuums.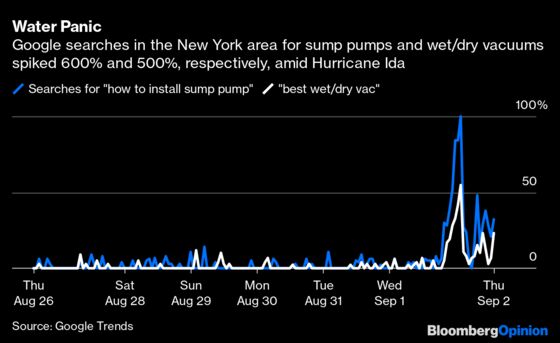 This is the business of climate change, and it's going to be a big one. Compared with electric vehicles, it may be the less glamorous industry, but these piecemeal structural retrofits are the first line of defense against a global threat that is no longer abstract for the average homeowner. It's hard to come by data pinpointing just how big this market is, in part because of the fragmented nature of the space, which includes many smaller, specialized manufacturers, dealers and hyperlocal service providers and few publicly traded companies. (Full disclosure: My father happens to be an electrical contractor and generator dealer and installer. I should've paid more attention to his lessons growing up.)
To give a sense of just one slice of it, though: Generator manufacturer Generac Holdings Inc. estimates that only 5% of U.S. single-family detached, owner-occupied homes have a standby generator, and that each 1% increase in market penetration translates into $2.5 billion. It's no wonder that Generac is the year's top-performing industrials stock in the S&P 500 Index.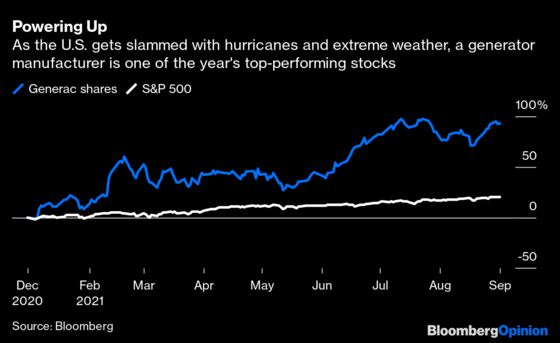 Kohler Co., a privately held company that introduced the first modern-day generator 100 years ago, said that the industry exhibited double-digit growth amid last year's record-breaking hurricane season and that demand continues. There were 30 named storms and 11 that made landfall in 2020, according to the National Oceanic and Atmospheric Administration, followed by this year's above-average activity. "We've seen demand really skyrocket, and a lot of it's weather-related," Melanie Tydrich, senior channel manager of residential generator products for Kohler, said in a phone interview last week. "There have been a number of more intense storms and more intense power outages. The grid is also aging."
The Covid-19 pandemic has contributed to this demand as some Americans continue working or attending school from home — and others are at least preparing for the possibility of rolling quarantines amid the spread of the delta variant. After last year's lockdowns, "your home was really your sanctuary," Tydrich said. And so homeowners are making investments to reinforce them.
The mobile flood alerts of Wednesday were replaced Thursday afternoon by fire-station sirens helping with the aftermath and neighborhood alerts from users of Amazon.com Inc.'s Ring doorbells, as they share footage of the unthinkable damage. But "once in a lifetime" isn't the right description — although perhaps it fits for the business opportunity presented by this extreme new world. Climate change is here, and it's already costing us.
Suboptimal construction planning was also partly to blame, as we'd later learn.
This column does not necessarily reflect the opinion of the editorial board or Bloomberg LP and its owners.
Tara Lachapelle is a Bloomberg Opinion columnist covering the business of entertainment and telecommunications, as well as broader deals. She previously wrote an M&A column for Bloomberg News.