What's the Best Way to Make a Big Casino Bet? Don't Pay Cash
(Bloomberg Opinion) -- In the bidding for stricken casino operator Crown Resorts Ltd., its competitor on the opposite side of Sydney Harbour, Star Entertainment Group Ltd., has one resounding advantage. Unlike rival Blackstone Group Inc., it can pay in a currency that makes Crown's current merger-inflated price seem cost-free.
Right now, the owner of gaming floors in Melbourne and Perth is one of the most richly valued casinos in the world. With its shares valued at 26.06 times forecast earnings in the 12 months through June 2023 (a metric designed to look through the effects of the pandemic), Crown is being given a higher multiple than any of Macau's casino operators, and is only narrowly behind Penn National Gaming Inc., a player in the past year's meme-stock frenzy.
That looks punchy. Most tourism- and leisure-exposed stocks are still trading below pre-Covid levels. Compared to their values on Jan. 23, 2020, Las Vegas Sands Corp. is down about 17% and Delta Air Lines Inc. is off about 23%. Local peers Qantas Airways Ltd. and Ardent Leisure Group Ltd., not to mention Star Entertainment itself, are also lower — but right now Crown is at a 7.7% premium.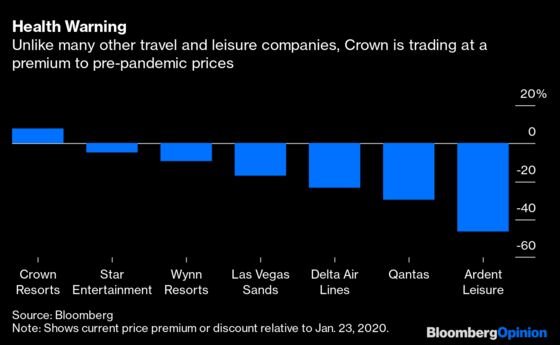 Even setting the pandemic aside, Crown has its own unique set of problems. Thanks to a government inquiry in February finding it had "enabled and facilitated" money laundering at its casinos, its licenses in the three states where it operates are in jeopardy. The situation will only be resolved once regulators are convinced the company has mended its behavior. Investors may be right in assuming that this box will end up getting checked and Crown will be able to trade as normal — but if any discount is being applied for the small possibility that this won't happen, it doesn't appear to be showing up in the share price.
All of that presents a challenge to a private equity player like Blackstone. To do well from a takeover, it needs to not only pay the interest bill on the debt funding its cash offer, which was lifted Monday by 50 Australian cents to A$12.35 per share, giving the whole company an A$8.36 billion valuation. It also needs to ensure it's able to sell the company back to the market at a still richer equity value — or, in a pinch, extract enough cash from dividends and asset sales in the meantime to make up any shortfall.
Star's situation is easier. There's an optional cash component in its offer that's capped at 25%, but the main part consists of a swap of 2.68 Star shares for every Crown certificate. That structure would value Crown at roughly A$7.81 billion at current prices — well below the A$8.83 billion level at which it's trading.
Why would Crown shareholders accept such an offer? One reason is that a stock-based deal like Star's offers them the opportunity to prove the naysayers wrong. If Crown's prospects are really as rich as its current valuation implies, a share-based merger would give them a slice of that upside, which would be denied to them if they sold their stock to Blackstone for cash.
Another is that they're getting higher-yielding securities in return. Crown's lofty valuation means the earnings yield on its shares is pretty mediocre — about 2.7% based on Friday's share price and forecast earnings through June 2022, and 4.3% looking forward to 2023. Star's shares yield 4.7% in 2022 and 6% in 2023 on the same basis.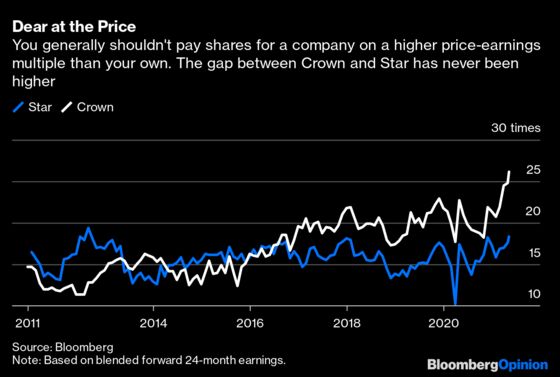 For Star's part, it's typically a bad idea to use your stock to take over a company trading on a higher valuation, since the move will tend to reduce your own earnings per share. To make the deal work, the company is proposing to find up to A$200 million of annual cost synergies, sell off the merged group's joint property portfolio, and benefit from a re-rating due to its enhanced size. A lot of things will have to go right for Star shareholders to come out of this deal better off than they were when they went in.
Still, the attractions are obvious. Right now, Star is the junior gambling player in a junior gambling market. If a merger succeeds, it would become a giant with properties in Australia's four largest states, able to look at Macau's casino licensees as equals. Winning that prize will require a gutsy roll of the dice — but if shareholders weren't prepared to make that sort of wager, they shouldn't be investing in casinos in the first place.
This column does not necessarily reflect the opinion of the editorial board or Bloomberg LP and its owners.
David Fickling is a Bloomberg Opinion columnist covering commodities, as well as industrial and consumer companies. He has been a reporter for Bloomberg News, Dow Jones, the Wall Street Journal, the Financial Times and the Guardian.