What's Behind the Big Bond Rally? It's Counterintuitive.
(Bloomberg Opinion) -- On the face of it, Thursday's massive rally in U.S. Treasuries seems to make no sense. After all, the economic data was nothing short of spectacular. All at once, bond traders were hit with the following indicators: 
Initial jobless claims fell to 576,000, the lowest since March 2020, from 769,000 the week before;
March retail sales surged 9.8% from February, the second-biggest monthly advance on record;
The Federal Reserve Bank of New York's Empire manufacturing activity index hit the highest since 2017 and the third-highest of the past decade;
The Philadelphia Fed's general activity index was even more remarkable, soaring to the highest since 1973. 
Within 15 minutes, the benchmark 10-year Treasury yield dipped two basis points to 1.59%, touching what seemed like a resistance level from late March. But it just kept going, dropping as much as eight basis points on the day to 1.55%, the lowest since March 11. The 30-year bond yield tumbled as much as 10 basis points to 2.21%, marking a full 30-basis-point retreat from its intraday high a month ago.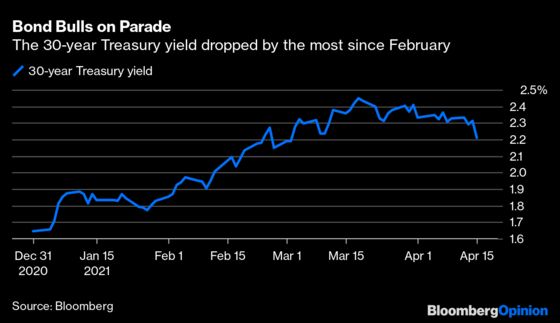 What's going on? A number of sensible theories are floating around. Jim Bianco, president of Bianco Research and a Bloomberg Opinion contributor, chalked it up to a squeeze of asset managers who had recently turned net short 10-year Treasury futures for the first time since late 2016. Others pointed to data that shows Japanese investors poured the most money into overseas bonds since November, assuming that much of the 1.71 trillion yen ($15.7 billion) went into Treasuries, given that currency-hedged yields remain near the highest since late 2015. Then there are those who suggest it's little more than a blip, whether because of continuing pressure in repo markets or because post-earnings bond sales from large U.S. banks are creating hedging flows.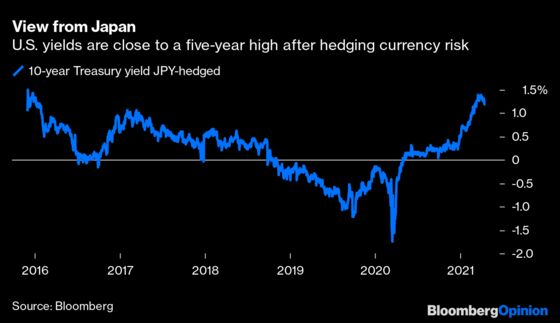 Each of these points are valid, of course, and taken together they add up to a big rally. However, they're not exactly satisfactory. So I'll offer another reason: Traders are starting to think about the Fed tapering its bond buying and reacting accordingly.
This, too, might seem counterintuitive at first. If the central bank scales back its purchases of $80 billion of U.S. Treasuries and $40 billion of mortgage-backed securities each month, wouldn't that lack of support push yields higher?
History suggests that's not the case. I made a chart in September 2017, as the Fed was about to embark on trimming its balance sheet, that showed how 10-year yields increased during periods of quantitative easing and fell once the programs ended. I extended it to the end of 2019, just before the Covid-19 pandemic struck: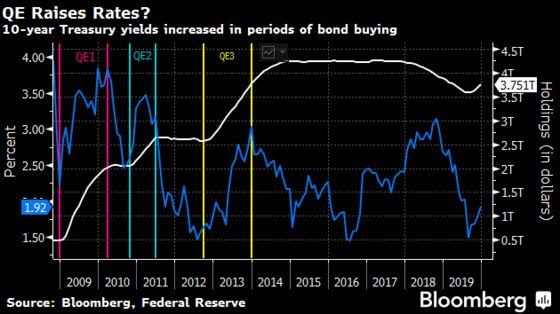 Notice that in 2014, as the Fed began to reduce the speed of its buying, Treasury yields fell. They also tumbled in 2019 as the central bank abruptly shifted from raising rates to lowering them, but for a large part of that stretch the balance sheet was coming down, too. Yields only began to climb again as the Fed bolstered the repo market and increased its holdings.
Realistically, the Fed is still a ways away from even indicating that it's thinking about curbing its asset purchases. BlackRock Inc.'s Rick Rieder has among the more aggressive calls on Wall Street, arguing this week that communication could come as early as the central bank's June meeting, targeting tapering by the end of the year or early 2022. Tom Porcelli at RBC Capital Markets sees the possibility that the Fed "will make a substantial policy shift" after strong growth and inflation data in the coming months, setting up tapering in the second half of the year. Other analysts see a much longer timeline — though, of course, they were almost all also caught off guard by the 83-basis-point spike in 10-year yields in the first quarter as well.
Fed Chair Jerome Powell had this to say on Wednesday in a virtual event hosted by the Economic Club of Washington: "We will reach the time at which we will taper asset purchases when we've made substantial further progress toward our goals from last December, when we announced that guidance," he said. "That would in all likelihood be before — well before — the time we consider raising interest rates. We haven't voted on that order but that is the sense of the guidance."
It doesn't take much to extrapolate a 2014-like scenario from that kind of timeline. The Fed sees enough progress to scale back from buying $120 billion of bonds a month, removing some accommodation, but still has a long runway before lifting interest rates from near zero. Maybe it takes two or three years like last time — or perhaps even longer, given the new framework. Sure, fiscal policy is a wild card, but infrastructure spending spread out over several years and with offsetting tax increases provides much less of an economic jolt than the $1.9 trillion package from earlier this year that put money in Americans' pockets right away.
All signs suggest this Fed will be extremely slow and deliberate in changing its current monetary policy stance. However, policy makers have pledged to be outcome-dependent, so if the economic data keeps reaching records in the coming months, staying true to their guidance would likely mean communicating tapering sometime around the July or September meetings (or perhaps splitting the difference at the Kansas City Fed's Jackson Hole Economic Symposium in August).
A lot can change over a few months, of course, but Thursday's indicators all point to an economy sprinting toward "substantial further progress." Counterintuitively, those three words should frighten bond bears.
This column does not necessarily reflect the opinion of the editorial board or Bloomberg LP and its owners.
Brian Chappatta is a Bloomberg Opinion columnist covering debt markets. He previously covered bonds for Bloomberg News. He is also a CFA charterholder.