Billionaires Get Bested in Fast Fashion's Survival of the Fittest
(Bloomberg Opinion) -- There's another garage sale happening in U.K. retail. This time, it's not the billionaires coming out on top, it's the online upstarts they tried for years to resist.  
On Monday, online fashion store Boohoo Group Plc said it would buy the brand and website of 200-plus-year-old British department store Debenhams for 55 million pounds ($75 million). Meanwhile, Asos Plc, another digital clothing retailer, is in exclusive talks to acquire Topshop, Topman and Miss Selfridge — fashion brands owned by Arcadia, retail magnate Philip Green's collapsed chain — for up to 300 million pounds. Only digital assets are on the table for both, which likely means more store closures and job losses on British high streets.
The potential deals underline how much e-commerce has been strengthened during the pandemic, and how much legacy retailers have suffered. 
Notable about both cases is the one person who's missing from the auction: British billionaire Mike Ashley. The chief executive officer of Frasers Group Plc has built a reputation for buying up struggling retailers. He has long coveted the Debenhams brand, and his company said in December that it was in talks to rescue the chain. Frasers also expressed interest in buying some of the Arcadia assets when its administration was announced back in November. Topshop in particular would have been welcome in its stores.
The fact that Ashley isn't involved in either deal doesn't bode well for brick and mortar.
Green, Ashley's longtime frenemy, is unlikely to feel any more victorious. He may be happy to see Debenhams go to Boohoo rather than his arch rival, but he probably has mixed feelings about Topshop becoming part of Asos. His relations with Asos management became strained after he'd accused them of poaching key staff from Topshop back in the early 2000s. For years, he resisted selling Topshop products on their platform.
Now it seems the internet companies are winning out. Even so, rescuing these storied brands won't be straightforward.
For a relatively small sum, Boohoo gets a successful website that expands its operations beyond young fashion to an older demographic. Debenhams also brings a premium beauty business, which can complement Boohoo's apparel sales. However, there is a question mark over whether the big beauty groups will continue to sell through the site.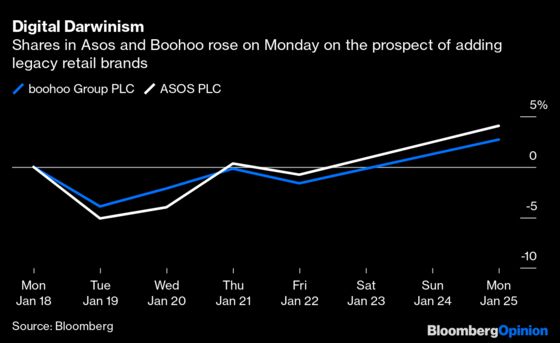 Asos's acquisition also has challenges.
On the surface, it looks like a once-in-a-lifetime opportunity. The Arcadia brands bring in about 1 billion pounds of sales annually. Topshop especially looks promising. It is already strong in the U.S., and there is scope to expand it into many more territories. Asos already sells the brand on its platform, so it knows exactly what it's getting. 
The problem is, the Topshop name is a tired one. Asos is geared toward 20-somethings; Topshop still probably resonates better with their moms. Asos would need to invest in the brand to make sure it can appeal to younger customers. This will also be Asos's first big acquisition, so its newly strengthened management team will be put to the test.
Of course, this deal's not done yet — it's possible another bidder will sneak in front at the 11th hour. If that's neither Ashley nor a rival such as Peter Cowgill, who runs JD Sports Fashion Plc and has also been a contender to buy Topshop, then its fate will be one more cautionary tale of digital beating analogue on the British high street. 
This column does not necessarily reflect the opinion of the editorial board or Bloomberg LP and its owners.
Andrea Felsted is a Bloomberg Opinion columnist covering the consumer and retail industries. She previously worked at the Financial Times.