WeWork Doesn't Need the Gulfstream Anymore
(Bloomberg Opinion) -- When WeWork tried (and failed) to sell shares to the public in 2019, it talked about wanting to "elevate the world's consciousness." Now, as it tries to go public for a second time — on this occasion by merging with a special purpose acquisition company, BowX Acquisition Corp. — WeWork has more prosaic ambitions. These boil down: Don't lose piles of money.
A more financially prudent WeWork can only be a good thing.
The $9 billion deal announced Friday will provide it with $1.3 billion in cash, much of it from big-name institutional investors such as Starwood Capital Group and Fidelity Management. That's a relief for majority owner SoftBank Group Corp., which has been propping WeWork up since the IPO fell apart and the pandemic hit. (For more on that, here's my recap from earlier this week.)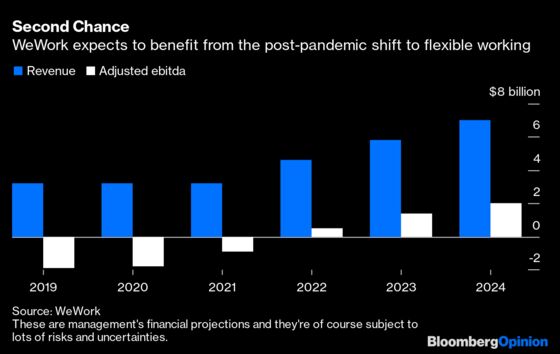 Recent months have been tough for WeWork. Members shunned its densely-packed offices as Covid infections closed urban centers, leaving it with a surplus of desk capacity. The company has incurred large costs to exit uneconomic leases and from laying off thousands of staff. All told it burned through $2.3 billion of cash in 2020, according to the SAPC deal's slide deck.
It's reassuring, though, that revenues haven't collapsed. Furthermore, the mumbo jumbo-spouting founder Adam Neumann has been replaced by Sandeep Mathrani, a former Brookfield Properties executive. The new boss has wasted no time in trying to rectify past mistakes.
WeWork has cut administration, marketing and other expenses by more than $1 billion in the past year, which makes you wonder what it was spending money on before. (Hint: Neumann's $60 million Gulfstream was put up for sale in 2019.) It helps, too, that most customers no longer have membership agreements that they can simply cancel when they feel like it.
WeWork also has a plausible story for why things should get better. The pandemic has spurred a massive amount of corporate interest in flexible working. Some companies want to downsize their headquarters and others may let staff work remotely some of the time and put them in WeWork-type spaces when they do want to commute in. 
The company says meeting this demand won't need lots of investment because it will use asset-light partnerships with real-estate providers. That's a relief because in the past it took on an astonishing $47 billion in long-term lease obligations, the bulk of which it is stuck with. 
Subtracting debt, the transaction values WeWork's equity at $7.9 billion, or almost $40 billion less than the value SoftBank once ascribed to the company. That doesn't make it a bargain: British rival IWG Plc has roughly the same amount of revenue, a more conservative financial track record and an equity value of less than $5 billion.
As is common with lossmaking companies that have gone public via SPACs, WeWork's revenue and profit projections are shaped like a hockey stick. It's reasonable to wonder if the revenues will really double by 2024, as management claims.
Had WeWork announced this deal a few weeks ago, it might have received a more rapturous reception. Lately, SPAC investors have become more risk-averse. BowX shares rose 8% after the deal was announced and they're only a fraction above the $10 at which it sold shares to the public. In the SPAC world that's pretty disappointing.
In view of the previous mishaps, even a more grown up WeWork can expect investors to remain circumspect for a while.
This column does not necessarily reflect the opinion of the editorial board or Bloomberg LP and its owners.
Chris Bryant is a Bloomberg Opinion columnist covering industrial companies. He previously worked for the Financial Times.