$16 Billion Won't Buy a Green Industrial Revolution
(Bloomberg Opinion) -- Boris Johnson's new 10-point "green industrial revolution" for tackling climate change shows this government is capable of big thinking, in case anyone watching Brexit was wondering. Unfortunately, the prime minister's budget spend of 12 billion pounds ($15.9 billion) doesn't live up to the overall ambition of reaching net zero carbon emissions by 2050. 
The plan lists a series of ambitious targets, such as banning diesel and gas cars from 2030, investing in nuclear and hydrogen power technologies, and installing 600,000 heat pumps every year. It pledges to create 250,000 jobs, many in the poorer, industrial north of the country.
As is often the case with Johnson, however, the image doesn't quite match the reality. Imagine, he wrote in the Financial Times, when "you cook breakfast using hydrogen power before getting in your electric car, having charged it overnight from batteries made in the Midlands. Around you the air is cleaner, trucks, trains, ships and planes run on hydrogen or synthetic fuel." 
This vision is going to be expensive. Eliminating gas and diesel car sales over the next decade sounds good, but the reality is electric vehicles currently account for less than 1% of cars on the road. Decarbonizing homes is a worthy goal too, but there are 19 million houses across the country that are not energy efficient. The costs of retrofitting them far exceed the government's budget.
The U.K. can certainly point to significant progress in recent years. Greenhouse gas emissions decreased more than 43% from 1990 to 2018, while low-carbon energy generation has risen at a much faster pace. The country leads the G20 in decarbonizing.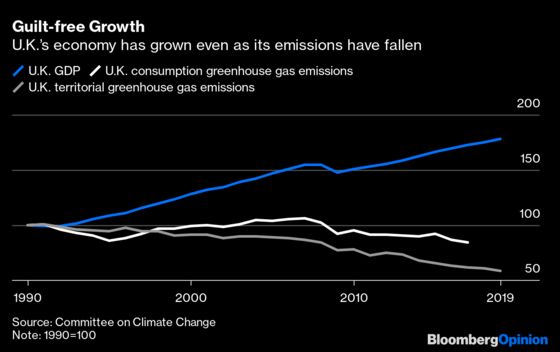 And yet, the gap between current levels of emissions and the 2050 target remains huge. A report this week from PwC estimates Britain will need another 400 billion pounds of infrastructure investment over the next decade to meet its target. The IPPR think tank has similarly warned that the U.K. will need to spend 33 billion pounds a year to meet its goals.
If revolutions are meant to be dramatic and overarching, Johnson's has been more of a fits-and-starts affair, with emphasis on the flag-waving rather than the check-writing. Less than a third of the expenditure announced Wednesday is new money. French President Emmanuel Macron has announced three times the U.K.'s budget for new environmental measures over a two-year period. Germany is spending 40 billion euros ($47.48 billion) on a green recovery package.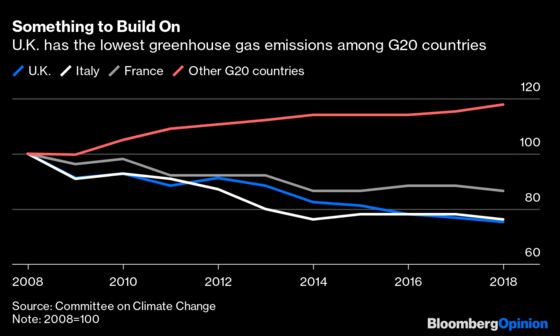 Between Brexit talks inching toward a funereal conclusion, the pandemic upheaval and the recent personnel changes at Downing Street, a change of subject must feel refreshing for the prime minister. But it also underscores how little attention the most important problem facing humanity has received from the U.K. government lately.
With Britain due to host the COP26 UN Climate summit in Glasgow next year, Johnson has struggled to find someone to serve as the event's President of the Conference of Parties, a position that would normally go to a politician of international standing such as a former prime minister or foreign minister. Two former U.K. prime ministers and a former foreign secretary said they didn't want the post. The job is currently being fit in around the already busy ministerial schedule of Business Secretary Alok Sharma.
If the looming summit didn't light a fire under Johnson, perhaps the election of Joe Biden has. Like Johnson's partner Carrie Symonds, Biden cares a great deal about climate policy and plans to revive U.S. leadership on the subject. The President-elect pledged to rejoin COP26, which the U.S. left under Trump.
The U.K. argues that it's not the size of its spend but the specificity of the plan that matters. Downing Street predicts that new public investment in carbon capture, electric vehicles, hydrogen and renewables will mobilize three times as much private sector support, bringing the total spend to around 50 billion pounds. Given budget constraints, it's hardly surprising that some of Johnson's most ambitious targets, such as banning fuel and diesel cars, deputize companies and consumers with the heavy lifting. 
Of course, the private sector will continue to be a major generator of change. As Britain's Climate Change Committee has noted, the costs of reducing greenhouse gas emissions have been grossly overestimated. Recent modeling places these at around 1% of GDP, but continual improvements in zero-carbon technologies mean that eventually the costs might come down.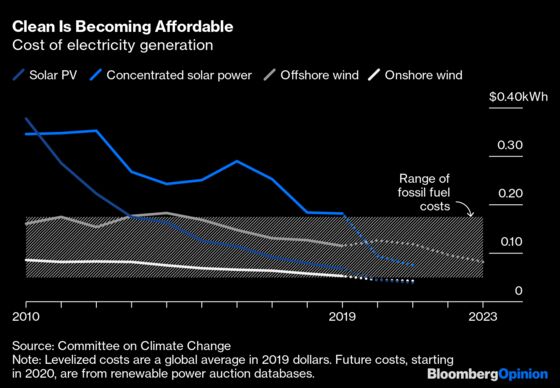 Still, the transition will be costly, and political acceptance will depend on whether the public believes those costs are fair and equitably distributed. Governments need to nudge with new regulatory and tax policies, as well as spend heavily. For example, without changing building regulations for energy efficiency, it will be hard to direct private sector investment in that direction.
The 10-point plan released Wednesday isn't a detailed blueprint. The real test of the government's commitment will be in the long-awaited energy "white paper" (a policy document that precedes new legislation) due at the end of the month. That should set out how Downing Street plans to achieve its goals.
There's a lot to like about the idea of a green industrial revolution and many of the individual targets. But ​​​if it is to deliver for Britain and the world what the first industrial revolution did, Johnson has much more to do.  
This column does not necessarily reflect the opinion of the editorial board or Bloomberg LP and its owners.
Therese Raphael is a columnist for Bloomberg Opinion. She was editorial page editor of the Wall Street Journal Europe.