Wayfair or Wait Forever? The Choice Is Easy for Furniture Shoppers
(Bloomberg Opinion) -- For investors looking to turn the world's great supply-chain bottleneck into a payday, don't forget to check between the couch cushions. Months-long manufacturing and shipping delays for furniture is turning Wayfair Inc. — with its large network of suppliers and smart logistics — into a big winner, even if the market hasn't caught on yet.
Shares of the home-furnishings e-commerce site are down 5% over the past year as reopenings were seen as a negative for online shopping. Meanwhile, manufacturers and retailers more broadly are grappling with rising costs and shortfalls amid high demand. A shortage of truck drivers, understaffed factories and difficulty sourcing key materials are preventing all sorts of items — cars, electronics, shoes, sofas — from getting made and delivered to customers.
These are the reverberations of a string of paralyzing events, beginning with the Covid-19 pandemic and then the Texas freeze in February and a giant container ship getting stuck in the Suez Canal in March. Add in a U.S. housing boom, and it means that furnishing a new home is going to take approximately forever. Chains from Crate & Barrel to La-Z-Boy Inc. signal delivery wait times of five to nine months. RH's website also warns of delays, and a notice at William-Sonoma Inc.'s West Elm blames cold temperatures for disrupting foam production. 
Wayfair, though, may be in a better place than its competition, and shareholders aren't giving it credit for that.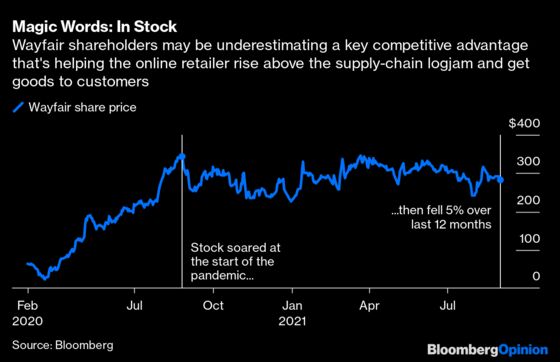 The online marketplace is offering significantly shorter wait times — in some cases none at all. That gives frustrated shoppers more reason to eschew purchasing brand-name items from traditional retailers and instead settle for something comparable on Wayfair or one of its other websites: AllModern, Birch Lane, Joss & Main and Perigold. I know I did, and the ease and speed of delivery is turning me into a repeat customer for other items that would otherwise take too long. A set of dining chairs ordered Aug. 28 arrived on Aug. 31; a similar custom set at Crate & Barrel would have taken six to nine months. That led to me buying a dining buffet on Wayfair, too. Other shoppers tired of waiting may make the same call. Even chatter among expectant parents on Facebook Inc. has turned to concern about the possibility of not receiving cribs and other nursery furniture in time, leading to suggestions to just buy on Wayfair.
Wayfair representatives are telling customers that the longest expected waits are 10 to 12 weeks, and that's for large items,such as sectionals. Generally, other pieces arrive much quicker. How does Wayfair pull that off? By being the fast fashion of furniture. Unlike brand-specific retailers that are dependent on their own inventory, Wayfair is able to draw on more than 16,000 suppliers. And so when a customer is looking for a piece of furniture in a certain color and price range, there's a greater chance of finding an available match. "There will be some inventory from someone because they have tens of thousands of suppliers," said Poonam Goyal, senior retail analyst for Bloomberg Intelligence. 
The company's CastleGate logistics network also gives Wayfair a competitive advantage. The system tracks popular products and ships them in bulk to be stored at CastleGate warehouses so that they're ready to go when a local customer orders, rather than waiting on, say, a coffee table to ship from California to New Jersey. "The overall economics are better for the supplier and for Wayfair instead of shipping individual items across country," said Peter Keith, an analyst for Piper Sandler Cos. Roughly 20% of Wayfair's U.S. parcels originate from CastleGate fulfillment centers, and small parcels shipped from CastleGate can reach 95% of the U.S. population in two or fewer days.
Investors tired of waiting for supply-chain hitches to subside should take a look at Wayfair. Shoppers are. 
This column does not necessarily reflect the opinion of the editorial board or Bloomberg LP and its owners.
Tara Lachapelle is a Bloomberg Opinion columnist covering the business of entertainment and telecommunications, as well as broader deals. She previously wrote an M&A column for Bloomberg News.