Walmart and Home Depot Confront a Reshaped Covid World
(Bloomberg Opinion) -- American shoppers are learning to live in a world where Covid-19 is ever-present. They may not like it, but they're adjusting. It won't be as easy for retailers such as Walmart Inc. and Home Depot Inc. to figure out, though.
Walmart reported strong quarterly results on Tuesday, including an extra $4 billion of sales above what analysts had been projecting. Still, laced throughout its report were hints that the boisterous spending patterns U.S. retailers have enjoyed because of the pandemic may be reaching their expiration date. The same was true for Home Depot, where customer transactions dropped and sales growth slowed. It marks a turning point for the industry after a year that was punctuated by buying in bulk and extraordinary demand for homes and all things tied to them. In a coda to the earnings reports, Commerce Department data showed that U.S. retail sales overall fell faster than expected in July.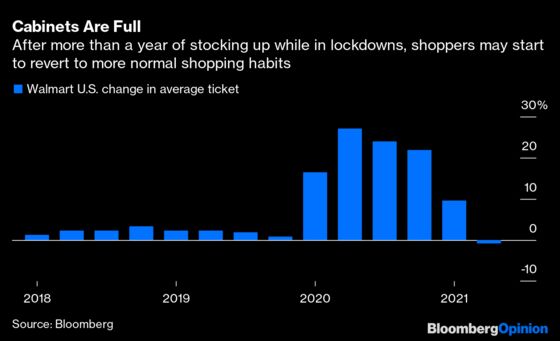 None of this is necessarily a terribly negative sign for these chains. The latest consumer-sentiment survey shows U.S. consumers aren't feeling particularly positive nor negative about the economy. Walmart even raised its outlook for sales and operating profit, adding that demand isn't dependent on government stimulus payments. It's just that cost inflation, wage pressures and a muddled supply chain are beginning to assert themselves more strongly as some of the past year's shopping craze subsides. Predicting the next stage of this bizarre moment in history is further complicated by the spread of the virus's delta variant. Even though the impact of delta on spending may be largely limited to the travel industry so far, its arrival unfortunately coincides with the back-to-school season and could embroil retailers' holiday plans.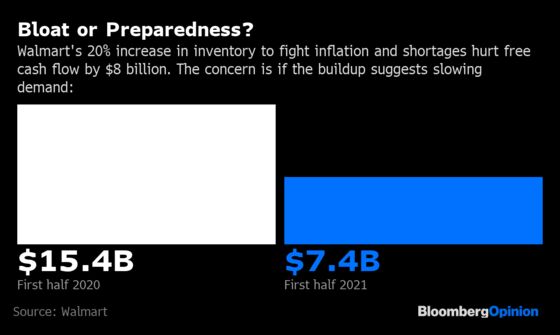 Inflation is also a bit of a nightmare for discounters like Walmart because raising prices goes against their sales pitch, making that a last resort. Walmart's cost of goods sold rose slightly faster than sales did last period, and it's had to build up inventory to stay ahead of the inflated costs and supply-chain hurdles that most industries have complained about this earnings season. "We're doing things like chartering vessels in securing supply," John Furner, head of Walmart's U.S. operations, said on Tuesday's earnings call. Walmart's inventory increased 20%, a change from a year ago when it was difficult to keep shelves stocked. The effect of amassing all that product was an $8 billion decline in free cash flow so far this year. And while comparable-store sales were up 5.2% as customers began to shop in person more frequently, the average receipt total shrank 0.8%. Shoppers may no longer feel the need to buy as much at a time. 
The stock market turned negative on the palpable shift in tone around retail and broader concerns about the delta variant. Shares of Walmart reversed losses after the call, while Home Depot continued to sink 5%, dragging down the S&P 500 Index. On the whole, the U.S. is in a much better place than it was last spring and summer. Consumers are spending on things they enjoy again, such as dining out. And they're no longer fighting for toilet paper or fearfully wiping down groceries and goods, even if they are starting to question the higher price of them. The masks are back, and that's just a way of life for now.
But while consumers are getting used to the ebb and flow of pandemic life, this all creates complications for retailers such as Walmart and Home Depot stuck guessing how it might play out in stores and online. We're still in unprecedented territory, so guess is all they can do.
This column does not necessarily reflect the opinion of the editorial board or Bloomberg LP and its owners.
Tara Lachapelle is a Bloomberg Opinion columnist covering the business of entertainment and telecommunications, as well as broader deals. She previously wrote an M&A column for Bloomberg News.