Short Selling Is Even More Dangerous Now
(Bloomberg Opinion) -- Investors who seek to profit from a decline in a company's share price have always taken greater financial risks than their long-only peers. Now, they face the additional danger of running afoul of Redditors piling into the market's most-shorted stocks. For the sake of efficient capital markets, here's hoping the short-selling crowd can hold its nerve.
The most direct casualty of the trading frenzy that propelled shares of GameStop Corp. and other stocks with big short positions to stratospheric levels in recent weeks was Melvin Capital Management LP, which lost about 53% in January on positions including a short of the video game retailer's shares. But other short sellers have also been chastened.
Take Andrew Left, whose firm Citron Research lost about 100% on its short position on GameStop. He said last month he'll quit publishing research on potential short sales, refocusing on long-only analysis. Given that he deserves much of the credit for uncovering malfeasance at Valeant Pharmaceuticals, now known as Bausch Health Cos., his exit is a shame.
In another twist, Hindenburg Research has turned its sights on a company in which it has no position whatsoever. Its report last week on Clover Health Investments Corp. said the company failed to disclose a U.S. Department of Justice investigation when it went public, triggering both a probe by the Securities and Exchange Commission and a stock-price drop. Clover said the report contains "sweeping inaccuracies" and the DoJ's request for information didn't require disclosure.
The short-selling firm previously made money from betting against electric vehicle maker Nikola Corp., whose shares have almost halved in value since Hindenburg published a bearish report that prompted an SEC inquiry. (Nikola's founder Trevor Milton denied the allegations before resigning as executive chairman.) This time, Hindenburg won't benefit financially. "We think in this moment for public markets, it is more important for people to understand the role short sellers play in exposing fraud and corporate malfeasance," Hindenburg said.
That's a shame. A critic of a company's accounting practices or governance has less credibility when it doesn't have skin in the game.  
Long/short equity funds still dominate the hedge fund landscape. Research firm eVestment estimates that they have more than $780 billion of the industry's total assets of $3.36 trillion, the biggest market share of any of the 10 main strategies it tracks. But such funds have also been at the forefront of customer withdrawals in recent years. Investors yanked out almost $17 billion in 2020 to push the total net outflows in the past two years to more than $60 billion.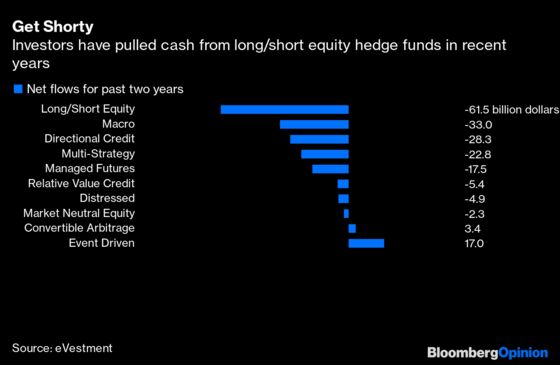 A comparison of the returns of different flavors of hedge fund illustrates how hard it is for short sellers to make a profit. Long-short strategies gained 1.17% on average in January, compared with a 1.74% gain for long-biased funds, according to data compiled by Bloomberg, and that's in a month when the MSCI World Index of stocks actually declined. In 2020, when global stocks gained, the underperformance of long-short funds was even more marked.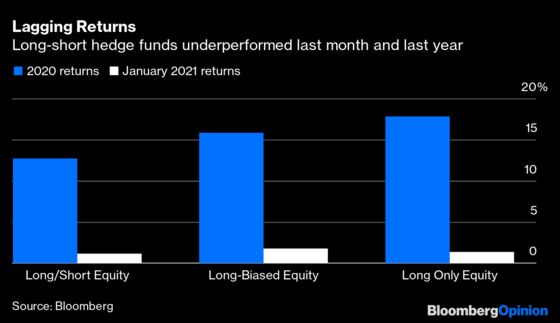 Within those aggregate figures for long-short players are some bigger losers. Marshall Wace LLP's $4.4 billion MW Global Opportunities Fund, for example, declined by about 7% in January, its biggest monthly loss since it opened for business in 2009, my Bloomberg News colleague Nishant Kumar reported earlier this month.
Paul Marshall, one of the London-based firm's billionaire founders, ticked off the challenges short sellers face in a book he published last year: the costs of borrowing stock, the high volatility of shares in companies close to bankruptcy and the tendency of equity markets to rise in the past half century. Marshall reckons he made more than three times as much from long positions as from short selling in a decade of investing.
Yet short sellers serve a vital function, not least by spurring regulators to take a closer look at a company's operations. On Monday, Grenke AG slumped by a third after the German leasing company's Chief Operating Officer Mark Kindermann resigned amid an audit of fraud allegations leveled in September by short seller Fraser Perring's Viceroy Research Group. The company has denied the allegations, and the stock pared its losses Wednesday after the company said the departure was prompted by the German regulator's criticism of its internal procedures rather than any financial irregularities.
Luckin Coffee Inc.'s Chapter 15 bankruptcy filing last week came several months after SEC accusations of invented sales revenue prompted a 90% drop in the Chinese's company's U.S.-traded shares before they were delisted. It's a bit more than a year since storied short seller Carson Block's Muddy Waters Capital revealed it was betting against the Starbucks wannabe. Without Block's intervention, the alleged wrongdoing might never have surfaced.
Given the relative financial rewards available, Citron's Left can be forgiven for pivoting to long-only studies. But markets will be less efficient if the Reddit crowd manages to bully short sellers out of fulfilling their invaluable role in scrutinizing companies. The financial ecosystem is healthier if hedge funds willing to take on the risk of speculating against a stock are free to do so without attracting the unwarranted ire of retail investors.
This column does not necessarily reflect the opinion of the editorial board or Bloomberg LP and its owners.
Mark Gilbert is a Bloomberg Opinion columnist covering asset management. He previously was the London bureau chief for Bloomberg News. He is also the author of "Complicit: How Greed and Collusion Made the Credit Crisis Unstoppable."