Wall Street and Warren Buffett Miss the Good Old Days
(Bloomberg Opinion) -- Two large acquisitions — one involving Warren Buffett — were called off this month as President Joe Biden galvanizes U.S. regulators to take a more prohibitive stance on corporate consolidation. But where the greatest number of deals may begin to fall apart is not in Monday morning news headlines, as these did, but quietly in the boardroom before they ever reach the public eye. 
Chief executive officers who have watched as two insurance brokerages give up on their merger now have one more reason not to take their own chances in an environment seen as increasingly unreceptive to big M&A. Aon Plc and Willis Towers Watson Plc, rather than fight a lawsuit by the Justice Department seeking to block the deal, decided to withdraw their plan Monday. The Justice Department argued that a merger would have been anticompetitive and harmful to entities that rely on the companies' health and retirement benefit services. Two weeks earlier, Buffett's Berkshire Hathaway Inc. also canceled a purchase of some pipeline assets from Dominion Energy Inc. because of the risk of facing similar pushback by the Federal Trade Commission, which is now headed by antitrust hawk Lina Khan.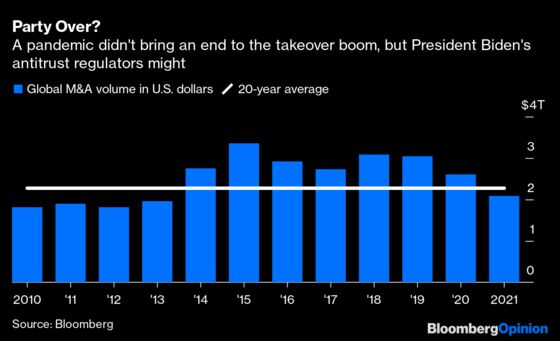 There's been more than $22 trillion of M&A globally since the start of 2014, a frenzied pace stoked by a previously lax regulatory environment and largely uninhibited by the Covid-19 pandemic. A laundry list of deals have exceeded $20 billion and $50 billion in size, as regulators often failed to intervene and at times undermined U.S. antitrust laws. While Khan and other regulators and lawmakers are taking particular aim at dominant technology companies such as Amazon.com Inc. and Alphabet Inc.'s Google in their quest to revitalize antitrust enforcement, this new posture is bound to have a chilling effect across a much broader array of industries.
CEOs ingrained with the thinking that no transaction is too large, amid years of pressure to buy their biggest competitors and peers in adjacent markets, may now need to recalibrate. And Wall Street banks that have been riding high on the almost eight-year M&A boom may see profits pinched as pipelines dry up. (Dealmaking fees produced another gangbusters earnings season for top investment banks Goldman Sachs Group Inc., JPMorgan Chase & Co. and Morgan Stanley, helping the firms weather a drop-off in trading activity.)
If CEOs do begin to duck deals, it's not necessarily out of fear that the government will succeed in blocking them. Notably, efforts to quash important precedent-setting M&A failed in court, such as AT&T Inc.'s $109 billion takeover of Time Warner Inc. and T-Mobile US Inc.'s merger with Sprint Corp. But the mere threat of a lengthy and expensive legal process can discourage CEOs from even attempting a potentially problematic transaction. In a video sent to employees Monday, Aon CEO Greg Case cited a long litigation process as one of his reasons for terminating the tie-up with Willis Towers, according to Bloomberg News.
In the months and years that these cases can drag on, companies risk stock-market volatility and the perception of a distracted management team. From start to finish, AT&T's Time Warner purchase took 857 days — and not long after it closed, the company realized it didn't even want the assets anymore.
It's too early to say with certainty that the Biden administration will have a significant dampening effect on dealmaking. The Aon-Willis Towers merger was expected to confront regulatory opposition from the time it was announced in March 2020 during Donald Trump's presidency, and so that deal might have fallen apart even under friendlier skies. In Buffett's case, Berkshire still proceeded with buying other assets as part of what was initially a $9.7 billion agreement with Dominion; it said the terminated portion represented just 20% of the original transaction value. That said, the FTC's statement in response to the downsized deal was striking:
Although this outcome preserves competition, it is disappointing that the FTC had to expend significant resources to review this transaction when we previously filed suit in 1995 to block the same combination. … The Bureau of Competition will be actively exploring its options on how to curtail this type of re-review to better deploy the Commission's scarce resources.
The FTC's message: Watch your step, dealmakers. Although, it seems as if they already are. 
This column does not necessarily reflect the opinion of the editorial board or Bloomberg LP and its owners.
Tara Lachapelle is a Bloomberg Opinion columnist covering the business of entertainment and telecommunications, as well as broader deals. She previously wrote an M&A column for Bloomberg News.