Wages Are Heading Up, But They're Not Pushing Inflation
(Bloomberg Opinion) -- After decades of low wage growth, U.S. workers are finally getting a meaningful raise. Hourly wages rose 5.8% in October from a year earlier, the third highest year-over-year wage growth since the early 1980s. The employment cost index, a broad measure of wages and benefits, rose 1.3% in the third quarter, the biggest one-quarter jump since the index's inception in 2001.
Those inflation fears aren't groundless. Higher wages give workers more spending power, which stimulates consumption and allows companies to offset higher labor costs by raising prices. That's pretty much how the last six decades have gone. Wages, personal consumption and inflation have moved in nearly perfect step since the 1960s, according to data compiled by the U.S. Bureau of Economic Analysis. All three grew substantially during the 1960s and 1970s and have declined ever since.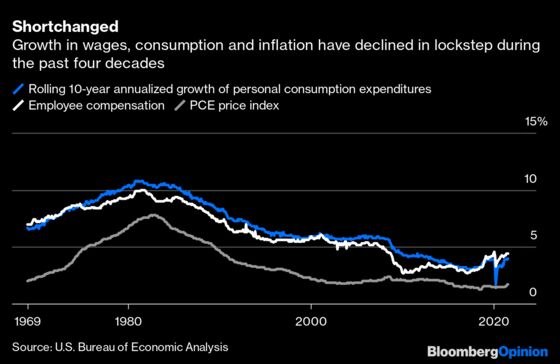 But recent wage gains have not yet meaningfully reversed that trend. Consider that from 1959 to 1990, wages grew 7.8% a year, or about 2% a quarter on average, closely tracking consumption growth of 8.2% a year during the period. Since 1991, however, wages have risen 4.4% a year, again closely tracking consumption growth of 4.7% a year. Even after the third quarter, the employment cost index is up just 3.7% over the last year, still well below the muted wage growth in recent decades.
Low wage growth has gradually eroded workers' spending power, and it'll take a much bigger raise to catch up. Hourly earnings for workers in leisure and hospitality, for example, rose a whopping 12.4% in October over the previous year. And yet their average weekly earnings amount to just $417, or about $21,000 a year based on a 50-week work year.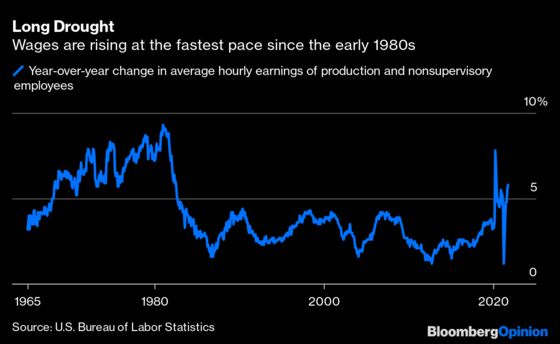 And they're not alone. Average annual wages amount to roughly $50,000 or less in most industries the Labor Department tracks, which barely supports a single person living in the most affordable places, never mind families or workers residing in big cities. Without sustained and robust wage growth, consumption is unlikely to grow at levels capable of pushing prices persistently higher. In simplest terms, workers can't spend what they don't make.
That may explain why the bond market and the Fed don't seem concerned about inflation. The bond market is signaling prices will rise 2.6% a year over the next decade, roughly in line with inflation growth over the past 100 years. And while Fed Chair Jerome Powell acknowledged during a press conference last week that inflation is running hotter than the Fed would like, he added that the Fed sees "little evidence of wage increases that might threaten excessive inflation."
In fact, disinflation, or declining inflation below the Fed's target, may be the bigger concern. Consumer spending accounts for roughly two-thirds of the U.S. economy, so it's probably not a coincidence that wages, consumption, inflation and the broader economy have struggled to grow for much of the past two decades. Eventually, savings accumulated during Covid-19 lockdowns will be spent and pandemic-era fiscal and monetary stimulus will have run their course. It will then be up to consumers to keep the economy growing, and they're ill equipped for the task.
No one really knows where inflation is headed, and many factors could push prices higher, such as energy shortages, continuing kinks in global supply chains or even a burgeoning class of newly rich cryptocurrency investors. But it would take a much bigger pay raise than the one workers have received so far for wage growth to join the list.  
This column does not necessarily reflect the opinion of the editorial board or Bloomberg LP and its owners.
Nir Kaissar is a Bloomberg Opinion columnist covering the markets. He is the founder of Unison Advisors, an asset management firm. He has worked as a lawyer at Sullivan & Cromwell and a consultant at Ernst & Young.