Gaming's Old Guard Isn't Losing Sleep Over Netflix or Amazon
(Bloomberg Opinion) -- Winning at video games is much harder than it looks, even for the large technology giants.
Netflix Inc. announced last week that it was making its big move into the interactive entertainment space, joining recent forays by Apple Inc., Amazon.com Inc. and Alphabet Inc. On Wednesday, the streaming video company disclosed it had hired Mike Verdu, a video-game industry veteran and former head of content at Facebook Inc.'s virtual reality unit, to oversee its game-making efforts.
The action comes roughly two years after Netflix management first called Fortnite a key competitor in an investor letter. Beyond screen time attention spans, it's not hard to figure out why almost every company wants to get into video games: Enormous financial opportunity. When most of legacy media is shrinking, the industry is one of the few large entertainment and technology markets with bright growth prospects. According to Newzoo, the global games market is expected to grow from $176 billion this year to $219 billion by 2024 with nearly 3 billion people around the world playing games today.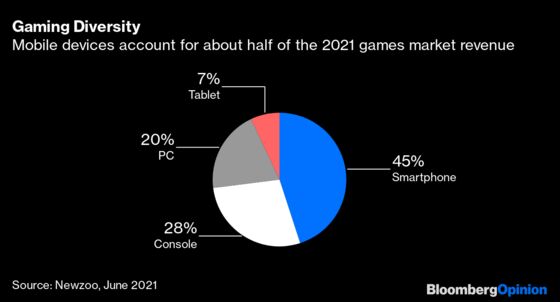 And it's an exciting time for gaming. Technology advances in chips, cloud-computing services and game programming engines are enabling more immersive digital world experiences and new types of online social interactions from digital music concerts to 100-person "battle royale" shoot-outs. Last fall's release of the powerful next-generation gaming consoles from Microsoft Corp. and Sony Corp. also sets the industry up for several years of software innovation as developers learn to take advantage of the new hardware. The potential hasn't gone unnoticed by investors, either. They are clamoring to get stakes in the sector's hottest companies. Newly public video-game platform Roblox Corp. is now worth more than $40 billion. And I expect Fortnite-maker Epic Games Inc., with its best-in-class Unreal game engine, will be worth as much — if not more — when it goes public eventually.
But companies like Netflix that are trying to build a video-game business from scratch face a difficult road. The industry's business model is much more complicated than the one for video entertainment. While Netflix can generally hand over a big check and largely get out of the way after hearing a promising pitch for a television show or movie, the gaming business is different. Large projects require specialized talent and the careful orchestration of hundreds of staff in diverse fields such as visual artists, animators, voice actors and programmers.
Outside of Microsoft, the other large technology companies have largely failed to gain much traction. Google's cloud-gaming Stadia business has struggled, forcing the company to  shut down its internal game studios earlier this year. Last June, Amazon pulled its first big-budget game, Crucible, from the market just weeks after its launch following poor reception with gamers. The prospects for its future games don't look any better. And Apple Inc.'s Arcade subscription service is also barely making waves. In 2020, Bloomberg News reported the smartphone giant has canceled some contracts with game developers, citing lack of engagement. 
The main impediment for success in video games comes down to having two things: brand-name franchises and high-quality talent with many years of experience. The problem for the new entrants is neither are easy to acquire. The best studios and franchises are locked up inside the major game platforms or publishers and aren't going anywhere. That is why Microsoft was willing to spend $7.5 billion to acquire ZeniMax Media, the owner of games maker Bethesda Softworks, for its experienced developers and franchises like Fallout, Starfield and Elder Scrolls.
Let's circle back to Netflix's hire. Does the streaming giant's new vice president of game development have what it takes to disrupt the video-game industry? A quick perusal of Verdu's LinkedIn page shows he oversaw a number of franchises — including Command & Conquer, Medal of Honor and The Sims Mobile — that have all faded into irrelevance. And Zynga shares collapsed near the end of his tenure amid serious business problems.
In gaming, track record is critical. It's a clear predictor of future success and essential to hire the best talent. That is why Vince Zampella, head of Respawn Entertainment, has been able to create blockbuster after blockbuster, from Call of Duty to Apex Legends. But the flip side is also true. So, despite the headlines trumpeting Verdu's pedigree, I doubt the top console platforms — Nintendo Co., Sony and Microsoft — and large independent game publishers are losing any sleep yet over Netflix's push into their territory.
Gaming's old guard is still in the best position to claim the industry's spoils for many years to come. 
This column does not necessarily reflect the opinion of the editorial board or Bloomberg LP and its owners.
Tae Kim is a Bloomberg Opinion columnist covering technology. He previously covered technology for Barron's, following an earlier career as an equity analyst.