Victoria's Secret Is Back But Faces a New Hurdle
(Bloomberg Opinion) -- Victoria's Secret & Co. is finding that business is much better when you root out misogyny and create products that customers actually want. (Who knew?) But supply-chain setbacks mean that it may take a bit longer for shoppers to get a full sense of the new and improved brand.
The chain has come a long way in a short time in healing from the culture created by Les Wexner, the former chief executive who built Victoria's Secret. For years, the lingerie company clung to outdated beauty standards that exploited women's insecurities and tailored its products not to female shoppers, but to the men it imagined would enjoy them. "You wouldn't have to be James Bond or Dick Tracy to know in the world that breast augmentation is a popular thing," the then-80-year-old said in 2018, demonstrating the kind of circular logic behind its efforts to sell padded push-up bras that give the illusion of enhanced breasts.
When the push to change finally arrived, it was driven not by any "woke" movement but by flagging sales. Consumers were already ditching the mall chain and discovering brands that promote inclusive sizing and imagery — including e-commerce upstarts such as ThirdLove and singer Rihanna's Savage X Fenty. (By the time Wexner left the company in 2020, he was mired in scandal for his relationship with the convicted sex offender Jeffrey Epstein.) 
Victoria's Secret looks much different these days. Its website features plus-size models, and last month it even started selling mastectomy bras. Third-quarter results released Thursday showed that sales improved across the board, including in lingerie and the Pink line that targets younger customers. While same-store sales were flat compared with 2020, they were up from 2019. The stock rallied as much as 20%, the most since summer, when Victoria's Secret was spun off from its former parent, L Brands (now named Bath & Body Works Inc.). Current Victoria's Secret CEO Martin Waters attributed this to the "power of a happy and healthy culture."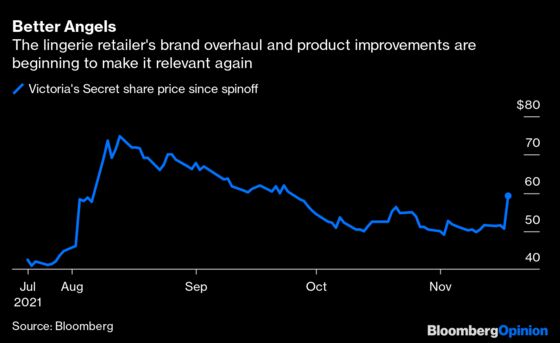 "Every aspect of our business needs to reflect current culture, relevant culture and the shape and nature of our customer base," right down to the mannequins, Waters said on Thursday's earnings call. "We're getting much better in that regard, and I think the customer's noticing." 
Still, the company's turnaround faces an unavoidable obstacle in the supply chain. Its initial holiday planning in August called for 210 million units, but it had to cancel some that "were in danger of not coming." Of the 200 million the company ended up ordering, 45% are delayed, and those delays are running two to nine weeks. (One hundred vessels anchored at sea aren't yet coming ashore.) A quarter of its pajama inventory is now late, although products that are meant to sell by Christmas should be on time.
Victoria's Secret is reworking its freight plans to bring in most of its merchandise by air, but even that mode is taking longer than usual. All this is raising supply-chain costs by $150 million, much of which will be felt in the final three months of the year. 
Other retailers have pointed to strong consumer demand and spending in the face of shortages and rising prices. But for a chain like Victoria's Secret that's trying to lure back shoppers, product delays are a special hurdle. "This is clearly bad for business" because a customer "doesn't see the array of newness that she's used to seeing at this time of year," Waters said. "I don't buy that scarcity equals faster selling."
Such refreshing honesty is more evidence that it's too soon to write off this mall retailer. Even now, women could use more options for intimate apparel, so a Victoria's Secret comeback isn't out of the question. But it will be easier when the company can give shoppers a greater reason to walk back into its stores. Black Friday probably won't be enough. 
This column does not necessarily reflect the opinion of the editorial board or Bloomberg LP and its owners.
Tara Lachapelle is a Bloomberg Opinion columnist covering the business of entertainment and telecommunications, as well as broader deals. She previously wrote an M&A column for Bloomberg News.