Paramount+ Is a Mountain. But Can It Move Them?
(Bloomberg Opinion) -- The good news: There's another streaming-video service worth subscribing to. The bad news: There's yet another streaming-video service worth subscribing to. 
On March 4, the CBS All Access app will transform into Paramount+, a true Netflix-like offering from ViacomCBS Inc. that has the added benefit of news broadcasts and live sports matches. During an investor presentation Wednesday evening, the company said the commercial-free version will continue to cost $9.99 a month, while an advertising-supported plan will be introduced in June for $4.99 a month.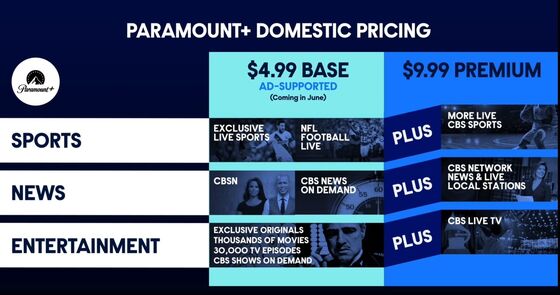 This app is the culmination of a dramatic reunion between Viacom and CBS that was beset by corporate infighting, a #MeToo scandal and a rapidly changing television landscape that at times looked like it would leave the two programmers in the dust. Viacom and CBS finally joined together again in late 2019, and because of that deal, Paramount+ has the breadth of programming it needs to stand a chance of competing against the likes of Netflix Inc., Walt Disney Co.'s Disney+ and AT&T Inc.'s HBO Max. 
This a remarkable turnaround for Paramount itself. Named for the generations-old film studio, ViacomCBS leadership is hoping Paramount's global name recognition and iconic logo — a mountain with a crown of stars — will help it more quickly catch up to rivals. Known for hits such as its 1997 release of "Titanic," Paramount struggled in the subsequent decades as a poorly run and unloved asset within Viacom, to the point that its previous chief executive tried to sell off a portion of the studio. Now it's the linchpin of the $40 billion company's streaming strategy. "This is not your father's Viacom, and it's not my father's either," said Chair Shari Redstone, whose father Sumner was the brash dealmaker that put all these businesses together long ago, only to break them up (thus the reunion). He died in August at 97. 
Throughout Wednesday's presentation, the tagline was that Paramount+ has a "mountain of content." "How big is that mountain? It's a lot bigger than you think," said CEO Bob Bakish. He's right: ViacomCBS's wide range of programming — MTV, Nickelodeon, Comedy Central, BET, CBS news, reality-TV shows, cartoons, National Football League games, etc. — suggest that it's much more like Disney than the smaller niche networks it's often lumped in with during industry discussions. Unlike AMC Networks Inc., Discovery Inc. and Fox Corp., Viacom offers a bit of something for everyone. On a market capitalization basis, though, it's still closer in size to any of those entities than to the $358 billion Disney and $245 billion Netflix, reflecting the doubts many investors have that ViacomCBS can thrive in streaming. It doesn't help that this is one of the charts ViacomCBS presented Wednesday: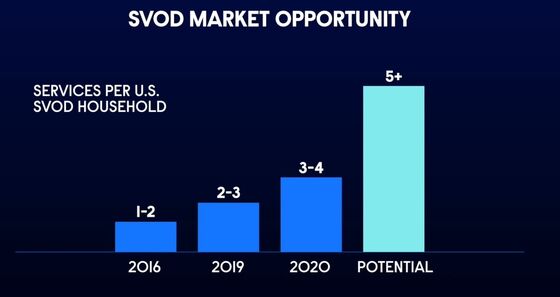 If its Paramount+ outlook hinges on households paying for five or more streaming services at a time, then it has another thing coming. But my early assessment of Paramount+ is that there's no reason it can't be a suitable substitute for some of the other services out there if it keeps adding enticing material. 
On the one hand, the unveiling of Paramount+ was full of nostalgia: The company is expanding the "Star Trek" franchise and rebooting old favorites such as "Frasier," "iCarly" and "The Real World." Yawn. But Paramount's TV studio is the crown jewel that may ultimately determine how many people subscribe to and stick with the app. Until now, ViacomCBS's approach has been to sell its works to the top bidder, in part to help the company dig itself out of a once precarious financial situation. As such, Paramount is the studio behind many of the hit shows on other services, including "13 Reasons Why" and "Emily in Paris" on Netflix and "Jack Ryan" on Amazon Prime Video. Now, Paramount will be creating series exclusively for its own app, and that is promising.
That's why it's also disappointing that ViacomCBS is keeping Showtime as a separate service. My guess is that it's not yet economical for the company to give up the separate subscription fees Showtime users pay, and it keeps a potentially unsuccessful Paramount+ launch from eroding the value of the Showtime asset. But one could conceive of a single Paramount+ and Showtime offering that for some users is as compelling as Netflix. 
Unlike AT&T's Warner Bros., which is putting all its films this year on HBO Max the same day they arrive in theaters, Paramount+ isn't quite ready to give up on the box office. "A Quiet Place, Part II" is set for a September theatrical release and will be added to Paramount+ 45 days later; the same goes for the next "Mission Impossible" in November. But again, if Paramount+ hits or surpasses subscriber goals, that could change. 
ViacomCBS plans to have as many as 75 million streaming customers globally by 2024, including from its Pluto TV app that has become a leader in free streaming. The company also projects more than $7 billion in streaming revenue from both ads and subscription fees by 2024, up from $2.6 billion last year, as it ramps up annual programming investments from $1 billion to $5 billion. 
Sumner Redstone, relishing in his hard-won purchase of Paramount, once said: "This so-called deal from hell — which is what they called it — became a helluva deal." Two decades later, the jury is still out, but it's possible that Paramount just might redeem the empire he built. 
This column does not necessarily reflect the opinion of the editorial board or Bloomberg LP and its owners.
Tara Lachapelle is a Bloomberg Opinion columnist covering the business of entertainment and telecommunications, as well as broader deals. She previously wrote an M&A column for Bloomberg News.