Why Switzerland Trails West Virginia in Vaccines
(Bloomberg Opinion) -- The European Union's approval of the AstraZeneca vaccine Thursday will come as a relief to many governments. Britain will have vaccinated half its adult population by the end of this week, administering 40 vaccine doses per 100 people, while the EU average is around 12. The gap has become embarrassing, and the political atmosphere tense.
EU leaders have blamed a dearth of supply for their problems, but that's only part of the picture. What's less appreciated is how some of the world's most vaunted health-care systems have done such a poor job of delivering the vaccines they do have. Supply shortages are temporary. If efficient vaccinations are to follow, we need a better understanding of what has held some systems back and propelled others forward.
The examples of Israel and the U.K., two world leaders in vaccinations, can be instructive. Israel's success is largely attributed to Benjamin Netanyahu's dazzling courtship of Pfizer CEO Albert Bourla. But it was Israel's world-class electronic health records system that provided the bargaining chip (Israel promised data in return) and facilitated the rollout.
Similarly, the U.K.'s Vaccines Taskforce has been justly credited with making the right bets and securing contracts early. But Britain's vaccine success is also due to the logistics management of the National Health Service. Here too, digitization is key. Britain's electronic health record (EHR) system is not perfect, but it has proved highly effective in coordinating vaccinations. For example, I received a text from my doctor's office telling me I could book my vaccine with a link. I picked a time, got a reminder text with the address, and then received my shot — all in a matter of days.
That's not the case in Switzerland, which has managed to deliver only around 13 doses per 100 people. The country has one of the world's most admired health-care systems, yet many residents are often unsure of where to register for a shot. It varies by canton, but there are often long time lags with little clear government communication.  
For one of the world's biggest producers of pharmaceuticals, supply constraints are a problem. Switzerland bet on the right suite of vaccines, but it seems to have dithered too much over price and failed to secure enough supply early on.
The Swiss are also behind when it comes to transparency and the digitization of health records, says Ezekiel Emanuel, a professor at the University of Pennsylvania who wrote a book comparing the world's best health-care systems and advised President Biden's Covid transition team. You can partly chalk this up to the same penchant for secrecy, or at least privacy, that has long made Swiss banks the go-to for wealthy (and less scrupulous) clients.
Emanuel points out a remarkable contrast: West Virginia, one of the poorest states in the U.S., has one of America's best vaccination programs. In fact, if it were a country, it would rank around seventh in the world for vaccinations, West Virginia Governor Jim Justice likes to say. While the U.S. is delivering around 34 vaccine doses for every 100 people, West Virginia is at nearly 39 per 100.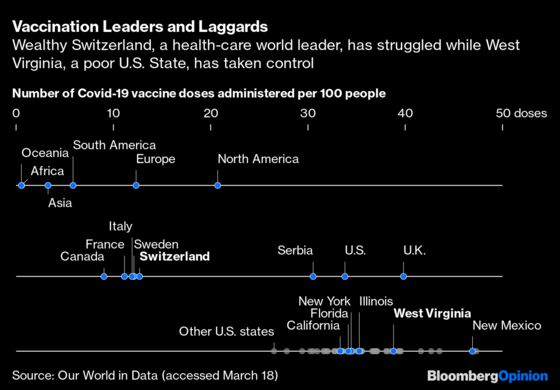 The state has had two big advantages. One is strong central leadership with clear communications. Justice quickly set up a vaccine task force, led by a general, and brought in the National Guard. The second advantage is its electronic health record system. West Virginia and other successful states like North Dakota (with an even higher vaccination rate) have also benefited from using existing delivery systems like local pharmacies.
Two cases from eastern Europe underscore the importance of centralized record keeping and coordination. Serbia has the third highest vaccination rate in Europe (tiny Monaco comes in second) at 31 doses administered per 100 people. That's in part due to supplies it secured from China and Russia, which irritated the EU. But the speed of its roll-out is also due to the effective logistics and the country's ability to track data from how willing people are to be vaccinated to the issuing of vaccine certificates.
Hungary also went outside the EU for supplies and has a vaccination rate that, at 19 is well above above the EU average. But its system is poorly coordinated, confusing and less effective than Serbia's. 
One oddity is the Netherlands, whose health-care system is considered among the best in the world and also has a high-quality electronic health record system. Its vaccination rate is 11. What went wrong? In a word, decision-making. The country was the last in the EU to start vaccinating and has stockpiled doses rather than administering them. Strong central leadership may have been better suited to handling the crisis than the Netherlands' consensus-based political system.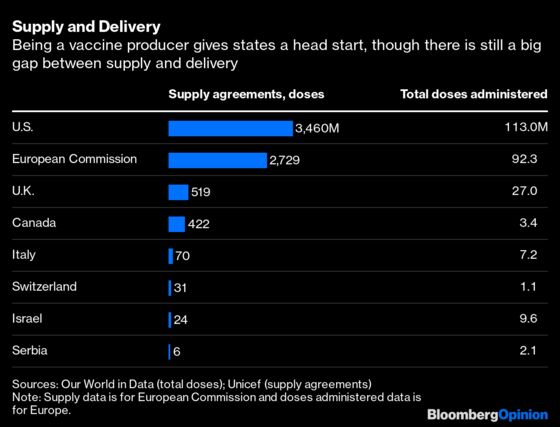 Centralized decision-making has been less of a problem lately in the U.S., where the federal government has been efficient in distributing supply to the states. But local rollout has been a patchwork of mixed results, huge inequities and even missing doses.
"A lot of the challenges have been in the execution. The health agencies don't even understand how a queuing process works," says Hani Mahmassani, a professor at Northwestern University who is studying the logistics of U.S. vaccine distribution. On average, U.S. states are still using only 75% of the supply they have available, he says. Eric Schneider, a doctor and senior vice president at the Commonwealth Fund, also notes the difficulties the US is having in reaching racial minorities, which is also often the case with flu vaccines. 
In Europe, the approval of the Oxford-AstraZeneca vaccine should at least help ease supply pressures. For all the finger pointing and hand-wringing, the EU should still have enough doses to meet its target of vaccinating 70% of the adult population by the summer. The rest will rely on delivery. Improving digitization, coordination and communication will be needed if the next set of vaccinations is to go better than this one.
This column does not necessarily reflect the opinion of the editorial board or Bloomberg LP and its owners.
Therese Raphael is a columnist for Bloomberg Opinion. She was editorial page editor of the Wall Street Journal Europe.