UnitedHealth's Results Flag Trouble Spots for Rivals
(Bloomberg Opinion) -- UnitedHealthGroup Inc., the country's largest health insurer and an industry bellwether, had a second quarter that would be expected to cheer investors throughout the sector. The company on Thursday reported earnings that beat Wall Street expectations handily and raised its full-year profit forecast. But within its good performance are signs for concern, and its shares were flat.
The pandemic has boosted insurer profits at times because people deferred medical care. That trend held in the second quarter, but to a lesser extent, and UnitedHealth expects spending to rise in the second half of the year. That may throw some Covid-19 downsides into sharper relief.
UnitedHealth will likely hold up well. It's a uniquely diversified company that derives an increasing share of its profit from other health care services. More concentrated rivals might not be so lucky.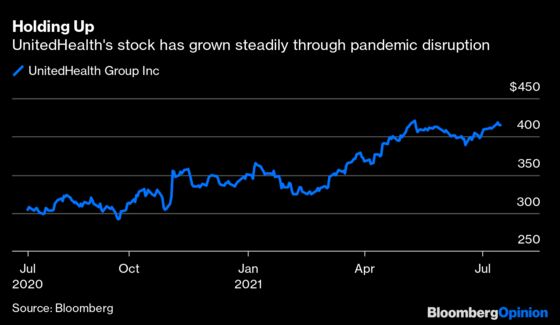 UnitedHealth's medical care ratio — the proportion of premium dollars spent on patient care — was 82.7% in the second quarter. That's a rather substantial jump from 70.2% in the period a year earlier. Favorable medical reserve development, the difference in the amount of care the company budgeted for and paid out, was $500 million for the quarter, down from $1 billion last quarter. Lower spending contributed to another quarter of unusually high insurance profit for UnitedHealth. These particular good times won't last.
UnitedHealth disclosed on its call with analysts that people with private insurance are already using somewhat more medical care than usual. Medicare and Medicaid patients have been slower to return to the doctor, but activity in those groups is getting closer to normal.
A growing surge of previously delayed care could turn medical costs into a larger-than-expected negative. In the longer run, missed checkups, deferred procedures and the lasting effects of Covid could lead to additional health problems and sustained higher spending. The highly transmissible delta variant is a key swing factor. It seems likely to lead to rising cases and some degree of sustained spending on testing and care for those infected. But the chances for continued broad avoidance of care seem slim. Vaccination boosts individual safety, and outbreaks will be concentrated in low uptake areas. Broadly restrictive public health measures and hospital strain are much less likely.
Lower medical spending will no longer cover other insurer issues, such as a decline in enrollment in profitable employer-sponsored insurance plans because of joblessness. That business may be slow to come back; it was already a maturing market before the pandemic because of an aging U.S. population. Private Medicare plans have been a bright spot and a source of enrollment growth even through Covid, but that's an exceptionally competitive market with large insurers and a growing cadre of startups fighting for market share and margin.
Even in a quarter that saw excellent insurance performance, UnitedHealth's Optum unit, which includes everything from ambulatory surgery centers to health analytics software, generated nearly half of its operating income. It isn't just diversification; it's a hedge. Parts of that side of the business will do better in an environment with higher medical spending. Except for CVS Health Corp., other large insurers lack anything close to a similar safety net.
That's something they may come to regret. 
This column does not necessarily reflect the opinion of the editorial board or Bloomberg LP and its owners.
Max Nisen is a Bloomberg Opinion columnist covering biotech, pharma and health care. He previously wrote about management and corporate strategy for Quartz and Business Insider.