United Signals a New Era for Air Travel? One Can Only Hope.
(Bloomberg Opinion) -- The customer is always right but up until recently, it felt like that old adage didn't apply to the airline industry. Customers were packed in like sardines in increasingly tighter rows of seats and battled with each other for precious overhead bin space amid rising baggage fees.
Slowly but surely, that's starting to change.
United Airlines Holdings Inc. on Tuesday announced a jumbo-sized jet order that features 200 Boeing Co. 737 Max jets and 70 Airbus SE A321neo planes. But the more interesting headline was that the carrier will also invest in a revamp of its existing planes. All of United's mainline, single-aisle jets will get seatback in-flight entertainment, better Wi-Fi connections and enough overhead bin space for each passenger to carry on a roller bag. It's an acknowledgment that after massive bailouts for the airline industry during the pandemic and a coming wave of new competitors taking advantage of cheap aircraft prices, what the customer wants is going to matter.
The fleet renewal was needed. United has the oldest fleet among major peers, and its reliance on regional jets has put it at a financial disadvantage. United says replacing the regional jets with larger, more efficient models in its domestic markets will improve productivity and fuel efficiency while also allowing the airline to offer more premium (read, more profitable) seats per flight. With aerospace manufacturers still reeling from the pandemic, this is the ideal time to lock in deals for new jets. United declined to specify the pricing on its plane orders, but it likely got the Max aircraft at a significant discount as Boeing tries to rebuild its market share in the wake of the plane's two fatal crashes and almost two-year grounding.
My initial inclination was to frame this overhaul as a bet on the return of business travel, and it is to some degree. United CEO Scott Kirby has consistently argued that those predicting the permanent demise of corporate trips will be proved wrong. I tend to think he's right; it's hard to believe the pent-up demand that's currently buoying leisure travel won't also extend to the corporate world as companies reconnect with clients and train new workers. But the revamp is also "about giving customers the product that they want," Kirby said during a presentation Tuesday — even if they're sitting in cattle class. The economy section will get the seatback screens, too, for example. More seats for sale and the better economics of the larger planes mean average ticket prices may be lower than what the airline offers for flights on regional jets.

Related Reading: Pack Your Bag. Business Trips Are Coming Back
United's expected adjusted capital expenditures will total $17.2 billion over the next three years — and that's before the biggest chunk of the aircraft purchases take place in 2024. That's a big step up from United's pre-pandemic spending pace and the kind of outlay that wouldn't even be in the realm of conversation without the U.S. government's explicit backstop of the airline industry during the darkest days of the pandemic and the Federal Reserve's intervention in bond markets.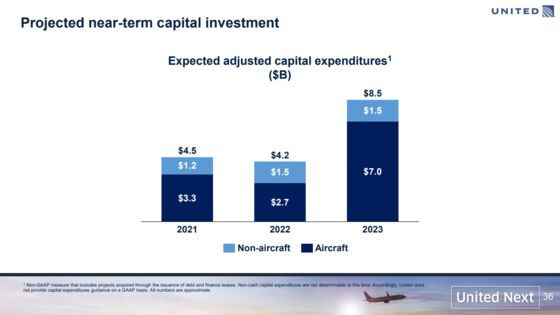 The primary argument for the more than $50 billion in special dispensation to keep airline employees on the payrolls was to preserve the functioning of one of the nation's key intercity transportation systems. But there was also the hope that by keeping carriers out of bankruptcy and setting them up to take full advantage of the air-travel recovery, whenever it should arrive, there would be trickle-down effects for the broader aerospace manufacturing supply chain. This ambitious United order shows that is happening — albeit at the expense of the company's own investors in the short term. United is on track to end this year with about $7 billion more in net debt than it had entering the pandemic, and it doesn't expect to bring its leverage back down to pre-Covid levels until 2026.
Related Reading: Brace for a Huge Aerospace Hiring Crunch

The pandemic was a harsh reminder for airlines that they are in a customer-facing business and United — the first major U.S. carrier to permanently drop onerous fees for canceled or rescheduled flights — seems keenly aware of the debt it owes to the American taxpayer. Tuesday's press release was littered with attempts to put this jet order in the context of the broader economy. United says this fleet expansion will create 25,000 "well-paying" unionized jobs at the airline. That's relative to 2019 levels, not the 2020 year-end total that reflected the impact of voluntary leave and early retirements. Citing a Federal Aviation Administration study of the economic impact of civil aviation, United estimated it would contribute $50 billion annually toward the U.S. economy by 2026.
With a slew of new airlines planning to launch in 2021, passengers are going to have more choices on the other side of the pandemic. United is smart to make itself a more attractive one.
This column does not necessarily reflect the opinion of the editorial board or Bloomberg LP and its owners.
Brooke Sutherland is a Bloomberg Opinion columnist covering deals and industrial companies. She previously wrote an M&A column for Bloomberg News.