UniCredit's Andrea Orcel Shows That Cash Is Still King
(Bloomberg Opinion) -- Investors in Italian lender UniCredit have been wondering what new Chief Executive Officer Andrea Orcel will do with its billions of euros of excess capital. Would he reward shareholders for their patience after years focused on unloading its huge pile of bad loans, or would the former investment banker and dealmaker pursue a major takeover?
Orcel's answer at Thursday's strategy update day was: Both!
The CEO has pledged to generate dividends and buybacks for shareholders worth at least 16 billion euros ($18 billion) in the next four years, mostly from earnings boosted by streamlining and finetuning UniCredit's operations. Those payouts are expected to begin with 3.7 billion euros in early 2022, which will eat into some of the bank's excess capital, but still leave it with up to 4.5 billion euros extra in common equity tier one capital above the ratio the bank is targeting. That can be used for takeovers.
Investors like the story. The shares jumped 11% Thursday, bringing their gain for the year to nearly 70% after a tough 2020. But its valuation remains low. Investors want evidence that Orcel can deliver.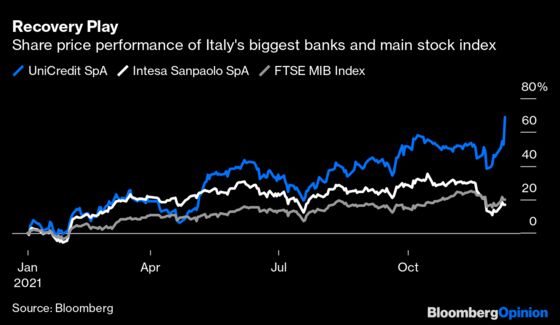 He came up with this plan after just seven months in the job during which he was also in long talks over the ultimately impossible takeover of Italy's oldest and most troubled bank, Banca Monte dei Paschi di Siena. And he carved out time to attend hearings in Spain, where he sued Banco Santander for up 76 million euros because it changed its mind on making him their CEO in 2019. He won that fight Friday when the Madrid court ordered the Spanish bank to pay him 68 million euros. Santander said it disagreed strongly with the ruling and was confident it would win on appeal.
Aside from the strategy, there are big risks to the outlook for all European banks: Covid has not gone away, and another major slowdown with less government support could very likely see a return of the bad-loan problems that Italy has only just got under control from a decade ago.
The risk of Covid-induced economic pain was one reason Orcel gave for not handing more of the group's capital back to shareholders straight away. But it's also there to back up his pledges.
The clever thing about his strategy is that if UniCredit struggles to generate all the profit growth, Orcel will still have funds to help hit his 16 billion euros in payout promises.
The plan is plausible but not easy. UniCredit aims to cut costs and increase revenue while freeing up more excess capital by the end of 2024. It is targeting a 10% return on tangible equity, up from 7% expected this year.
The cost cuts come from centralizing management and products. It has already been moving corporate and investment bankers back to Milan from London and cutting a diverse and over-complicated set of information systems. With some inflation and investments in digital customer services, it hopes to cut a net 500 million euros, or about 5%, of expenses by 2024. That compares with 13% in reductions between 2017 and 2020 under previous CEO Jean Pierre Mustier.
Revenue growth will come mostly from more fees: Commissions on insurance and asset-management products, aping the model of local rival Intesa Sanpaolo, as well as from advisory work for companies. The bank isn't planning for strong loan growth or much rise in European interest rates, which seems sensible.
But the trick here is the remaining excess capital. If the plan works, there's up to 4.5 billion euros to spend on deals, or to further fatten payouts to shareholders. If the plan hits some bumps, which is perfectly possible, Orcel has funds to back up his dividend promises.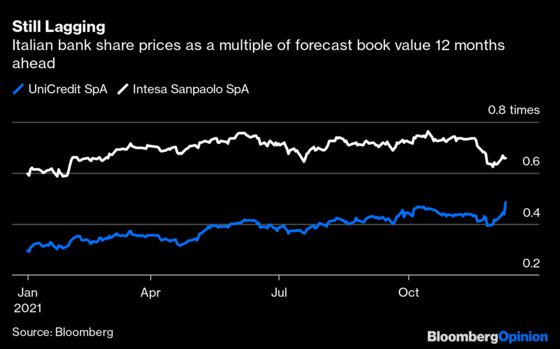 Even after Thursday's jump, UniCredit shares trade at more than a 50% discount to forecast book value and at a big discount to Intesa Sanpaolo.
But roughly 4 billion euros a year in cash to shareholders represents a yield on its current market value of 14%. That compares with a 5.5% yield for banks in the Stoxx Europe 600 index. Investors won't really bid up the shares until they see more evidence that dividends are coming. There is value here, but investors are still channeling Jerry Maguire and saying "Show me the money."
More from other writers at Bloomberg Opinion:
This column does not necessarily reflect the opinion of the editorial board or Bloomberg LP and its owners.
Paul J. Davies is a Bloomberg Opinion columnist covering banking and finance. He previously worked for the Wall Street Journal and the Financial Times.