UBS Outshines Wall Street Peers. Now Do It Again
(Bloomberg Opinion) -- The investment-banking trends revealed by Wall Street have played out in an extreme fashion at UBS Group AG.
Revenue from advising chief executive officers on deals and arranging financing for their firms was incredibly strong in the second quarter. So too was equities trading. This more than offset the expected normalization of fixed-income revenue after 2020's exceptional trading conditions. Meanwhile, the Swiss bank's wealth management franchise continued to hoover up new money. The question for CEO Ralph Hamers remains how to turn this into a higher valuation for the shares.
Corporate leaders are getting on with building their businesses after the pandemic put plans on hold. UBS isn't wasting the opportunity. Advisory and capital market revenue jumped 68% year-on-year, with the contribution from advice on mergers and acquisitions and the like more than tripling in the period. True, last year was understandably subdued. But it's clear that UBS is getting at least its fair share of pent-up M&A work. Even compared to 2019, the revenue from these core investment banking activities was 44% higher.
UBS is of course smaller than U.S. peers, which may amplify the effect of a helpful environment. Still, second-quarter advisory and capital markets revenue was broadly flat at Bank of America Corp. and Citigroup Inc. The double-digit gains for Goldman Sachs Group Inc., JPMorgan Chase & Co. and Morgan Stanley in these businesses don't look as impressive by comparison.
Hamers, in his role for less than a year, has clearly inherited a decent business. Look at the trading result. True, fixed-income, rates and foreign-exchange revenue slid 56%, essentially taking the business back to its pre-Covid level. UBS's U.S. peers saw percent drops in the mid-40s in this area.
But UBS is really an equities machine and here, revenue was up 23% year-on-year to $1.2 billion — just under half the total income for the investment bank. Only Citi and Bank of America made stronger advances. UBS's performance would have been better but for a last hit from unwinding exposure to the collapsed Archegos Capital Management family office. The Archegos debacle did not prevent UBS from expanding its prime brokerage business that serves hedge funds.
Wealth management steamrolled on, adding another $25 billion of net new money, with total managed assets touching $3.2 trillion. With cross-town rival Credit Suisse Group AG still reeling from much bigger Archegos losses, as well as the collapse of Greensill Capital's supply-chain finance business, it should come as no surprise that UBS was able to grow its wealth franchise at such a pace.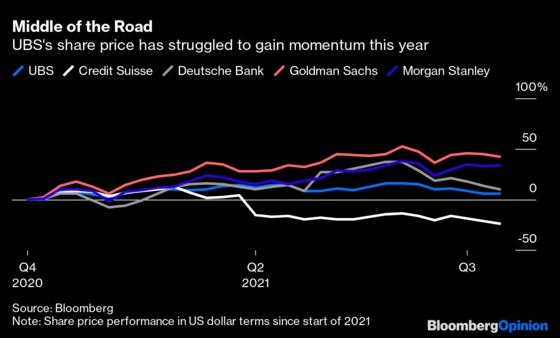 UBS trades at roughly book value, while European peers are at around half that level. These results will reinforce that premium valuation. The challenge for Hamers is to drive UBS closer to the higher multiples of book value commanded by U.S peers. UBS made a 15% return on equity, comfortably in excess of its cost of equity, in the second quarter. That ought to justify a higher rating. Small wonder the bank sees value in repurchasing its own stock at these levels.
Hamers is coy about major strategic changes or tougher financial targets. His first priority must be to keep bearing down on costs even as the business grows. But the performance also gives him a license to add scale and boost efficiency through acquisitions. Above all, he needs to build consistency. UBS was still caught up in Archegos, if less severely than Credit Suisse. And the firm should have done well in the last quarter as markets moved in its favor. Hamers will have achieved something if he can repeat the trick over and over.
This column does not necessarily reflect the opinion of the editorial board or Bloomberg LP and its owners.
Chris Hughes is a Bloomberg Opinion columnist covering deals. He previously worked for Reuters Breakingviews, as well as the Financial Times and the Independent newspaper.