Uber's Loss in London Will Weigh Heavy on the Gig Economy
(Bloomberg Opinion) -- The latest ruling on Uber Technologies Inc. is good for drivers and city dwellers alike. But it shouldn't be the last word on the matter.
The U.K. Supreme Court determined on Friday that Uber drivers should be classified as "workers," entitling them to rights like the minimum wage, holiday pay and rest breaks. It's the culmination of a five-year court battle, and has broader implications for the gig economy as a whole.
As others seek the same status that the court afforded the 25 drivers in Friday's case, Uber's costs will increase. The classification means the company could owe $1.3 billion in unpaid taxes alone, Bloomberg Intelligence analyst Aitor Ortiz estimates. Such costs are bound to be passed onto customers of not just Uber but also those of other ridehailing companies in the U.K., such as Ola, Bolt and Free Now.
In short, ridehailing will become more expensive. But that's no bad thing.
Price wars have often made the practice artificially cheap, even in London, which has been one of the industry's most profitable markets. Higher prices for rides may push people back toward cash-strapped public transport and decrease road congestion and pollution. A 2019 study by the San Francisco County Transportation Authority and the University of Kentucky found that between 2010 and 2016, the period when Uber and rival Lyft Inc. started operating in the city, weekday traffic ("vehicle hours of delay") increased by 62%. Congestion would otherwise have increased by just 22%.
Uber has long pitched itself as a side hustle for people looking to top up their income. But the reality has often been different: For plenty of drivers, the app offers their main source of income. It makes sense that their primary job should come with basic employee protections.
But there are also people who do only want to drive on the side. Heavy-handed, one-size-fits-all employment laws are bound to make that harder. The U.K. legal system means this ruling sets an important precedent that will be followed by other gig workers seeking better protections, but it isn't a new regulation per se. Moving forward, a hybrid regulatory environment — which protects workers but still offers flexibility, and levies taxes by classifying workers appropriately — would be better.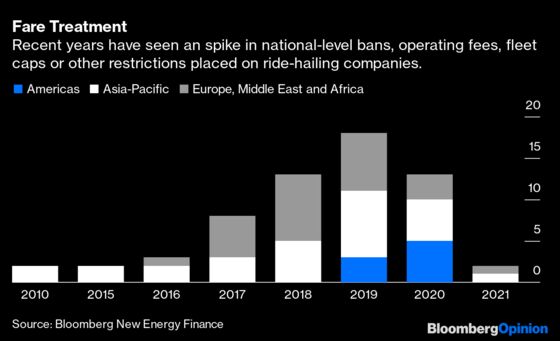 Europe may already be working toward such a model. Most major cities in the region now require ridehailing drivers to hold minicab licenses, making them more than just casual workers, and Uber has extended provisions such as insurance more broadly. Elsewhere, New York City has limited the number of ridehailing drivers it licenses. By limiting supply (i.e. the number of drivers), fares increase, resulting in improved income for drivers. It's a more nuanced solution than simply imposing a minimum wage.
It's nonetheless hard to make evidence-based recommendations without standardized data on the sharing economy. At the moment, companies tend to provide drips of information that support their agendas, while academic studies clash over the effects on wages, pollution and living standards.
In ridehailing, a good place to start would be a detailed breakdown of how many people are driving a week and for how many hours. Given that they often work across numerous platforms, the best way for municipalities to source such data might be from the drivers themselves as part of their license requirements, rather than the companies, which have incomplete data. When Uber pointed out in a September blogpost that just 9% of its drivers in California worked more than 40 hours a week, the company failed to take into account those who might be driving for Lyft as well.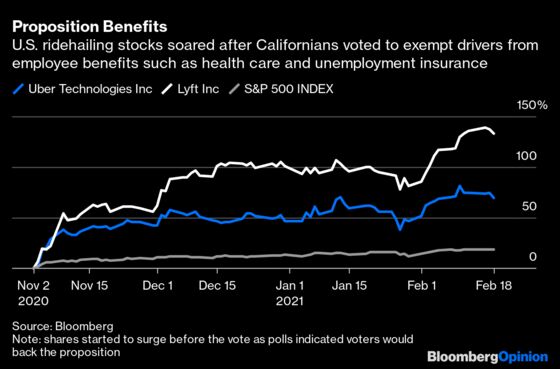 Until we get better data, regulation of the gig economy will be uneven, and that has implications for workers. 
In November, California voters approved a ballot initiative, known as Proposition 22, to let companies classify drivers and deliverers as "independent contractors" rather than "employees." The benefits to Uber are reflected in its share price, which has jumped 73% since polls first indicated that voters would approve the motion. Since then, there's been an uptick in companies from other industries adopting the practice, Bloomberg Businessweek wrote this week. 
The recent Supreme Court decision is the last stop for this particular case in the U.K. But it's not yet the perfect solution.
This column does not necessarily reflect the opinion of the editorial board or Bloomberg LP and its owners.
Alex Webb is a Bloomberg Opinion columnist covering Europe's technology, media and communications industries. He previously covered Apple and other technology companies for Bloomberg News in San Francisco.