Do Bond Traders Know Something About Inflation We Don't?
(Bloomberg Opinion) -- In theory, few bond investors would jump at the chance to buy 10-year U.S. Treasuries at a yield of less than 1.5% some 24 hours before a much-anticipated report is expected to show the highest core inflation rate in America since the early 1990s — when that same yield was above 6%.
And yet the world's biggest bond market staged a ferocious rally on Wednesday that took the benchmark 10-year yield to as low as 1.47%, below its 100-day moving average for the first time in 2021 and right up to a key resistance level from March and May. It's the most convincing bullish move in a long while and a sharp departure from the recent narrative of accelerating U.S. growth and fiscal spending pushing Treasury yields ever higher.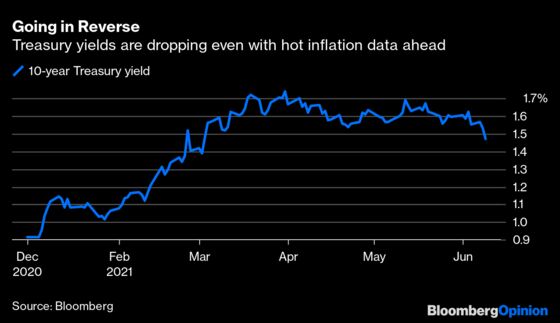 Perhaps the rally was exacerbated by those who had built up large short positions in Treasury futures but held off from covering those wagers after last week's jobs report. Still, the fact that Treasuries largely held gains throughout U.S. hours, and a $38 billion 10-year note auction drew the strongest demand in 11 months at a yield of 1.497%, suggests the buying power at these levels is real. Bond traders stepping in now are either crazy, brilliant or both.
The case that they're crazy:
The aforementioned consumer price index data that will be released on Thursday. Core CPI increased 3.5% in May from a year earlier, according to a Bloomberg survey of economists, which would be the highest since 1993. While base effects play a role in that calculation, the month-over-month jump is expected to be 0.5%, one of the three biggest moves of the past 30 years (the largest was in April).
Wages in America are increasing sharply, which could give inflation more staying power than the Federal Reserve expects.
The number of U.S. small businesses that said in May that they had raised prices was the largest since the 1980s.
The Fed is likely to start talking about how to reduce its monthly asset purchases at its meeting next week, which is the first step toward tightening monetary policy. Its updated "dot plot" might show the median expectation is for a rate increase in 2023. Treasury Secretary Janet Yellen recently argued that higher interest rates would be a "plus" for society.
The case that they're brilliant:
Front-running trillions of dollars of pension money. With the 100 largest U.S. corporate pensions nearly fully funded for the first time since before the 2008 financial crisis, they might shift a substantial amount of their investments into long-duration bonds. 
Banks have their back. Commercial bank holdings of U.S. Treasury and agency securities have more than doubled since 2015 to $4.1 trillion, according to Fed data. As Bloomberg's Tracy Alloway wrote in an Odd Lots post, regulations stemming from the financial crisis have incentivized banks to hold high-quality liquid assets, and with interest rates on excess reserves and reverse repo so low now, Treasuries are the best option available.
The Fed's step toward tapering could actually be bullish for bonds. It suggests policy makers aren't so far behind the curve that they'll fail to prevent inflation from getting out of control in the long run. Thus, it's back to lower-for-longer.
Meanwhile, in Washington, the prospect of passing a sweeping U.S. infrastructure package on a bipartisan basis grows more doubtful by the day, and yet another debt-ceiling deadline looms in the coming months. 
In truth, the bond market is probably partly both. It would be foolish to entirely dismiss the possibility that inflation could take hold for longer than a nebulous "transitory" period. The government provided unprecedented levels of support to the U.S. economy to combat a once-in-a-century pandemic — anyone who claims to know for certain what the rebound from that will look like is kidding themselves. And yet veteran Treasury traders have seen the promise of higher yields fail to materialize time and again during the four-decade bull market. Even Jeffrey Gundlach, DoubleLine Capital's chief investment officer, acknowledged in a webcast this week that although Treasuries offer negative real yields, they don't look so bad on a relative-value basis.
So the benchmark 10-year yield is at 1.5%, about the same level it was in summer 2016 and late summer 2019. I'm not convinced that bond traders are necessarily smarter than anyone else or fully endorsing the Fed's view on inflation. Rather, with equities barely budging from all-time highs and the Fed likely sticking to its script for the next few months, they're simply positioning for a relatively quiet summer. Besides, if they happen to be wrong and things go haywire, it doesn't hurt to be in the world's haven asset.
This column does not necessarily reflect the opinion of the editorial board or Bloomberg LP and its owners.
Brian Chappatta is a Bloomberg Opinion columnist covering debt markets. He previously covered bonds for Bloomberg News. He is also a CFA charterholder.