What Happened to Portland?
(Bloomberg Opinion) -- In May, I went back to Portland, Oregon, my hometown. It was the week George Floyd was killed by police in Minneapolis.
Protests in Portland followed, as they did around the country. Unlike the rest of the nation, though, what began as peaceful and constructive political expression devolved into something else entirely. In fact, a cruel inversion took place over the summer: The proximate (and righteous) cause was increasingly buried by violence. One receded and the other rose, a dynamic that paused only when the larger, more lethal force of wildfire took hold.
Over more than 100 nights, federal buildings, police precincts, shops, stores and restaurants were assailed. Local police, federal forces and protesters of every persuasion clashed. Portland saw rocks, eggs, flash-bang grenades, tear gas and worse.
One video shows a man being pulled from a truck and beaten. It's shocking enough, and then you realize that the scene is unfolding in the heart of downtown, and not in some frontier county, and that it goes on for 20-plus minutes without any sign of intervention.
In late August, a pro-Trump parade was somehow allowed to drive those same downtown streets. A 39-year-old man riding in the caravan was shot and killed by a 48-year-old self-described anti-fascist, who was then himself shot and killed by officers with the U.S. Marshals Service a couple days later.
Much of this took place at night, but the effects were plainly visible in the day — even as those days became shrouded in the haze and smoke from the forest fires that ravaged the West. Portland got the nickname "Stumptown" because of the stumps that dotted the pioneer landscape, a record of rapid expansion in the 19th century. Today the trees have been put to another use: to blanket downtown businesses in plywood.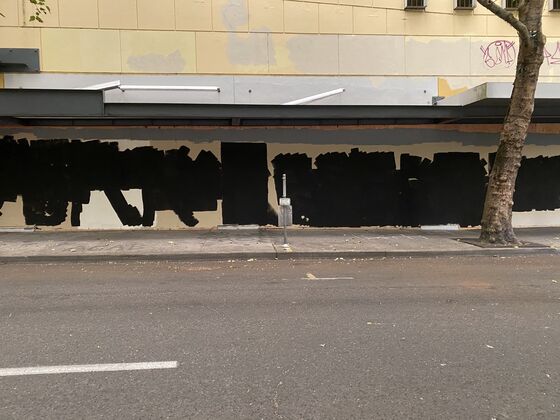 The boards cover Tiffany and Co., Zara, 7-Eleven and bunch of local stores — selling luggage, legal supplies, men's suits — that have been around since I was a kid in the 1960s. Some of the wood is mottled composite, some of it is serpentine-grained, nearly all of it is covered with graffiti. The slogans signal how far things have gone off track; only a fraction of them refer to George Floyd or Breonna Taylor or the other names Americans have been calling out for remembrance.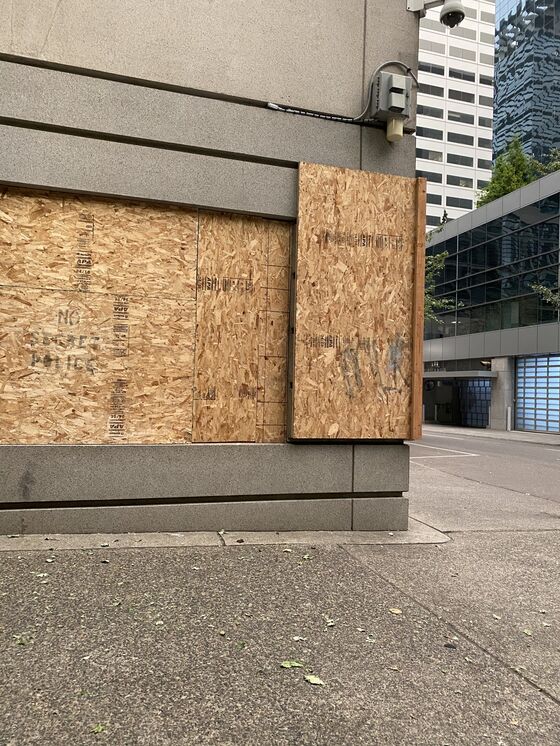 On a walk downtown earlier this month, two things caught my eye. One was a man in an orange vest removing spray paint from a big street-level window. He'd decided to start in the middle and had just managed to clear a path halfway up the frame, like a snow plow cutting through the center of a road after a blizzard. He had a long way to go.
The other was a man I saw from behind, reaching into the back of his hatchback to put on a protective vest.
Well before it was enveloped in smoke, Portland was a city in retreat. Even its 110-year-old elk statue had gone into hiding.
Not that long ago, Portland had a visionary, progressive and capable government. It was activist in the best sense — it took action and managed change. A bright mayor and an energetic city council in the 1970s brought the city light rail and an urban growth boundary and the green space that made it a magnet for hipness in the '00s. This is not to minimize Portland's failings, most notably its well-documented history of codified and tacit racism and exclusion, but government was present. It was there. And it was trying.
A true story: Fifty years ago, in August of 1970, Portland was host to an American Legion convention. President Richard Nixon was scheduled to speak. The Vietnam War was at its height and anti-war riots were feared. The last thing leaders wanted was a reprise of the violence that bedeviled the Democratic National Convention in Chicago two years earlier, or at Kent State that spring, which is exactly what the F.B.I. envisioned.
Governor Tom McCall, a Republican, endorsed a plan: The state would sponsor a free, multi-day music festival, modeled on Woodstock, to take place at the same time as the convention. It would be held in a state park just far enough from Portland that travel back and forth would be a hassle. The police would stay away. Miraculously, "Vortex I: A Biodegradable Festival of Life" — that's what it was called — redirected thousands of potential protesters away from the city. (My family — mom, dad, three little kids — was among them. I don't remember this, but according to my father, we met a guy as we were scouting for a place to put down our blanket. He was naked. "Nice day for a picnic, sir," is what he told my dad, with a smile.)
This story has been on my mind as I think about Portland today. Government, at its most basic and competent, is about making places safe so that lots of people (with their varying agendas and needs and desires) can coexist peacefully and get on with their lives. Sometimes it means diverting a crowd so that you can avoid the harm that gets in the way of bringing about deeper change. This is what Tom McCall, who went on to enact the state's visionary environmental agenda, did — at least in this case. And it's the opposite of the leadership we had this summer.
Portland's bad summer started long before this summer. Governance in Portland has been struggling for years, but its diminishment has been overlooked — obscured by its restaurants, wine and design, bike parades, coffee, "Portlandia," quirk. A Fred Armisen sighting covers a multitude of civic failings — of which the city's omnipresent homelessness is only the most visible.
Some of the problems can be laid at the feet of a succession of one-term mayors, none of whom were able to stay around long enough to have a sustained effect. Some can be attributed to Portland's commission form of city government, where no one (neither the mayor nor the elected commissioners) has quite enough power, and everyone is always running for re-election. A divided and underfunded state government, with a legislature that has a habit of staging walkouts, has been a factor, too, as has the absence of a sales tax to bring in needed revenue.
Then there's the stuff that's harder to pinpoint.
One thing that struck me this summer was the experience of no longer having a regular local newspaper. Walking to the end of the driveway every morning, grabbing the Oregonian in its rain-dotted plastic, was once a daily routine. Its front page defined the important events: Nixon resigns, the Trail Blazers win, Mount St. Helens erupts, the Bhagwan Shree Rajneesh flees.
Now the paper gets delivered only a few days a week. It's online, sure, but there's no reliable shared document to chronicle a small city's experience. Social media doesn't fill the void; it's too balkanized. On days without delivery, you feel disconnected.
This wasn't an isolated feeling. You might think the turmoil downtown would be all that anyone in Portland would want to discuss, and that it would prompt constant outrage and interrogation. Certainly, it was the subject people from outside the state called, emailed and asked about. But here engagement on the protests was sporadic, like the newspaper schedule.
Part of this disparity can be explained. Things often look worse from the outside. The news shows the smoldering wreckage of a bombed-out building, not the busy mall around the corner. If you aren't on the ground, that's all you see. And Portland as broadcast looked really bad, especially when it became entangled in a broader political narrative; there were nights when it felt like MSNBC and Fox were in a bidding war over who was to blame for the city's descent.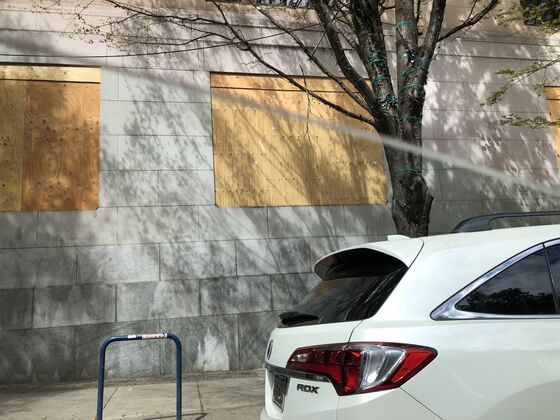 But part of this disparity was harder to fathom. The story of the summer was Portland's anger. What got less attention was its lack of anger, particularly among those who had real reason to be angry: Portlanders themselves.
It was their hometown that was burned, held hostage by a small group of angry extremists. It was their money that was going to sweep up the garbage, power-wash buildings, and remove and store 6,800-pound elk statues. It was their businesses getting boarded up, their jobs cut. It was their elected officials who failed to provide the effective policing that was needed, and who gave Donald Trump an opening to barge in with untrained federal officers and make things worse.
Most of all, it was their sincere, concerted effort, in the days after George Floyd's death, to address the racism rooted in Oregon's history and in its once-exclusionary state constitution that got derailed, obscured and burned away.
If ever a city deserved to get pissed off at what was happening to it, it was Portland. And yet the anger never came. The Wall of Moms and the Leaf Blower Dads went home and left the protesting to the rowdies. The city's Black community watched its cause overwhelmed by other forces. The overdue reckoning on race and homelessness and the ills laid bare by the pandemic went back in its box.
Hard-to-see, harder-to-solve problems have a way of creeping up until it's too late. In Portland, and throughout the West, the effects of climate change became cruelly visible this last week. A brutal reminder of the costs of forestalling action. Perhaps the image of a state in ashes will spur collective action; perhaps the unseemly speed with which political division entered the discourse — the outlandish idea that the fires were set by extremists on the left or right — will be enough to make Portlanders (and the rest of Oregon) say "Enough."
It's easy, I know, to be beguiled by Portland, to let things slide. This has been true for a long time, but maybe not anymore. You're surrounded by beauty — green mountains and open skies. But those mountains can turn to fire, we've seen, those skies to a suffocating orange.
This column does not necessarily reflect the opinion of the editorial board or Bloomberg LP and its owners.
David Shipley is senior executive editor of Bloomberg Opinion. He was deputy editorial page editor and op-ed page editor of the New York Times, and served in the Clinton administration as special assistant to the president and senior presidential speechwriter. Shipley is co-author of "Send," a guide to email.