Even Skeptics Can't Ignore These Jobs Numbers
(Bloomberg Opinion) -- One of the most popular talking points in markets lately has been that the U.S. jobs report, long seen as a crucial indicator of the broader health of the economy, is actually not as important as it's made out to be. Instead, it's all about inflation, or central banks providing liquidity, or the latest news about striking a trade deal.
For one day at least, it was all about jobs data again for bond traders.
In what could only be described as blockbuster numbers, payrolls surged by 266,000, the most since January and beating all estimates in a Bloomberg survey calling for a 180,000 gain, according to a Labor Department report Friday. On top of that, the prior month's advance was revised upward by 28,000, to 156,000. Average hourly earnings rose 3.1% from a year ago, topping expectations for 3% growth. The unemployment rate dipped to 3.5%, rather than sticking at 3.6% as analysts anticipated. 
Benchmark 10-year Treasury yields soared almost 8 basis points in a flash, climbing to 1.86%, the highest since mid-November. It was the biggest instant reaction to payrolls data the market has experienced all year. The only somewhat comparable move was on July 5, when yields ended the trading session 10 basis points higher, after a relatively small increase at first. But even then, when job gains trounced estimates by 64,000, the previous month's figures were revised lower, the unemployment rate unexpectedly increased and wage growth fell short. It wasn't across-the-board strength like these November numbers.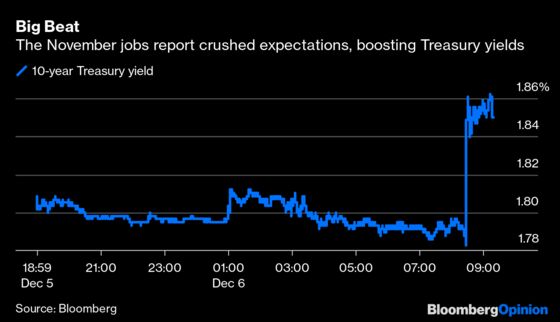 The data was so good, in fact, that futures traders have finally started to believe that the Federal Reserve will truly hold interest rates steady next year. Fed funds futures are now only pricing in 23 basis points of easing for all of 2020, or less than one typical quarter-point cut. These numbers should calm any fears of an impending recession, and with it another yield-curve inversion.
Given that the hurdle for the central bank to raise interest rates again is so high, traders will probably hesitate to whittle those wagers down much further. But it should simplify Fed Chair Jerome Powell's message to investors at his Dec. 11 press conference: Monetary policy is in a good place and the central bank will be patient from here to see if inflation picks up. And the economy? It's definitely in a good place — the latest payrolls report proves it.
This column does not necessarily reflect the opinion of the editorial board or Bloomberg LP and its owners.
Brian Chappatta is a Bloomberg Opinion columnist covering debt markets. He previously covered bonds for Bloomberg News. He is also a CFA charterholder.