A Sign This Economic Recovery Isn't Too Hot to Handle
(Bloomberg Opinion) -- Don't let the near-consensus figures in the May U.S. jobs report fool you. Bond traders are indicating that the outlook for the labor market, inflation and monetary policy is still anyone's guess.
U.S. employers added 559,000 workers in May, short of the median estimate of a 675,000 gain in a Bloomberg survey of economists. April's increase of 266,000 jobs in March was revised slightly higher to 278,000. The unemployment rate dropped more than expected last month to 5.8%, but that's in part because the labor force participation rate dipped to 61.6%, the first decline since January. All told, it reflected progress, but is hardly a sign of an overheating economy.
Obviously, this is not the "string" of job gains of 1 million or more that Federal Reserve Chair Jerome Powell and his colleagues had hoped to see as the world's largest economy emerges from the Covid-19 pandemic. Still, the idea of talking about how to reduce the central bank's asset purchases appears to have reached Powell's inner circle, with Vice Chairs Randal Quarles and Richard Clarida saying last week that policy makers could begin that discussion at "upcoming meetings." On Thursday, New York Fed President John Williams said "it makes sense for us to be thinking through the various options that we may have in the future." The fact that the labor-market recovery is progressing more unevenly than anticipated could pause those conversations this month, but the central bank is making no secret that a drawn-out taper process is starting at some point soon.
The tricky part for interpreting the Fed's next move is that May's employment report can be read in a number of ways. Workers who have been out of a job for 27 weeks or longer dropped by 431,000 last month, the sharpest decline since 2011. That could be interpreted as vaccinations and the reopening of some local economies finally bringing the long-term unemployed back into the job market. Indeed, the largest payrolls increase came from restaurants and bars, which added 186,000 jobs. And make no mistake, adding more than half a million jobs in a month is nothing to scoff at, even if it fell short of estimates.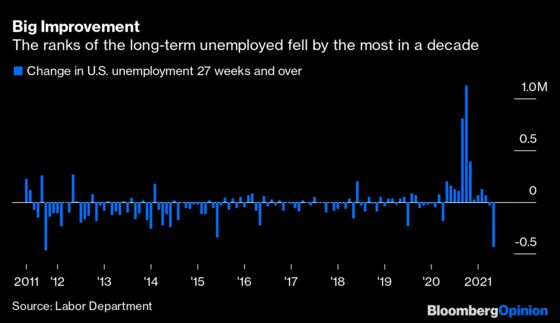 However, the data also confirmed that while labor demand is strong, the supply of workers isn't keeping pace as of yet, perhaps because of childcare obligations, federal jobless benefits or skills and geographic mismatches. The Conference Board asks consumers monthly whether they consider jobs to be plentiful — as of May those who did exceeded the level from February 2020. Meanwhile, it has been well-documented that U.S. job openings, as measured by the Labor Department's "JOLTS" data, are at a record high.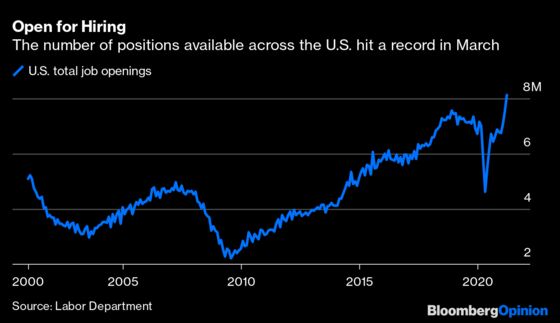 This raises the prospect of employers needing to raise wages to attract workers which, in turn, could lead to a boost in inflation that's not quite as transitory as the Fed expects. Average hourly earnings increased 0.5% from April to May, even with the big jump in lower-paying restaurant and bar jobs as well as teenage employment. The median estimate of economists was a 0.2% advance.
Moves in the $21.5 trillion U.S. Treasuries market reflect this uncertainty over which way the labor market will go. At first, market-based measures of expected inflation known as breakeven rates jumped, with the two-year rate rising 4 basis points in the biggest advance in almost two weeks. Yet that move faded, as did the swift steepening of the U.S. yield curve. As of 11 a.m. in New York, the benchmark 10-year yield was down more than 5 basis points, on pace for its steepest drop since mid-April. Some chalked this up to traders covering their short positions, a tacit acknowledgment that the economy isn't going to show signs of overheating anytime soon.
The problem for bond traders is they still don't know how the Fed will react to the twists and turns in this economic reopening that lacks any precedent. The central bank was begging for additional fiscal aid — are policy makers really going to lean against it now with any sort of pre-emptive tightening? Are officials truly "outcome-based," or will they just choose to ignore the data that doesn't conform to their outlook? Was the March jobs report the wrong benchmark for "substantial further progress" toward the Fed's goals?
For now, the Fed seems content to let the economy sort itself out. As if to head off the bond market's early signals, Cleveland Fed President Loretta Mester said on Friday after the jobs report that the U.S. isn't "anywhere near" a wage-price spiral. This sounds a lot like policy makers' insistence that inflation is "transitory." Markets also seem to have settled on viewing this as a "Goldilocks" report that shows the economic recovery is on track but is hardly out of control. This might very well be correct, but there's no way to know right now. Anyone hoping for clarity from U.S. jobs data will have to wait another month.
This column does not necessarily reflect the opinion of the editorial board or Bloomberg LP and its owners.
Brian Chappatta is a Bloomberg Opinion columnist covering debt markets. He previously covered bonds for Bloomberg News. He is also a CFA charterholder.