Gerald Ford Vowed to Whip Inflation; It Whipped Him Instead
(Bloomberg Opinion) -- After a year's worth of debate, inflation is positively here, and so are growing calls for Joe Biden to counter it with his presidential powers.
So far, he's mostly resisting them, preferring to reassure Americans that the worst is about to pass. That might be because of what he saw as a freshman senator during a particularly punishing stretch of President Gerald Ford's short tenure.
After Nixon's resignation, Ford took charge of a deeply divided nation beset by double-digit inflation. Nixon had already tried imposing wage and price controls on the entire economy. 
This move, the first such edict since the emergency of World War II, proved popular at first. But enthusiasm for the measure waned after Nixon lifted the controls and inflation ticked upward to record levels. Ford, mindful of the failure of this program, cast around for alternatives.
As the historian Yanek Mieczkowski has chronicled, Ford's strategy grew out of economic meetings convened in September 1974. Several advisers in Ford's circle pushed the president to consider crafting a program that would enlist ordinary people to battle inflation. The idea appealed to Ford, who considered a voluntary approach "far preferable and more in the tradition of the American system."
Ford and his advisers believed that the best strategy would be to cast the campaign against inflation as akin to a war effort, one requiring national sacrifice. If Americans understood the struggle in those terms, they would certainly do their part, right? Ford predicted that when Americans "tightened their belts voluntarily and spent less than they had before, that would reduce demand, and the inflation rate would start going down."
Feeling confident in the wisdom of the program, they proceeded to the important business of naming it.
Ford's advisers initially suggested the acronym IF — Inflation Fighters. Any business or consumer who pledged to keep prices steady for six months would receive a decal that they could put in the window. This would go with a slogan like "IF you want a better America, patronize stores which display this emblem."
The idea didn't make it off the drawing board. Using a conditional conjunction to call for decisive action struck some of Ford's advisers as absurd. Frustrated, they enlisted the ad firm of Benton and Bowles, which was known for creating Mr. Whipple, the fictional grocer who admonished female shoppers not to "squeeze the Charmin."
They wound up with a winning slogan, literally: Whip Inflation Now, or simply WIN. On Oct. 8, 1974, Ford gave a speech in which he declared inflation "Public Enemy Number One," and then spoke repeatedly of "whipping" it. At one point he pulled out a hand-painted pin with the letters "WIN" and affixed it to his lapel.
Unfortunately, Ford's advice to Americans basically boiled down to "buy less, save more." A week later he gave a speech that urged Americans to "shop wisely, look for bargains, go for the low-cost item, and most importantly, brag that you are a bargain hunter."
The initial response to these pieties was unexpectedly positive. Close to a quarter-million Americans wrote the White House in support of the program; a handful of companies also embraced the idea. The Ringling Bros. and Barnum & Bailey Circus approached the White House, eager to make WIN the theme for that year's show. The idea of an entire circus program dedicated to the consumer price index and inflation targeting did not, sadly, come to pass.
Many in Ford's cabinet thought the WIN campaign was a bizarre gambit. "Every time the WIN issue came up, we at the Economic Policy Board would hide our heads in embarrassment," Treasury Secretary William Simon said. Alan Greenspan, Ford's chairman of the Council of Economic Advisers, described it as "the low point of economic policymaking in the administration."
Worse, Ford applied his "buy less, save more" mantra to the staffing of the program, which hired no more than two full-time volunteers and two part-time workers. They were so overwhelmed by the flood of interest that they failed to deposit voluntary donations sent to underwrite the effort.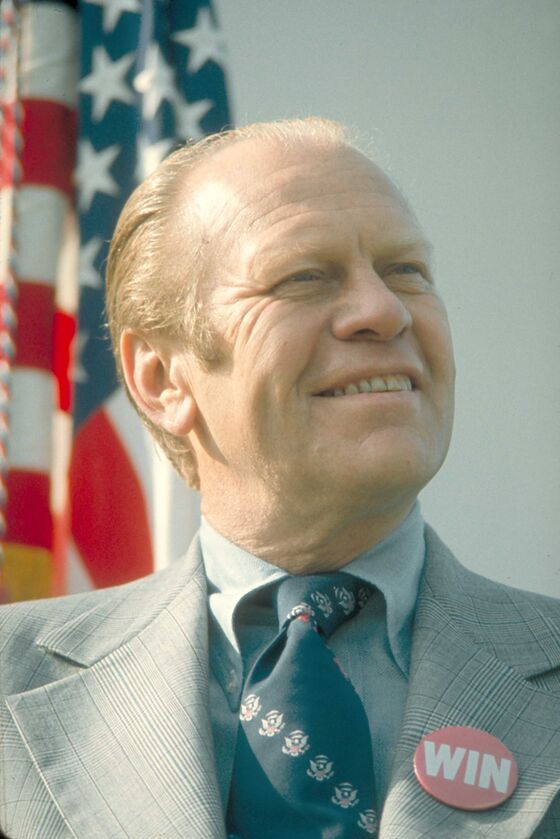 But the biggest problem of all lay with the fact that Ford wasn't being fully honest with the country. Inflation wasn't something that could be solved by planting a garden or shopping at a thrift store. By suggesting that such modest measures might amount to something, Ford threw his entire inflation-fighting program into doubt.
In fact, what's rarely mentioned in most assessments of the WIN debacle is that Ford simultaneously introduced a number of thoughtful, granular policy proposals: significant changes to energy production and regulation; deregulation of revision of grain export laws; changes to the tax code; and a host of other measures.
While it's debatable whether these would have helped curb inflation, few of Ford's proposals made it into law, in no small part because the president squandered a good chunk of his political capital on the ill-conceived, ineptly executed public relations campaign. 
As a consequence, Ford did not "whip it good," as synth-pop band Devo memorably sang at decade's end. Instead, inflation whipped him.
More from other writers at Bloomberg Opinion
What 2021 Has Taught Us About Inflation — John Authers
Biden's Inflation Pitch Doesn't Pass the Laugh Test — Ramesh Ponnuru
Biden Is Botching Inflation Jawboning — Jonathan Bernstein
This column does not necessarily reflect the opinion of the editorial board or Bloomberg LP and its owners.
Stephen Mihm, a professor of history at the University of Georgia, is a contributor to Bloomberg Opinion.