Don't Tell Anybody, But Frackers Went on a Hiring Spree
(Bloomberg Opinion) -- Friday's jobs numbers threw everyone for a loop. But they were unambiguously good for the oil and gas business: Payrolls jumped by more than 12,000 in March, the biggest monthly gain in more than 30 years of data.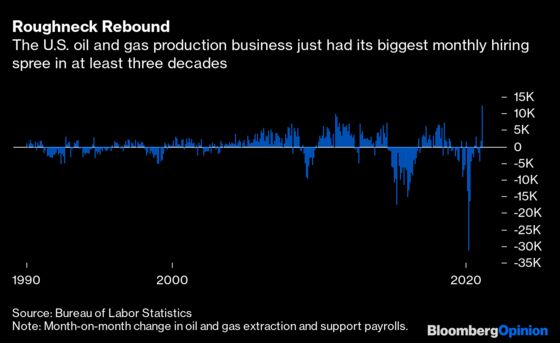 This is the season for big comebacks; it's only just over a year since crude oil posted negative prices on Nymex. For the benighted E&P sector, though, this rebound depends a lot on restraint; around spending and growth, chiefly. 
Combined oil and gas production peaked in December 2019. Having plunged last May, it has since recovered much of that ground but in March was still about 8% below the peak. Employment, however, was running roughly 17% below where it ended 2019 — even including the big hiring spree in March. What's more, layoffs had started at the beginning of 2019, a year before Covid-19 swept the globe.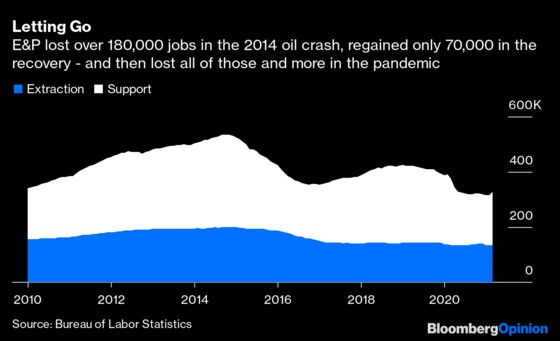 The industry's ranks are 207,000, or almost 40%, lighter than at their peak in September 2014. But output is up by almost a third. The productivity gains seen in the past year were just the latest phase of a process that got going when the shale-oil boom hit its first bust almost seven years ago.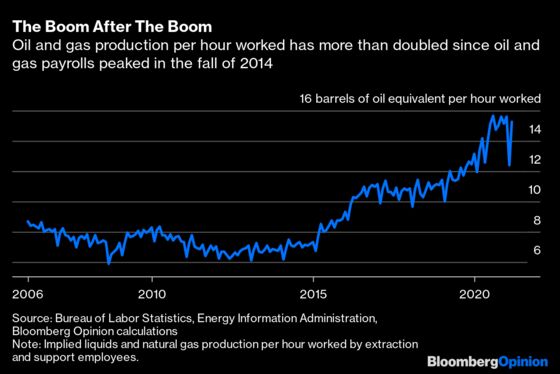 Pair those efficiency gains with a rally in oil and gas prices, and you've suddenly got a much more profitable business. Multiplying output by benchmark crude oil, natural gas and natural-gas liquids yields a proxy for industry revenue running at about $33 billion a month so far in 2021. That's on a par with late 2019 — but with far fewer workers on the payroll. Despite March being the biggest month for hiring in decades, the implied share of revenue taken by wages fell below 7% for the first time since the spring of 2011.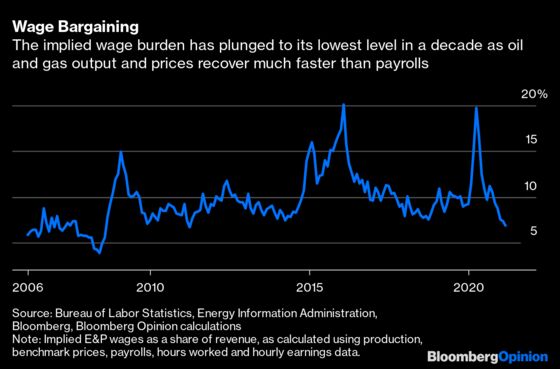 After the tumult of 2021, the industry now finds itself at a point of equilibrium. Oil and gas prices have recovered to a level that previously presaged a big rebound in fracking. Yet the mood music thus far in earnings season has been notably, and thankfully, subdued. Free cash flow has soared.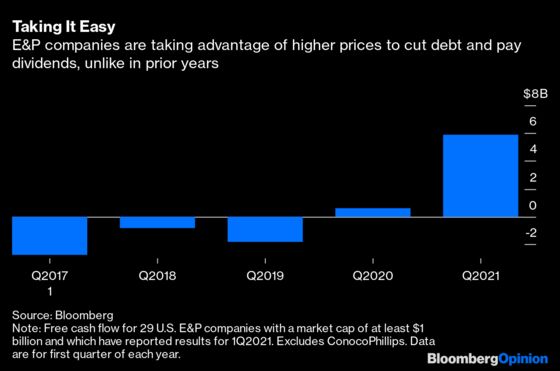 The drop in the wage burden and likelihood that oil prices strengthen into summer (or at least don't weaken) means frackers have some room for hiring and putting rigs and completion crews back to work. As I wrote here, though, having been rerated already, E&P stocks now rely on a mix of rising earnings and being boring to maintain the rally. March was a welcome sign of recovery from a crisis, but it can't be the new norm.
Full payroll numbers for the sector lag by one month, hence we must wait for April's figures.
I calculate a proxy for industry revenue by multiplying production figures from the Energy Information Administration by monthly averages for benchmark crude oil, natural gas and natural gas liquids prices. These calculations don't take account of hedging impacts or geographic differentials. I calculate an implied wages bill by multiplying employees with average hourly earnings and average working week length.
This column does not necessarily reflect the opinion of the editorial board or Bloomberg LP and its owners.
Liam Denning is a Bloomberg Opinion columnist covering energy, mining and commodities. He previously was editor of the Wall Street Journal's Heard on the Street column and wrote for the Financial Times' Lex column. He was also an investment banker.