Why Airline Bailouts Couldn't Prevent Airport Chaos
(Bloomberg Opinion) -- The recent weekend chaos at U.S. airports has left some wondering what the point was of bailing out the airline industry during the pandemic. But the hundreds of canceled flights at American Airlines Group Inc. actually show why that aid was needed in the first place.
American scrapped about 775 flights over the weekend and into Monday as bad weather exacerbated a dearth of flight-ready pilots. Maintenance pileups and hiring logjams at third-party vendors that provide catering and refueling services are also straining the system. To help ease the pressure, the carrier said it would cull about 1% of its planned daily flights through mid-July. 
It's understandable that many people's initial response to these disruptions is to decry the more than $50 billion in government aid earmarked for U.S. airline payroll support during the pandemic as ineffective or to argue that the greedy carriers should simply pay workers more. I get it: Airlines are an easy villain in the best of times, and government bailouts are even more unpopular. The contrast between news of a labor crunch and the special dispensation airlines received during the pandemic is jarring. If any industry was going to be immune to hiring struggles in the recovery, this should be it, right? But as with most things in life, the reality is not black and white. Although airlines aren't blameless, they also aren't entirely culpable. And if the government hadn't stepped in, the flying pinch would be much worse. 
Remember that the government aid wasn't constant: The first round of Covid payroll support was allowed to expire at the end of September as politicians bickered about the extent and format of additional stimulus. Airlines were still bleeding cash by the bucketful, so they furloughed tens of thousands of workers. In total, American Airlines dropped 19,000 employees during this period, including some 1,600 pilots.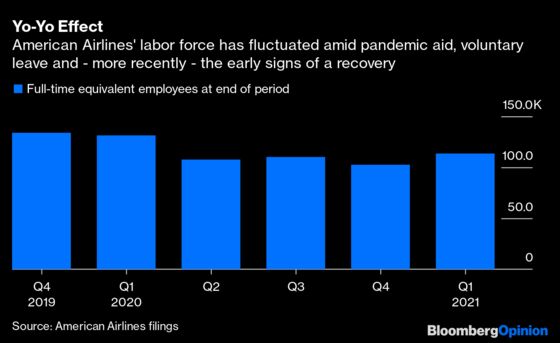 When Congress finally reached a deal in December to extend the payroll support, those employees were hired back. But the underlying reason they were let go wasn't magically solved by this cash infusion. Travel demand remained anemic, and there was little hope of a turnaround in the near term. Indeed, public health officials pleaded with Americans to stay home during the traditionally busy holiday travel season. Bringing the thousands of furloughed employees back to work "is a complex process and will take time," Chief Executive Officer Doug Parker and President Robert Isom said in a letter to employees at the time. "While pay and benefits will be restored right away, people will be asked to return to the operation in phases."
When the recovery did eventually start to take hold, the rebound was much quicker than even the wildest optimists in the airline sector had anticipated. With more than two-thirds of U.S. adults having received at least one dose of a coronavirus vaccine, Americans have celebrated by piling on to jets to visit family or take much-needed vacations. About 2 million people crossed U.S. Transportation Security Administration checkpoints on Monday; that's still down about 25% from the pre-pandemic pace but more than three times the passenger traffic this time last year. American Airlines has been particularly aggressive about trying to capitalize on this demand and is operating a much fuller flight schedule than its largest rivals, Delta Air Lines Inc. and United Airlines Holdings Inc. But it's not as easy as it sounds.
Pilots, in particular, can't just walk right back onto an airplane. They have to refresh their training. The process takes even longer if a pilot has to learn how to operate a different kind of jet than she was used to flying before the pandemic. About 1,000 American Airlines pilots took early retirement offers or left voluntarily, and there may not be readily available alternates with their specific skill sets. The carrier, like all of its peers, also permanently parked many of its oldest jets. This retraining and refresher work has ripple effects and backs up the pipeline for more run-of-the-mill instruction. "There are only so many simulators and instructors," Dennis Tajer, an American Airlines captain and spokesman for the Allied Pilots Association, said in an interview. "It's like a Jenga puzzle."
It doesn't help that the industry was warning of a looming pilot shortage well before the pandemic. Boeing Co. estimated in 2019 that airlines globally would need to hire 645,000 pilots over the next two decades to keep up with travel demand. Newer recruits struggled to get their required flight hours with travel in such a slump during the pandemic, Tajer said. Others may have seen job offers evaporate and pivoted to other industries. 

Given the challenges of getting pilots back to flying shape and finding enough of them, it's fair to ask why American chose to use furloughs for them, even on an interim basis. Delta and United both struck deals with their pilots to avoid furloughs by cutting flying hours instead. Tajer also lamented American's "antiquated" scheduling system, which doesn't allow for more entrepreneurial adjustments to swap assignments, and said the airline should be more generous with offering overtime pay to help smooth things over as it ramps up capacity. American is smart to take advantage of its large domestic network and "put planes where people want to go," Tajer said. The airline is still focused on containing costs, though, he said. It's a natural response after a crisis but one that can hold back revenue gains.
It's also fair to ask why the payroll aid included a loophole for voluntary leave and early-retirement offers. If the point was to make sure the nation's air travel network was ready when a recovery eventually came and to ensure stable employment, then this backdoor option on job cuts seems self-defeating.
But in the scheme of things, the cancellations will impact a relatively small fraction of American's overall flight schedule. Try to imagine what things would be like this summer if American hadn't reversed the 19,000 job cuts or United had stuck with its planned 13,000 reduction. Good luck trying to book a flight at anything resembling a tolerable cost. The payroll support wasn't designed for the kind of snapback in air travel demand that occurred because no one expected the recovery to be this robust. There could be worse problems.
This column does not necessarily reflect the opinion of the editorial board or Bloomberg LP and its owners.
Brooke Sutherland is a Bloomberg Opinion columnist covering deals and industrial companies. She previously wrote an M&A column for Bloomberg News.