Full Planes to Disney World Are Only Step One
(Bloomberg Opinion) -- America's robust comeback from the coronavirus pandemic stands out, but that alone isn't enough to buoy the fortunes of some of its biggest companies. The unevenness of the global recovery is being felt back home, and in the aerospace sector that means it's better at this stage to be in the business of flying planes than making them.
The U.S. has administered more coronavirus vaccines than any other country and more than half of adults have now received at least their first dose. In contrast to other parts of the world where a bevy of travel restrictions remain in place, there are no hard borders between U.S. states and there are no more interstate quarantine mandates — to the extent those were ever successfully enforced. That's unleashed a wave of pent-up travel demand, and U.S. airlines are taking full advantage by aggressively adding flights for domestic leisure hot spots and certain Central and Latin American markets that have proved popular (and more easily accessible) than overseas trips. American Airlines Group Inc.'s planes have been 80% full on average in recent weeks and Southwest Airlines Co. is targeting similar passenger traffic for April and May. Meanwhile, cash flow has turned positive for Delta Air Lines Inc. and United Airlines Holdings Inc. by their chosen definitions, and Delta even thinks it can start making money again by the third quarter.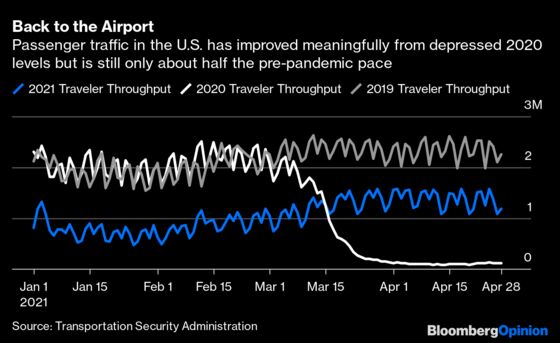 This snapback, though, isn't showing up yet in a meaningful way at the country's biggest aerospace manufacturers, and those CEOs took a more conservative tone than their airline customers when announcing earnings this week. Departures of jets powered by engines from General Electric Co. and its CFM International joint venture are still down about 34% from the pre-pandemic baseline. GE expects lucrative maintenance-shop visits to be flat in 2021 compared with last year's depressed level. With little evidence of a turnaround for the aerospace unit just yet, GE burned about as much cash in the first quarter as analysts expected and indicated it will burn through more in the second quarter. Over at rival Raytheon Technologies Corp., revenue from maintenance and repair work was down 43% in the Collins Aerospace parts division and 35% in the Pratt & Whitney engine unit. Profits were a fraction of what they were pre-pandemic. Boeing Co. CEO David Calhoun called 2021 and the vaccine distribution a "key inflection point" but also warned of an uneven recovery. 
What's going on here? It partly reflects the nature of these companies' businesses. There's a natural lag between when airlines can fill up their planes with people again and when they are ready to spend on repairs and new jets. It also has a lot to do with geography. Boeing, Raytheon and GE may have U.S. headquarters and build a good portion of their products in this country, but they are global companies in a way that the American airlines just aren't. Even in pre-pandemic times, the biggest U.S. airlines got about two-thirds of their revenue from domestic trips. In contrast, North American customers account for only about a fifth of the 43,110 new planes Boeing thinks the global aerospace market will need over the next 20 years. The largest source of future demand by far (17,485 jets) will be the Asia Pacific region, according to Boeing's market outlook released in October.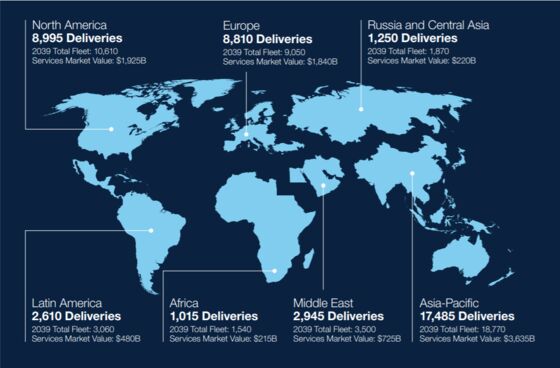 If there's one thing the pandemic has taught us, it's that the global population is more interconnected than ever, and that events on one side of the world can have dramatic impacts on the other. The U.S. stock market is trading near all-time highs as investors celebrate steady signs that an economic boom is getting underway. That's thanks in no small part to the U.S. government, which moved aggressively to lock up vaccine supplies, kept the airlines in business with more than $50 billion worth of payroll aid and — through the Federal Reserve —  kept the bond markets open for struggling companies like Boeing. But many of the country' biggest and most important companies remain dependent on a global recovery that is moving more much slowly.
Anyone 16-and-up is now eligible to receive a shot in the U.S. and the Biden Administration says there are enough vaccines to inoculate 300 million people by the end of July. In Japan, only health-care workers and those over 65 are currently eligible, and supply shortages have meant that only about 2% of the overall population has received one dose, according to Bloomberg's Vaccine Tracker. France is just starting to ease its third national lockdown and Germany issued tough new measures that could last through June as both countries battle fresh Covid outbreaks. The U.K. has made good progress on its vaccine campaign but has taken a cautious approach to reopening travel with the European Union and elsewhere amid concerns about variants. A wave of infections is currently ravaging India and overwhelming the country's health-care system with devastating effects. 
The U.S. airlines are feeling the effects of this globally lopsided recovery in their international travel business, but there's no rule that says a plane can only be used on one kind of route. Net long-haul international bookings at American Airlines have only recovered to about 20% of 2019 levels and flights across the Atlantic and Pacific will account for just 3% of the carrier's capacity this summer, practically a rounding error. But American Airlines still expects to offer 80% of its overall international seating capacity this summer. It's been flying hulking Boeing 787 Dreamliners and 777 jets typically used for trips over oceans on U.S. routes to popular leisure destinations such as Orlando and Miami instead. The carrier's network in Latin America, meanwhile, will be operating essentially as normal. Southwest will offer only 4% fewer seats in June than it did in the same period in 2019, albeit with a different route network. "You react to passenger demand, and if that shifts, you shift," former Continental Airlines CEO Gordon Bethune said in a March interview. Airlines "fly to places people want to go."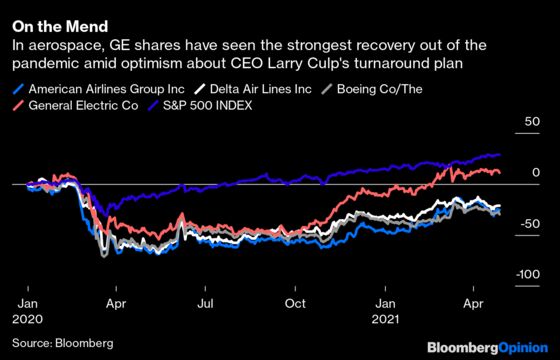 Aerospace manufacturers don't have the same ability to pivot. Air travel is recovering in the U.S. and activity in China is above 2019 levels, "but you've got other parts of the world which are clearly going to be more challenged," GE CEO Larry Culp told Bloomberg News in an interview. "What's happening in India is nothing short of a humanitarian crisis and we see that. It's our second-largest footprint for GE, so we've got unfortunately very good visibility on all of that." Boeing, meanwhile, repeatedly flagged the risk posed to its business by still tense U.S.-China trade relations. China is a notable holdout in the 737 Max jet's return to service after two fatal crashes. Regulators' delay in clearing the plane is preventing Boeing from delivering the portion of the 400 Max jets it's currently got in storage that are bound for Chinese airlines. "China represents 25% of the global growth in our industry over the next decade," CEO Calhoun said. "We've got to reinstate our trade relationship in aerospace with China." He expressed optimism that the U.S. was at the point in its economic recovery where it could shift its focus toward repairing that important relationship, but the situation remains murky. 
The U.S. recovery is notable and worth cheering. It won't be complete, though, until the rest of the world is able to follow along. 
GE's first quarter cash flow improved by $1.7 billion versus the year earlier period and the company said it expects a similar swing in the second quarter. That would still imply a negative number.
The opposite is also true, by the way, and that's whyaerospace manufacturers felt the impact of the pandemic later than their airline customers who are closer to the front lines of demand swings.
This column does not necessarily reflect the opinion of the editorial board or Bloomberg LP and its owners.
Brooke Sutherland is a Bloomberg Opinion columnist covering deals and industrial companies. She previously wrote an M&A column for Bloomberg News.