That Portugal Holiday Was Nice for Brits While It Lasted
(Bloomberg Opinion) -- It's no steps forward, two steps back for airlines, tour operators and Mediterranean hotspots catering to British holidaymakers.
The U.K. government on Thursday failed to add any new countries to the already slender list that English travelers can visit without having to quarantine. It also downgraded Portugal from the so-called "green" list to the "amber" category, which means those returning from the popular holiday destination must isolate at home for at least five days.
The announcement is a bitter blow to an already stretched travel sector that was counting on a summer recovery. Shares in EasyJet Plc, Ryanair Holdings Plc and TUI AG all fell about 5% on Thursday.
Many airlines and tour operators had put on extra capacity to serve travelers going to Portugal, as consumers rushed to book trips when the country was added to the green list a month ago. Some may still go ahead with their plans and risk quarantine. But many will cancel. Last month, U.K. Prime Minister Boris Johnson warned Brits that they should not be holidaying in amber countries. Travel companies should expect more deferred bookings and customer refunds.
There had also been hope over the last month that more countries would be added to the green list. The Greek Islands of Rhodes, Kos, Zakynthos, Corfu and Crete, as well the Canary Islands of Spain, had been candidates, given that the U.K.'s foreign ministry wasn't advising against travel to these regions. Those dreams of an island getaway were fun while they lasted.
In short, the U.K.'s travel restrictions will mean that companies will have to make do with less cash coming in than expected. That will put more strain on the finances of TUI, which burned through about 300 million euros ($363 million) a month between January and March. (Last week it raised as much as 670 million euros from a hotel property deal.)
Yet it's not all bad news. TUI's other big market alongside the U.K. is Germany, where restrictions are being eased. There is also the prospect for a further opening of intra-European travel with the introduction of the vaccination certificate system on July 1. Around half of EasyJet's capacity is in Europe.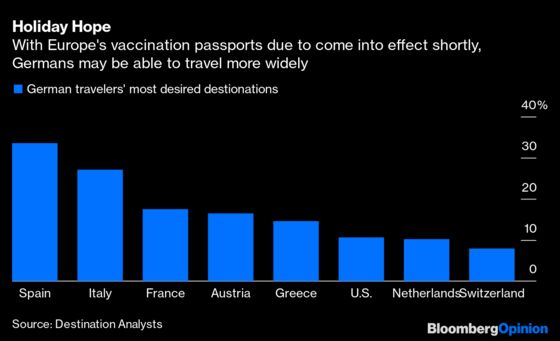 Nevertheless, less than three months ago, Michael O'Leary, chief executive officer of Ryanair, was confident that Brits would be flying again by the time the school holidays started in July. With just weeks to go, that is looking increasingly unlikely. Given the ongoing uncertainty, many consumers will likely skip a vacation this year and book for 2022 instead. That does little for companies facing a lost summer.
Reduced international travel will have implications closer to home too. British coastal and historic towns are already groaning under the strain of staycationers. Holiday cottages and hotels in these locations are selling out, restaurants are getting overwhelmed and the leisure sector is struggling to find enough staff in tourist hotspots.
The cynical view of the U.K.'s caution on travel abroad is that, alongside concern about new Covid variants and rising cases, the rules are also meant to boost the domestic economy. But if the situation at home gets worse — with accommodation prices increasing further, and the cost of restaurant meals surging — even that benefit could backfire.
This column does not necessarily reflect the opinion of the editorial board or Bloomberg LP and its owners.
Andrea Felsted is a Bloomberg Opinion columnist covering the consumer and retail industries. She previously worked at the Financial Times.