In the U.K., It's Barbarians at the Supermarket
(Bloomberg Opinion) -- Private equity is stocking up on groceries.
With the billionaire Issa Brothers and TDR Capital acquiring a majority stake in Asda in February, and Clayton, Dubilier & Rice dangling 5.5 billion pounds ($7.6 billion) for Wm Morrison Supermarkets Plc over the weekend, Britain's other big supermarkets better believe they're now in buyout groups' sights.
If investor interest is any indication, the whole sector is in play. Shares in J Sainsbury rose as much as 5.7% on Monday, before settling at about a 4% increase. Tesco shares rose 1.7%.
After Morrison, the most obvious target for a financial buyer is Sainsbury. Some 25% of the grocer's shares are controlled by two big investors: The Qatar Investment Authority owns 15%, and Czech billionaire Daniel Kretinsky's Vesa Equity Investment Sarl has 10%. If a PE firm could persuade them both to sell, it would potentially be easier to win over other shareholders.
A bid from Kretinsky himself can't be ruled out either. He's already made two offers for German wholesaler Metro AG. And he's likely made a nice profit on his Sainsbury bet. He first revealed a 3% stake last September, when the shares were less than 200 pence, and then increased it in April. The shares closed at 270 pence on Monday.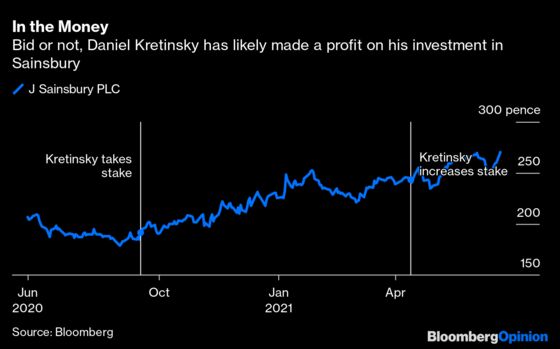 With a market capitalization of just over 6 billion pounds, Sainsbury is still pretty affordable for the big buyout groups. That's not the case with Tesco, which has a market cap of 17 billion pounds. 
A deal for Tesco would be massive, but it's not impossible. Canada's Alimentation Couche-Tard Inc. considered a 16 billion-euro ($19 billion) bid for Carrefour SA, earlier this year. A group of sponsors could work together to approach Britain's biggest retailer. It's become more digestible in recent years, as former Chief Executive Officer Dave Lewis sold off the group's businesses in Korea, Thailand and Poland.
Tesco and Sainsbury don't have as much freehold property as Morrison does, but there's clearly more value to be unlocked in the grocery business. The Issa brothers are close to selling Asda's distribution centers in a deal expected to generate well over 1 billion pounds — a better price than initially expected. 
Each probably has some assets that can be offloaded. For example, Tesco owns a majority stake in data company Dunnhumby, which it failed to dispose of for 2 billion pounds in 2015. A new owner could have another go.
Tesco has already culled most of its international assets and now focuses on the U.K., but it could wring more out of food wholesaler Booker, which it acquired three years ago. Otherwise it's hard to see how new CEO Ken Murphy can generate significant sales growth, particularly as the pandemic surge in bulk-buying food fades. Indeed, trying to do so risks distracting him from the task of battling the German discounters Aldi and Lidl.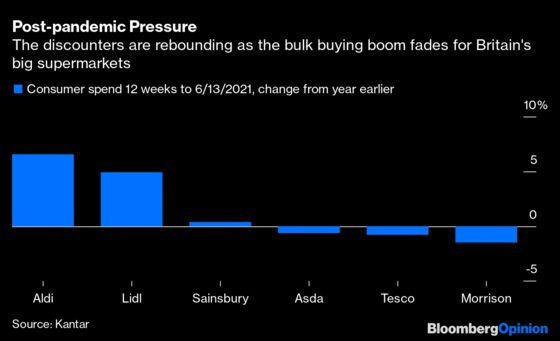 Perhaps the biggest attraction of Tesco is that after Lewis's almost textbook turnaround — in the wake of a 250 million-pound profit overstatement in 2014 — the company has become more of a cash cow. Even in the pandemic year, it generated free cash flow from its retail operations of 1.2 billion pounds. That sort of profile makes more sense for a private equity owner, which can use the cash to pay down borrowings, than for public market investors who are more interested in fast-growing online retail than fusty supermarkets.
If CD&R succeeds in taking Morrison private, then the tastiest grocery target will be off the shelf. Buyers that lost out will have to keep scouring the aisles.
This column does not necessarily reflect the opinion of the editorial board or Bloomberg LP and its owners.
Andrea Felsted is a Bloomberg Opinion columnist covering the consumer and retail industries. She previously worked at the Financial Times.