Is There Any Point in Diplomatic Talk With Putin?
(Bloomberg Opinion) -- In the wake of the meeting between Joe Biden and Vladimir Putin last week, British Defence Secretary Ben Wallace mooted the possibility of a summit between Boris Johnson and Putin — provided the Russian president ceases "malign activity." France and Germany were hoping to resume Russia-EU summitry to reset relations with the bloc.
Wednesday's confrontation off the coast of Crimea underscores why these copycat summits are a bad idea: Putin will likely bank the PR benefits without modifying his behavior. While there was rationale for Biden's meeting (more on that shortly) a British or EU version does little more than burnish Putin's image at home and reward his aggression toward and interference with Western democracies.
What exactly transpired this week outside Crimea depends on who's telling the story. Russia's Defence Ministry says the U.K.'s HMS Defender, a highly sophisticated Type-45 destroyer, ignored warnings to steer clear of Russian waters. Russia claims it fired warning shots from a guard ship and also conducted "preventive bombing" using Su-24 attack aircraft. BBC defense correspondent Jonathan Beale, who was aboard the Defender at the time, noted at least 20 Russian aircraft buzzing overhead.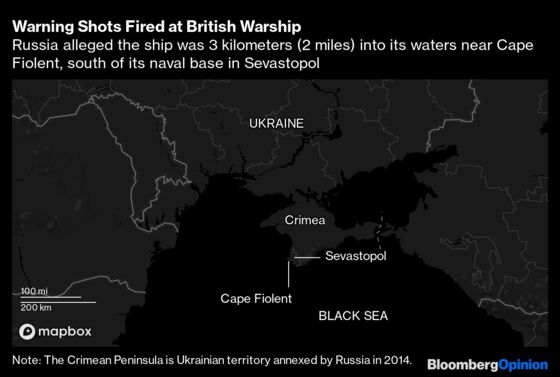 The U.K. Defence Ministry says this was sabre-rattling, not a close shave. "No shots were directed at HMS Defender and we do not recognize the claim that bombs were dropped in her path," a U.K. defense spokeswoman said. 
Crimea's waters, to be clear, are the territorial waters of Ukraine. But Putin is determined to defend his land-grab there. Russia's Black Sea "coastal defense systems" had been conducting drills in the area — "to eliminate a notional enemy's surface ship in the Black Sea," as the Russian press statement noted. The U.K. refuses to recognize the 2014 Russian annexation of Crimea, and says its ship was traveling in the so-called "traffic separation corridor," the most direct route between the southern Ukrainian port of Odessa and Georgia.
Whatever the details of the incident, Russia got what it wanted: a show of military muscle, a flash of anger and a reminder to the world that it has planted its flag on Crimea with impunity.
It was a moment too, however, for Global Britain, an ill-defined label attached to a still significant, if diminished, maritime power. The HMS Defender trip to Odessa was a gesture of friendship toward Ukraine (the two signed an agreement to jointly build warships and two naval bases) and a reminder to Russia that its annexation of Crimea is disputed.  
The U.K. ship is also part of broader NATO exercises intended to show the alliance's readiness and resolution to protect its members. One might even say it sent a signal to China over the contested South China Sea, where the U.K. fleet is headed shortly.
The question is, what strategy underpins the U.K.'s tactics. There may be some deterrent value in the exercise if it raises the costs of further Russian aggressions. But Putin is skilled at picking his moment and his target. And he's not about to vacate territory he's now claimed. Any messages will have to be clear and consistent over time and backed up with stronger action.
That is why dangling a summit with Russia makes little sense. Allies that were spurned in the era of Donald Trump, and unable or unwilling to respond to threats from Russia and China, are now feeling their way toward better coordination and a more robust common stance. Britain has a role to play in shaping policy and drawing the new lines. But Johnson will quickly lose any credibility if he's seen to be soft on Putin now.
That's not to say the Biden meeting was the mistake many critics said it was. The U.S. president is not naïve; he was never going to peer into Putin's eyes and see his soul, as George W. Bush professed to do, or proclaim a great "reset," as Barack Obama foolishly did. But by standing toe to toe, Biden delivered a message of America's red lines directly — there was no chance of being misinterpreted. In his own words, the meeting was not about trust. "This is about self-interest and verification of self-interest," he said.
Johnson is in an entirely different position. Britain has a serious dispute with Russia, following the 2018 Salisbury poisonings (and other killings on British soil linked to Russia). Just a few months ago, Britain's integrated defense and foreign policy review cited Russia as the greatest military threat Britain faces.
Britain's response to Russia's aggression has been largely timid. The adoption of the new Magnitsky act, which allows the freezing of assets and other restrictions in response to corruption, provides a vehicle for sending a message, but its use has been restrained. Putin does not consider Johnson a rival, let alone an equal.
While jaw-jaw is important, as Churchill noted, and there is always a role for diplomacy, a return to summits with the EU or Britain at a time when Russia has jailed its main opposition leader, supports human rights violations in Belarus, perpetrates aggression in Ukraine and regular cyberattacks against the West sends precisely the wrong message. Fortunately, the Franco-German push for a return to summitry was blocked by EU members with long experience of Russian aggression.
Putin's MO is well established by now: He seeks to strengthen Russian control on nearby regions, divide Western allies, destabilize Western democracies, quash opposition and divert attention from corruption and failings at home. The best response is solidarity from democratic powers, clear lines and robust pushback wherever Russian interference arises.
The Crimea incident is a reminder that Western democracies have ceded a lot of ground (literally, in some cases) to Putin and the world's autocrats in recent years. HMS Defender made a point; but it will take more than a few maritime manoeuvres to prove there are now clear red lines.
This column does not necessarily reflect the opinion of the editorial board or Bloomberg LP and its owners.
Therese Raphael is a columnist for Bloomberg Opinion. She was editorial page editor of the Wall Street Journal Europe.