London's West End Is About to Be Transformed
(Bloomberg Opinion) -- When shops in England reopened on Monday after a long lockdown, the country's famous "high street" was a shadow of its pre-pandemic self.
The windows at Topshop on London's Oxford Circus — for decades a magnet to young, trendy shoppers looking for cheap clothes — were boarded up. Through the glass doors, mannequins, stripped of the fashions they were wearing when parent company Arcadia went into administration in November, stood eerily in the half light. At nearby Debenhams, a department store chain that collapsed at the same time, the expensive shimmering facade was still. 
And it isn't just the casualties who've left holes in the West End, London's main shopping district. Even successful retailers such as Next Plc and Hennes & Mauritz AB have taken the opportunity to fine tune their store estates. Browns, an iconic high-end boutique that has been a fixture on South Molton Street since 1970, is relocating, even though it's owned by Farfetch Ltd. — an $18 billion company that's done very well during the pandemic.
Three U.K. lockdowns have been the last straw for retailers from discount fashion chain Peacocks to stationary group Paperchase. Others, such as the English middle-class's favorite department store, John Lewis, have downsized.
But one consumer chain's demise is another's opportunity. This is an industry that was already suffering because of the fierce competition with Amazon.com Inc. and other online rivals. A cull is painful but it may improve the health of the rest of the retail herd. For enterprising companies that have survived the last year, the shakeout is a once-in-a-lifetime chance to capture sales, or open outlets in locations that were previously inaccessible.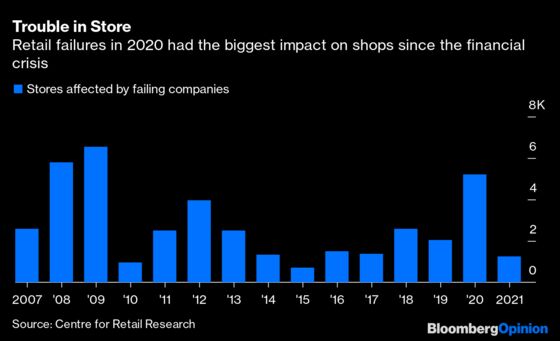 According to my calculations, at least 3 billion pounds ($4.1 billion) of sales that would have gone to Debenhams and Arcadia — and other retailers such as Mothercare that shut shops in 2020 and six now empty John Lewis department stores — will be freed up for rivals.
Of course, not all of this will find its way onto the high street. Asos Plc, an online retailer, has acquired the jewels in the Arcadia crown: the Topshop and Topman brands. It said last week that it was pleasantly surprised by how well the brands were performing, so it could absorb some of the sales that would have been made in Topshop's physical stores. It's similar with Boohoo Group Plc, which has acquired the Debenhams brand, including its successful website.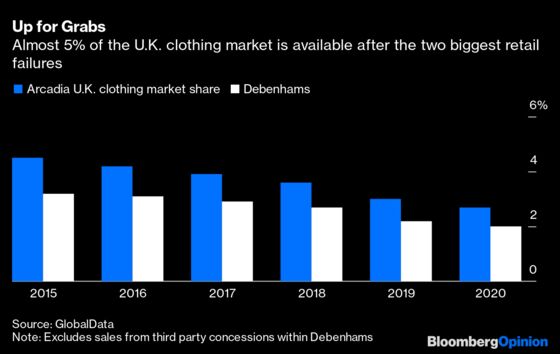 Nevertheless, with many Brits flush with lockdown savings, and desperate for an excuse to leave the house, some of that pent-up spending will find its way to the cash registers of stronger brick-and-mortar retailers. Next, with both physical stores and a muscular online presence, is set to be a chief beneficiary. Marks & Spencer Group Plc, Associated British Foods Plc's Primark — where queues snaked round the block at its Tottenham Court Road and Marble Arch stores on Monday — and even billionaire Mike Ashley's House of Fraser could prosper from a retail rebound.
For other consumer chains, vacant shops and lower rental costs mean they can now open in locations that were once prohibitively expensive.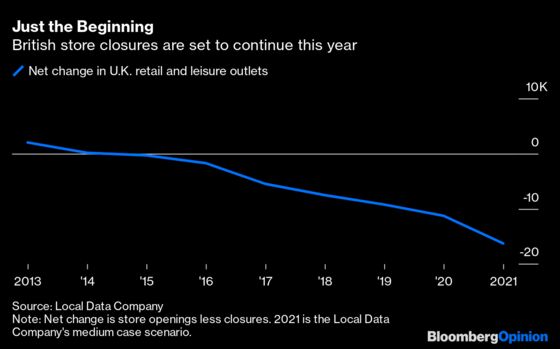 Take Greggs Plc, the cut-price bakery and cafe chain. For years it struggled to open shops in central London and busy transport hubs because sites were unavailable and rents too high. The pandemic has changed that. Greggs has opened two outlets in St Pancras station, the elegant home to the Eurostar rail connection with Paris, and it's looking at about six more sites in central London.
Pets at Home Group Plc, which has benefited from a "pet boom" as people welcomed cats, dogs, rabbits and rodents into their homes in record numbers in 2020, is also taking advantage. It plans 20 new stores in greater London. Given the amount of vacant units on high streets, a significant proportion of its new space in the capital will probably be smaller shops in town centers.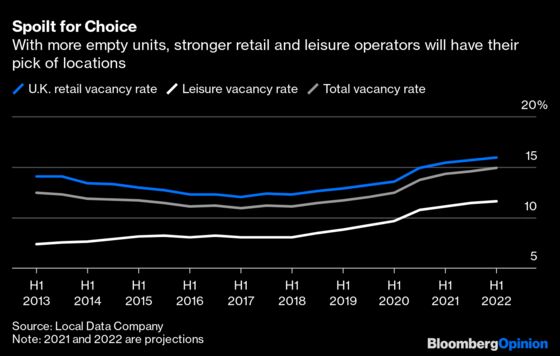 Greggs isn't the only low-price chain looking to take advantage. The German no-frills supermarkets Aldi and Lidl, and B&M European Value Retail SA, have big opening plans for the south of England. They tend to favor larger units rather than smaller high street shops, but the number of store closures means both may be available. Aldi has opened several smaller supermarkets in London.
Property owners may try to turn some of their retail assets into more lucrative residential developments, but the extent of the damage to Britain's high street means this is unlikely to absorb all of the empty shops. With the bustle on Oxford Street on Monday afternoon more reminiscent of a steady Saturday, those retailers that do take the West End plunge may well be rewarded.
This column does not necessarily reflect the opinion of the editorial board or Bloomberg LP and its owners.
Andrea Felsted is a Bloomberg Opinion columnist covering the consumer and retail industries. She previously worked at the Financial Times.