Covid or Not, Brits Are Eager for Summer Fun
(Bloomberg Opinion) -- As Britain basked in a mini-heatwave over the long weekend, you could have almost forgotten there were any remaining Covid-19 restrictions on pubs and restaurants. Beer gardens were full, and unmasked crowds gathered in bars in popular beach resorts. 
But social distancing, mandatory table service and a ban on groups larger than six are still in place in England until June 21, limiting the amount of people venues can squeeze in and crimping their profits.
Keeping these curbs in place for weeks or months longer, as scientists are urging amid fears rising cases of the virus may signal another wave, would be a blow to the hard-hit hospitality sector. Pressure to stick to the original plan will be intense after Covid deaths fell to zero yesterday. However the potential alternative — one that brings more restrictions or even a fourth lockdown — would be much worse.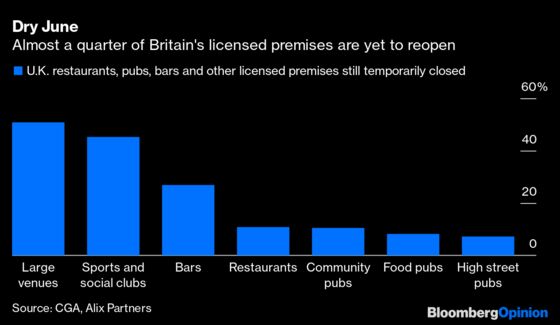 Business has been going pretty well since inside dining resumed on May 17, five weeks after pubs and restaurants in England were allowed to serve customers outside. Food sales rose almost 30% on that first day, compared with the equivalent Monday in 2019, according to hospitality data provider CGA. Drinks sales rose by 21%. Since then, while trade wasn't roaring ahead — until last weekend — it was steady.
Yet life is still tough. The requirement that people be at least a meter apart means operators can't pack in as many tables in as normal. The rule of six means venues can't accept big parties, which tend to be lucrative because of their size and overall spend. And with many people still working from home, city centers and office locations remain relatively quiet.
UKHospitality, the industry trade group, estimates that venues are operating at about 60% of their normal capacity. It's warned that jobs will be lost if the restrictions aren't lifted as planned.
Given the extra staff needed to take customers' contact details, serve everything at tables and clean, bars and restaurants' already thin margins are under pressure. It'd be ideal if they could reopen fully before quarterly rental payments come due on June 24 and business tax-rate relief starts to ease off from July 1.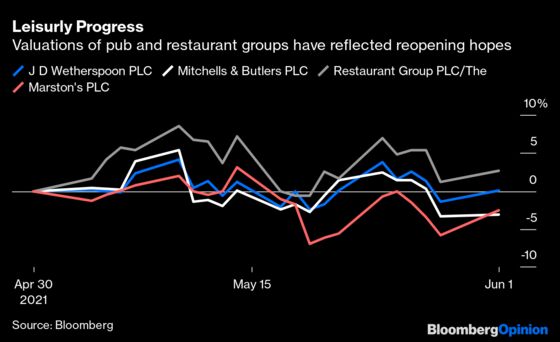 Nevertheless, there are several reasons why keeping social-distancing measures in place longer — say to the end of July or even the end of August — would be manageable.
Some companies, such as JD Wetherspoon Plc, tend to operate large venues, so they can more easily cope. Others have already increased capacity by investing in outside seating areas, which will likely remain popular with customers. Takeaway sales have held up too. Domino's Pizza Group Plc said on Tuesday that it's hiring 5,000 pizza chefs and delivery drivers for its 1,100 U.K. stores as demand "remains strong."
There's pent up demand for dining out. Consumers are eager for a summer of fun and uncertainty over international travel restrictions means Brits may do most of their partying and vacation outings close to home. Restaurant revenge spending should continue, as long as consumer confidence isn't hurt by rising Covid-19 cases.

Plus, any extension of the restrictions may be accompanied by more government support.
So while bars and restaurants would prefer things to get fully back to normal, a delayed or more-staggered reopening, if it comes to that, wouldn't be a disaster. The need for more draconian measures would.
This column does not necessarily reflect the opinion of the editorial board or Bloomberg LP and its owners.
Andrea Felsted is a Bloomberg Opinion columnist covering the consumer and retail industries. She previously worked at the Financial Times.