Cheers! There's Life in the British Boozer Yet
(Bloomberg Opinion) -- If Brits are willing to brave the snow for a pint, they must be desperate for a drink. Such was the case on Monday.
This bodes well for the U.K.'s pub sector, which has been decimated by the pandemic. Pent-up demand, along with plenty of vacant property and cheaper rents, could create opportunities for those willing to invest in new bars and restaurants.
When rules eased on outdoor drinking and dining this week, people flocked back to pubs. Total like-for-like sales rose almost 60% compared with the equivalent day in 2019, according to CGA, a hospitality data provider. Interestingly, like-for-like drink sales were up 114%, while food sales were down 12%.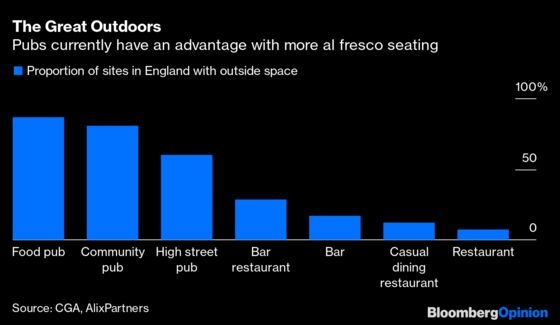 For a start, more pubs have outside space than restaurants, making them better suited to the current circumstances. And although booze has been available aplenty during the pandemic, people have missed socializing with friends over pints of Guinness (or expertly mixed cocktails) away from home. They're willing to venture back out again for a drink.
Plus, even though restaurants with external space have invested in outdoor coverings and heaters, al fresco seating is more suited to drinks than to food. A pint might taste good cold, but dinner doesn't. Drinks can also be quick enough to fit into the hour-long reservations that many pubs are offering customers.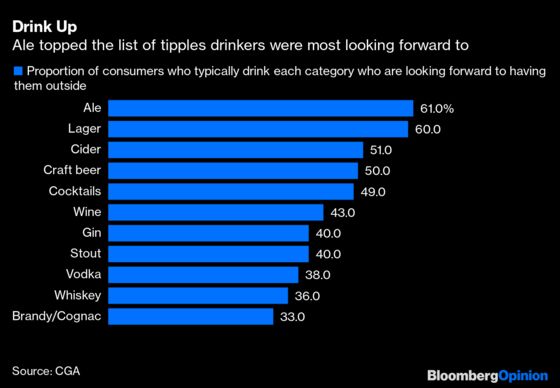 Things should even out a bit from May 17 when people will be allowed to eat indoors. The more predictable weather of a dining room may encourage more families to go out for a meal. Meanwhile, the summer should bring warmer temperatures and staycations that will benefit local pubs and restaurants.
Of course, the coming boost for boozers may not be enough to save them all. While restaurant numbers soared for much of the last decade, driven by a private equity-fueled spending spree, pubs have been steadily declining, as they've faced more competition from drinking at home and other leisure activities. Last year was particularly pernicious. Closures have continued apace, but openings have been absent.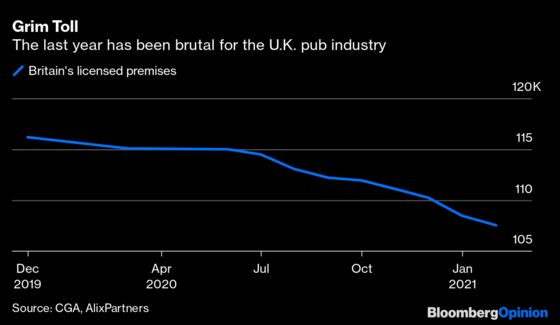 But those with deeper pockets may find it easier to survive, and even thrive. JD Wetherspoon Plc, the value food and drink operator, is ramping up an expansion it had planned before the pandemic hit. It is poised to open 18 new pubs and extend or upgrade 57 others over the next two years. From then on, it will add 15 new premises and enlarge another 50 each year. The program should help it benefit from having a good mix of food and drink, cheap prices and large outlets that will be useful if social distancing continues.
Revolution Bars Group Plc, which operates cocktail bars on U.K. high streets, is also seizing the summer to test some new ideas. One of these would be a marketplace concept, with street food vendors and even barbers' chairs. Revolution would run the bar, and customers could sip a gin and tonic while getting their hair cut. This could be a way to fill all those large retail spaces and former department stores that have been sitting empty.
It's not just existing companies that are looking to expand either. Rooney Anand, the former chief executive officer of Greene King Plc, which was sold to an investment group backed by Hong Kong billionaire Li Ka-shing two yeas ago, has financial firepower of up to 500 million pounds ($690 million) to buy pubs. He recently struck his first deal, acquiring 42 venues across England and Wales from Stonegate Pub Company.
Hugh Osmond, one of the entrepreneurs who transformed Pizza Express into a popular casual dining chain in the 1990s, is also looking to back promising but financially stretched leisure businesses. Though it may take longer for restaurants to get going again, they still offer potential, particularly if they can supplement in-house dining with takeaway service. What's more, with plenty of vacant units — likely available at lower rents and already equipped with a kitchen — anyone with a good idea could quickly scale up.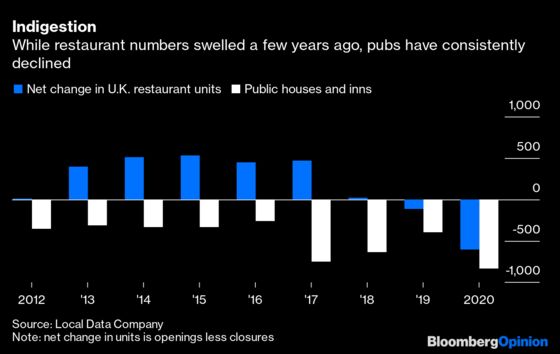 There are still many risks to the industry, from social distancing making the economics of pubs and restaurants more challenging, to complications with vaccination passports and sluggish consumer confidence.
But if companies can overcome these hurdles, we may be about to see a wave of new bars and restaurants. That would be something worth drinking to.
This column does not necessarily reflect the opinion of the editorial board or Bloomberg LP and its owners.
Andrea Felsted is a Bloomberg Opinion columnist covering the consumer and retail industries. She previously worked at the Financial Times.