U.K. Housing Market Continues to Blaze Away
(Bloomberg Opinion) -- While finding a dream house at the right price in the U.K.'s frothy market is increasingly difficult, shopping for the perfect mortgage is easy. Lenders are falling over themselves to offer loans for every type of buyer, raising the risk that surging prices will lead Britons to take on more debt than they can safely afford. As competition becomes fiercer, the Bank of England may have to intervene to prevent real estate from threatening to undermine financial stability.
The U.K. home loan market is concentrated among a handful of big lenders. Five financial institutions control almost two-thirds of outstanding mortgages, with market leader Lloyds Banking Group Plc administering almost a fifth of the total. That lack of diffusion means regulators are right to worry about the potential risks the property market poses to the financial sector.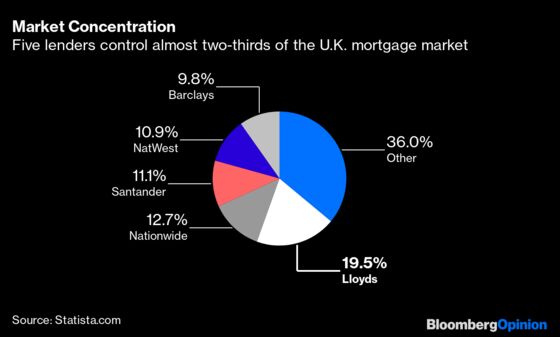 The competition is so intense in part because residential property lending is the one banking business that hadn't been dented by the pandemic. It's grown to more than 1.5 trillion pounds ($2.1 trillion) this year for an increase of more than a fifth since mid-2015. To expand their revenues, U.K. financial firms need to grow their mortgage books, according to Bloomberg Intelligence banking analyst Jonathan Tyce.
By contrast, credit card debt has collapsed as Brits paid off their balances with savings accumulated during lockdown. The total outstanding fell to less than 54 billion pounds in May, a contraction of more than 26% from the end of the first quarter of 2019. The corporate loan market, meantime, shrank to less than 1.4 trillion pounds in May, down almost 6% from its peak a year earlier.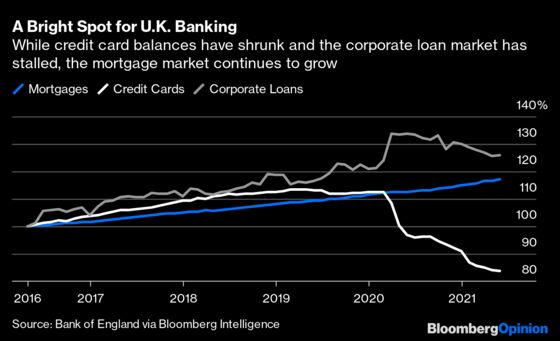 The demand for housing is off the charts. There were almost 450,000 residential property transactions in the first three months of the year, some 50% higher than the quarterly average in the previous decade, according to the Bank of England. The reasons are well-known: A property tax holiday combined with lockdown savings and a search for bigger homes to accommodate working from home. In its Financial Stability Report published earlier this week, the Bank of England also cited a decline in interest rates — both for longer fixed periods and on loans with smaller deposits — as adding to the liveliness.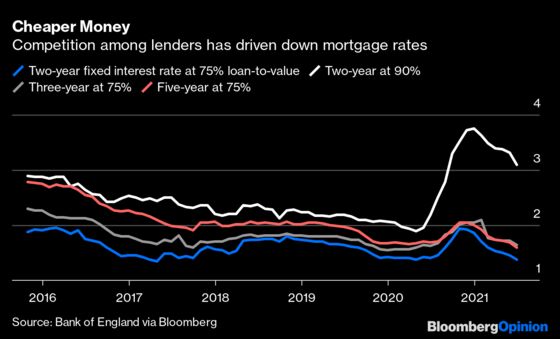 Lenders are happy to stoke that growth, with an ever growing offer. The number of mortgage products surged to 4,512 this month, a 65% increase in the past year, according to retail financial data firm Moneyfacts Group Plc. Borrowers with deposits of just 5% of the value of the house have seen the biggest increase in choice. There are 253 types of mortgages at a 95% loan-to-value ratio, up from just 14 a year ago.
That's where the potential danger lurks. House prices rose at their fastest pace in more than 17 years last month, with the Nationwide Building Society saying values increased at an annual rate of 13.4%. The more a house costs, the bigger the deposit required, prompting buyers to borrow a larger percentage of the asking price.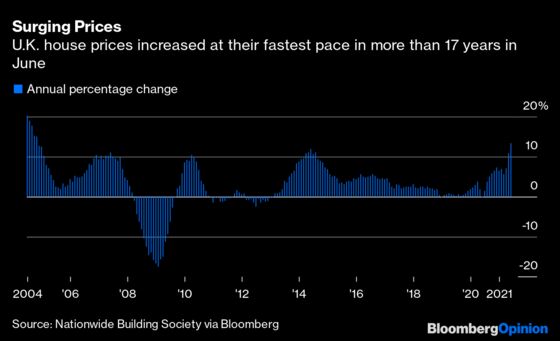 For now, the Bank of England says it's relaxed about the mortgage market. It points out that just 6% of loans were granted at a loan-to-value ratio of 90% or higher in the first quarter, compared with the 20% of new mortgages with such low deposits handed out in 2019.
But it also notes that the proportion of new mortgages at loan-to-income ratios of 4.5 times or higher increased to 10.4% from 9.5% a year earlier. That's heading closer to the 15% limit regulators have imposed on financial firms. Increased competition among lenders is likely to see the volume of those riskier loans rise even further. 
Andy Haldane, the Bank of England's outgoing chief economist, rightly said last month that the U.K. housing market "is on fire." That doesn't always end well. As the fallout from the 2008 and 2009 financial crisis showed, U.K. house prices can go down as well as up — something today's first-time buyers probably need to be reminded of. The regulator needs to be ready to step in and curb lending behavior if the battle for mortgage market share threatens to stoke a conflagration.
This column does not necessarily reflect the opinion of the editorial board or Bloomberg LP and its owners.
Mark Gilbert is a Bloomberg Opinion columnist covering asset management. He previously was the London bureau chief for Bloomberg News. He is also the author of "Complicit: How Greed and Collusion Made the Credit Crisis Unstoppable."