Bank of England Should Mind Its Policy Gap with the Fed
(Bloomberg Opinion) -- As inflation rates accelerate around the world, central banks are talking about talking about tapering their stimulus programs. With U.K. data starting to give distinctly mixed signals about how fast the economy is rebounding, the Bank of England should err on the side of caution this week as it debates when and whether to start easing back on its support.
The International Monetary Fund expects the U.K. to match the U.S. with the fastest economic growth rates among Group of Seven nations this year, with both forecast to post 7% expansions.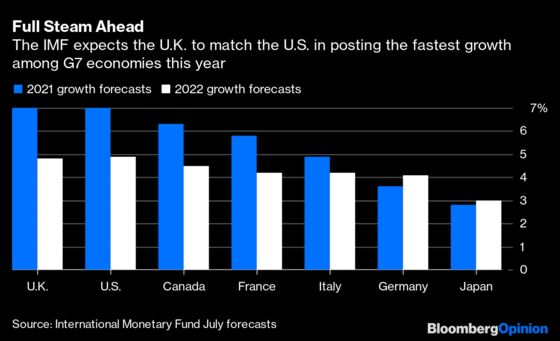 Inflation, meanwhile, has exceeded the U.K. central bank's 2% target for two consecutive months. Policy makers can probably live with a peak of about 3% later in the year; but if consumer prices are rising by 4% or more, price pressures will start to look less transitory and become more of a concern.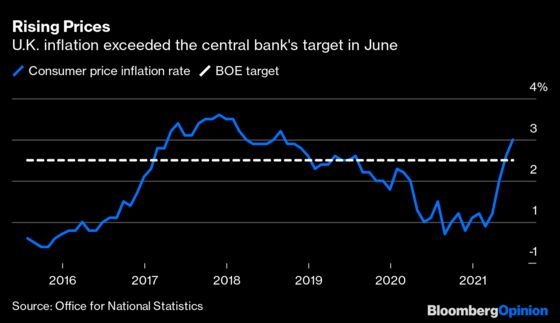 And yet Britain's recent growth numbers have been patchy at best. Figures for May showed an underwhelming 0.8% gain in gross domestic product, undershooting expectations for 1.5% growth. As a result, Bloomberg Economics has trimmed its second-quarter forecast to 4.5% from 5.9% previously.
There are a few reasons for this. A surge in infections trigged by the delta variant of the virus has threatened to put the British economy back into lockdown, after restrictions across England were lifted on July 19. The so-called pingdemic, with the National Health Service's contact-tracing system asking more than 500,000 people to self-isolate for 10 days, caused widespread worker shortages.
The outlook for the next few months is still uncertain. A sustained decline in new Covid-19 cases in the past week or so has baffled experts, with infection rates of about 30,000 a day falling well short of the 100,000 Health Secretary Sajid Javid recently warned of.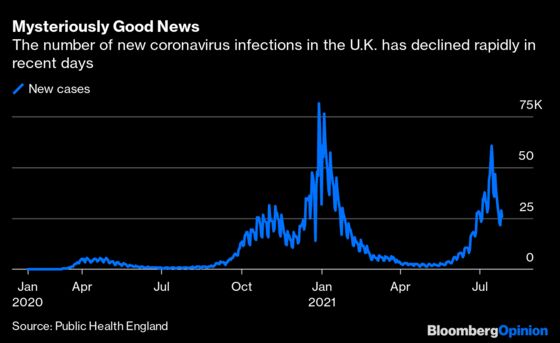 Though this is great news for curbing the pandemic, it's less heartening for retail businesses. Moreover, officials are still warning that case numbers may reaccelerate in the coming weeks and months.
So Thursday's meeting of the monetary policy committee is likely to be lively. With Deputy Governor Dave Ramsden and (usually dovish) external member Michael Saunders making hawkish speeches in recent weeks, both are expected to vote in favor of curtailing the central bank's bond-buying program.
But the central bank has sufficient ammunition to argue that it should patiently maintain its current policy stance until the outlook is clearer. So the doves are likely to prevail, with the remaining six policy makers backing the planned increase in the stock of bonds purchased to 895 billion pounds ($1.2 trillion), comprising 875 billion pounds of government debt and 20 billion pounds of corporate securities. 
Bank of England Governor Andrew Bailey will be keeping a close eye on how the Federal Reserve handles its upcoming debate on tapering QE. It is prudent to follow the guardian of the world's largest economy, but to do so from a safe distance. With a big review due by the end of the year on when to raise interest rates versus shrink the balance sheet, the U.K. central bank can afford to stand pat for a while longer.
This column does not necessarily reflect the opinion of the editorial board or Bloomberg LP and its owners.
Mark Gilbert is a Bloomberg Opinion columnist covering asset management. He previously was the London bureau chief for Bloomberg News. He is also the author of "Complicit: How Greed and Collusion Made the Credit Crisis Unstoppable."
Marcus Ashworth is a Bloomberg Opinion columnist covering European markets. He spent three decades in the banking industry, most recently as chief markets strategist at Haitong Securities in London.